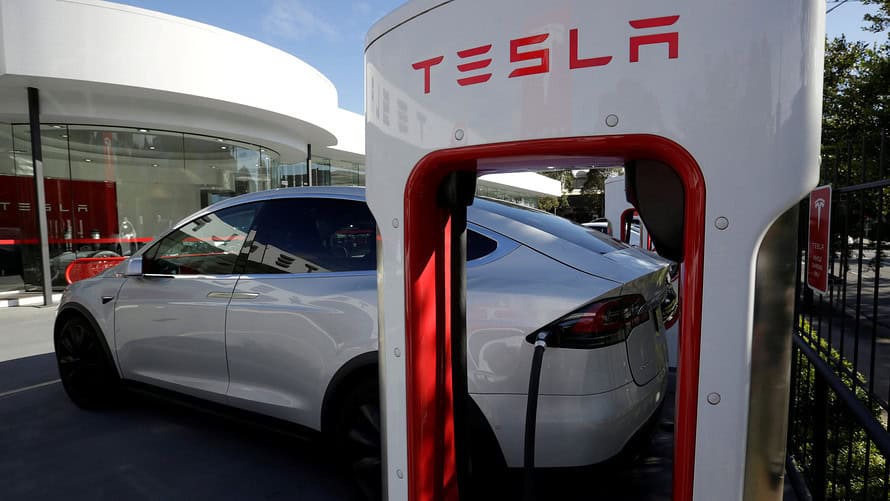 While taking Tesla private could enrich the company's investors and wallop its short-sellers, it's less clear what — if any — impact the move would have on the automaker's buyers and owners.
Tesla TSLA, +1.13% chief executive Elon Musk tweeted Tuesday that he was considering taking the company private at $420 per share, which would represent the largest stock buyout in history. The company has since confirmed that it is considering the transition. (Tesla did not immediately return a request for comment.)
Analysts remained confused as to Tesla's reasoning for going private and questioned if it could line up the necessary funding to do so, and some doubted that the change would happen anytime soon. Others, including The Wall Street Journal columnist Charley Grant, argued that the move did not make sense for a company that has reaped the benefits of being publicly traded.
Some analysts say changes to Tesla's corporate structure could have some trickle-down effects.
Musk could ship more low-cost Model 3s
The slow delivery of its Model 3 vehicles has been a sore subject for Tesla of late. The company's delivery of the vehicle was described by some as "infamously behind schedule", though in recent months the company finally hit production milestones for the car.
However, much of the developments surrounding the Model 3 have focused on higher-end versions of the vehicle, and not the low-cost $35,000 base model that was the calling card for the automaker. Some analysts argued the souped-up versions of the Model 3 were necessary to bring in much-needed revenue amid the production issues.
Going private could theoretically reduce some of those pain points for Tesla, and encourage it to ramp up production of those low-cost electric vehicles. It gives Tesla the ability to invest money in expanded facilities "without having the same kind of pressure for return on investments as public stockholders," said Michelle Krebs, an executive analyst for Autotrader. Tesla might also gain access to new financing sources after going private, she added.
Tesla may take longer to develop new products
A private Tesla could break out of the cycle that plague tech companies like Apple AAPL, -0.09% where investors and analysts expect new, successful iterations of products to come out on a frequent basis. The product pipeline is always "more flashy" than more mundane, if necessary, updates about improved manufacturing capacity, said Jeremy Acevedo, manager of industry analysis at Edmunds. For this reason, he said the consumer impact of the company going private would likely be muted.
Musk has touted plans to create electric versions of roadsters and pickup trucks. But without the pressure to make something new as a public company, Tesla could take more time to develop its production capabilities in order to avoid the fiascoes that have defined the rollout of the Model 3. "Tesla has had a very independent trajectory unlike anything we've seen in the automotive industry thus far," Acevedo added.
Buyers in some states may experience more trouble buying a Tesla
Consumers can only buy Tesla's vehicles directly from the company — either online or at a Tesla showroom. As a result, Tesla does not have dealerships, nor does it employ salespeople paid on commission. That model has raised the hackles of dealership associations in many states. Some states, including Texas and Connecticut, have complete bans on direct auto sales. Others have limited Tesla's sales in some manner. New York, for instance, restricted the number of showrooms Tesla can operate.
Tesla has worked to fight existing direct sale bans and prevent new ones from being put into effect. But the appearance of instability caused by the discussion of Tesla going private could make matters worse, said Hank Eskin, owner of Tesla resale website EV-CPO.com. An SEC investigation into the company, for instance, might give local lawmakers little reason to revise their laws in Tesla's favor.
"Tesla might have more resistance from the car dealer associations because they might use this as an argument why Tesla can't sell cars," Eskin said.
If things go south, resale values could suffer — or improve
Brand identity is Tesla's most important asset, according to Krebs, and, perhaps aside from some ill-judged tweets by Musk himself, it is also an industry leader in consumer perception, according to data from Kelley Blue Book. "Tesla provides the most emotional attraction among all car manufacturers," said Gregg Fidan, founder of RealCarTips.com. "Not only does it have luxury cachet, but also a genuine mission that speaks deeply to many people, which is to accelerate the world's transition to sustainable energy."
Ultimately, going private would relieve some of the scrutiny by investors, the public and those who have been shorting the stock. Musk referred to Tesla as "the most shorted stock in the history of the stock market" in his letter to employees regarding the possibility of being taken private. "Tesla has had to deal with a lot of manufactured negativity," Fidan said. "When there are billions at stake, short-sellers will go to extreme lengths to ruin the image of the company they're shorting."