The West Australian government will ink a deal with Argentina on Thursday that is expected to benefit explorers and miners active in the Latin American country.
There are about 13 ASX-listed companies with projects in Argentina.
The stocks have performed strongly over the past 12 months as our table shows below. Nine are ahead and three are up more than 200 per cent over that period.
But it's a different story this year — 10 of the 13 stocks are down since January. Three have lost half their value in that period.
The Argentinian economy has been under pressure of late. Argentina hiked its interest rate to 40 per cent this month in a desperate attempt to save the struggling peso.
On Thursday, WA's mining minister Bill Johnston is expected to ink a deal which should bring more certainty to Argentina-focused stocks.
The plan will essentially "package up" the State's regulatory standards and take them to Argentina.
"You can see that that's an opportunity for us to package up our practices and take them elsewhere in the world," the minister told delegates at the two-day Latin America Down Under conference in Perth this week.
"And of course if you are a West Perth investor think about this: to the extent that we're able to help countries adopt Western Australia's regulatory practices, when you get to those jurisdictions you're going to have an advantage because you will be familiar with those structures.
"So there is actually a logic to the work that we're doing in trying to work with other countries to the extent that we can."
Here's a list of ASX stocks with exposure to Argentina courtesy of leading ASX data provider MakCorp. (Scroll or swipe for full table). Note the difference between the six-month and 12-month share price values: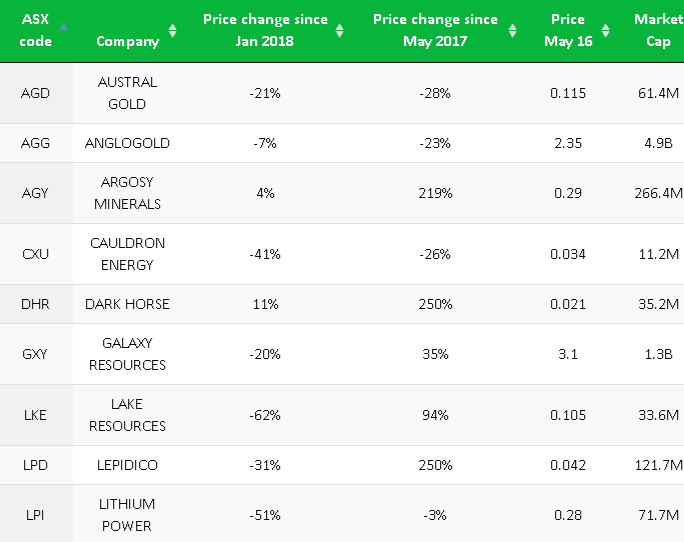 Argentina is very popular with lithium explorers in particular given its large endowment of lithium prospective ground.
South America's "lithium triangle" extends through Chile, Argentina and Bolivia and hosts over half the world's lithium resources.
Dark Horse Resources boss David Mason believes Argentina could be the next large lithium spodumene province globally.
"I think generally in this part of central Argentina that there's going to be some very, very significant discoveries," he told investors at the conference.
Dark Horse has a large landholding of 34,000 hectares in the San Luis and Cordoba provinces.
The company's goal is to become a producer of lithium hydroxide for the domestic and international battery and electronic markets.
Lithium hydroxide is mainly used to produce lithium greases, but it is also used as a heat transfer medium and as a storage-battery electrolyte.
Deutsche Bank predicts that global battery consumption will increase five-fold over the next decade, placing pressure on the battery supply chain and lithium market.
This is expected to drive lithium demand from 181,000 tonnes of lithium carbonate equivalent in 2015 to 535,000 tonnes by 2025.
Battery-grade lithium carbonate is used to make cathode material for lithium-ion batteries.