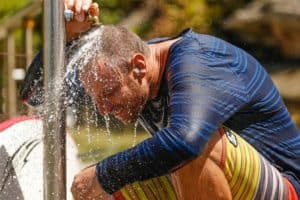 Sweltering weather across southern Australia sparked power price spikes yesterday and prompted the national grid operator to put emergency generators on standby.
Temperatures above 40 deg C represent the first major test of the energy grid this year after nearly 2,000 megawatts of extra capacity were added to prevent blackouts that have previously hit household and industrial users, according to Reuters.
The extra capacity includes the world's biggest lithium ion battery built by Tesla, which was switched on last month and provides 120 megawatts.
Scorching conditions stretch the grid as people crank up power-hungry air-conditioners, while the heat reduces the capacity of transmission wires to carry electricity.
Residents have been urged to prepare for possible outages, reported local media.
Total fire bans have been declared in parts of South Australia, Victoria and New South Wales, with a severe heatwave forecast by the Australian Bureau of Meteorology.
The Herald Sun newspaper said residents in the state of Victoria will welcome a cool change today after sweltering through a two-day heatwave that caused fires and blackouts and increased demand on paramedics.
The cool change will have temperatures hovering around the mid-20s for the coming week until Friday, when it is forecast to climb back up to 35 deg C.
Yesterday was Melbourne's hottest day in two years, with Avalon hitting 42.8 deg C, but the highest temperature was recorded at Hopetoun Airport, 400km north-west of Melbourne, where the mercury hit 46 deg C.
The extreme heat has also caused train services in Melbourne to go slower, with concerns that tracks could buckle under the pressure. Passengers have been warned to plan ahead and allow for delays, reported ABC News.
In the state of South Australia, the Eyre Peninsula town of Wudinna recorded its highest temperature at 47.4 deg C yesterday.
Last summer was the first in eight years to see power failures in Australia's south-eastern states.