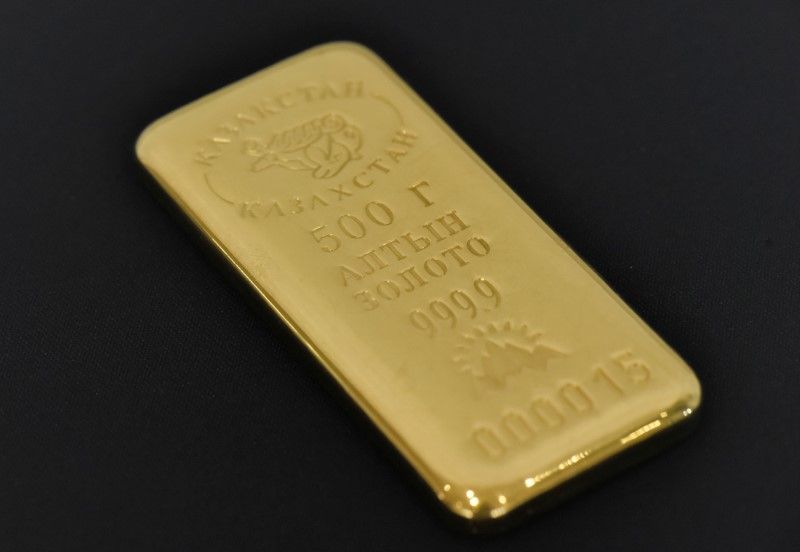 By Vijaykumar Vedala
(Reuters) – Gold prices inched down on Tuesday, with the dollar holding steady on higher U.S. Treasury yields amid uncertainty over the outlook for tax reforms in the United States.
Higher U.S. bond yields can pressure gold prices as they reduce the appeal of non-yielding bullion, while a stronger dollar makes the metal costlier for holders of other currencies.
Spot gold was down 0.1 percent at $1,276.29 per ounce at 0355 GMT. U.S. gold futures for December delivery fell 0.2 percent to $1,276.30.
"Gold prices continued to trade in a very tight range as investors await cues from global markets," ANZ said in a note.
"Rising bond yields and the lack of progress of U.S. tax reforms have seen investors move to the sidelines in the gold market."
U.S. Treasury two-year note yields hit a fresh nine-year high on Monday, as the yield curve resumed its flattening and investors priced in a 25-basis-point interest rate hike by the Federal Reserve in December.
Meanwhile, Congressional Republicans pushed ahead on Monday on a U.S. tax code overhaul as a Senate panel considered the issue, but risks lay ahead with major intraparty disputes unsettled and President Donald Trump returning soon from Asia as the debate heats up.
"There is not much speculative interest (in gold) this morning. The U.S. treasury bond yields are also putting some pressure (on prices)," said a Hong Kong-based trader.
"We see limited upside potential for gold as the dollar is strong," the trader added.
Spot gold may break support at $1,274 per ounce and fall to the next support level at $1,263, as suggested by a wedge and a Fibonacci ratio analysis, according to Reuters technical analyst Wang Tao.
Hedge funds and money managers raised their net long position in COMEX gold by 7,027 contracts to 173,562 contracts in the week to Nov. 7, U.S. Commodity Futures Trading Commission (CFTC) data showed on Monday.
That marked the first time speculators had raised their net long position in eight weeks.
The dealers also increased their net long position in silver by 7,675 contracts to 65,461 contracts, CFTC data showed.
In wider markets, the dollar index, which tracks the U.S. currency against a basket of six major rivals, held steady at 94.487, while sterling arrested a recent slide, which followed concerns about Theresa May's ability to stay on as British prime minister.
Among other precious metals, silver fell 0.5 percent to $16.96 per ounce and platinum declined 0.4 percent to $928.55.
Palladium, which touched a near two-week low of $981.70 earlier in the session, recovered to gain 0.3 percent to $992.72 an ounce.