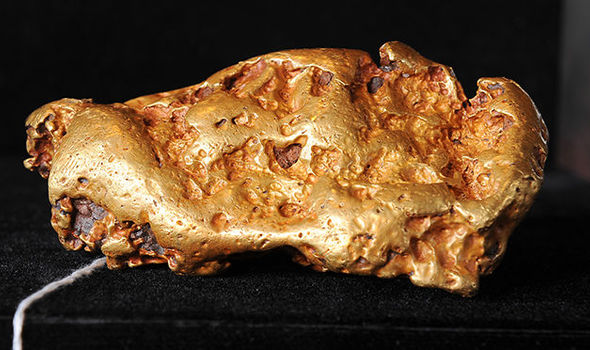 INVESTORS put their faith in gold as they sought a "safe haven" after markets around the world tumbled
Stock market traders backed bullion as they tried to recover losses from riskier investments putting the metal at a three-month high.
Spot gold has seen four weeks of gains as it reached 0.2 percent to $1,234.35 an announce having earlier gained almost one percent, reported CNBC.
The figure is the highest the asset has been at since mid-July while US gold futures settled at $1,235.80 an ounce.
It was up $3.40 for four weeks of gains, the longest streak since January.
George Gero, managing director of RBC Wealth Management, told the business news website the reason behind the gains was down to investors needing a "safe haven" after a marked global downturn in stocks.
He said: "With the extreme slide in stocks, gold became a temporary safe haven.
"But event driven rallies don't last long and the metal pared gains as stock gave up some losses.
"Bonds have also become safe haven with stocks getting sold off.
"The dollar is still pretty high, which is a headwind for gold as it makes the metal expensive in major consumers like India."
Mr Gero also speculated to CNBC that interest rate increases levied by the US Federal Reserve will challenge the sanctuary of gold.
The website explained that rising interest rates usually spell bad news for gold because they increase the opportunity cost of holding non-yielding bullion and could boost the dollar which gold is priced in.
David Meger, director of metals trading at High Ridge Futures, highlighted investors desire to back a solid investment.
He told the website: "We continue to see money flows out of riskier equity markets into safe-haven asset classes. That is one of the main drivers of this (gold) market."
While Jim Wyckoff, senior analyst at Witco Metals, added: ""We are also seeing some more short-covering in the futures markets, which is lifting prices."
Precious metals have also risen.
Palladium, which had hit a record high earlier in the week, was up 0.70 percent at $1,107.20 an ounce, silver was up 0.41 percent to $14.69 per ounce and platinum made gains of 1.29 percent to $833.60 an ounce.
The news came as Reuters reported stock markets around the world tumbled with British shares slumping to a two-year low.
The FTSE100 closed down 1.4 percent yesterday and was on track for its biggest monthly drop in 10 years.
Investors flocking to gold bullion meant only 10 stocks were in positive territory when the London market closed.