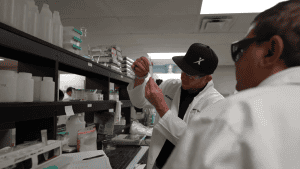 General Motors' venture capital arm will lead a $50 million financing round for EnergyX, a Texas-based start-up developing a more efficient method to extract lithium from salt flats.
EnergyX's direct lithium extraction (DLE) technology portfolio can make lithium metal directly from brine and potentially in anode-ready form for EV batteries, the company said.
It is one of several companies developing the technology that could help GM filter the metal for its Ultium battery packs from some types of brine that have been largely ignored by the mining industry in favor of evaporation ponds and open-pit mines.
In 2022, EnergyX became the first firm to design, build and commission an in-field pilot plant in the Lithium Triangle.
The company's LiTAS technology increases lithium recovery rates to over 90% from the current industry standard of 30-40% using ponds and hit 94% during their field trials, according to the company.
"After a successful five-month pilot program proving the efficacy of the LiTAS lithium refinery process, EnergyX will scale those systems to more robust market demonstration plants located at five regional test beds in North and South America, followed by full-scale commercialization," General Motors said in a press release.
"EnergyX is developing a novel direct lithium extraction process that's not only cost competitive but also will reduce energy, land and water usage as compared to the current extraction and processing process for brine-based lithium," Jeff Morrison, GM vice president of Global Purchasing and Supply Chain said in the statement.
GM will have the right of first refusal to buy lithium from any projects that EnergyX develops.
The EnergyX investment comes after GM in January agreed to pay $650 million to become the largest shareholder in Lithium Americas Corp, which is developing the Thacker Pass clay lithium project in Nevada.
The automaker has also invested in privately held Controlled Thermal Resources (CTR), which is trying to use DLE technology to develop a geothermal brine project in southern California.