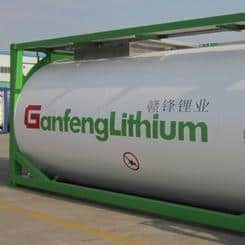 CHINA's Ganfeng Lithium sank 29 per cent on its first day of trade in Hong Kong, a grim debut that follows a disappointing share sale and an ill wind for a planned listing by rival Tianqi Lithium.
Prices for lithium, a key ingredient in rechargeable batteries used in electric vehicles, have halved in China this year due to oversupply, hurting near-term earnings prospects for lithium producers. The longer-term outlook is, however, brighter as Beijing actively promotes EVs to combat air pollution.
Wall Street's worst drubbing in eight months overnight, when the S&P 500 fell 3.3 per cent, also exacerbated the slide for Ganfeng, China's top lithium producer by capacity and a supplier to carmakers like Tesla and BMW.
Ganfeng Chairman Li Liangbin put the blame for the share dive on stock market sell-offs around the world.
"As our company has a healthy and solid performance . . . we are confident that we can further improve our performance to reward our investors in Hong Kong," Mr Li said at the opening bell ceremony.
Shares in Ganfeng closed at HK$11.76, far below its offer price of HK$16.50 – a level that was the bottom of the marketed range in a sale that raised US$421 million. This was the fifth worst debut performance this year in Hong Kong.
The broader market closed down 3.5 per cent.
Ganfeng's shares in Shenzhen also dropped up to the maximum limit of 10 per cent on Thursday.
The listing gives Ganfeng a market value of roughly US$4.5 billion, not far off Tianqi which is the world's No. 2 by lithium sales but has a market value of about US$5.5 billion.
Tianqi is hoping to raise as much as US$1 billion in its Hong Kong stock float, sources told Reuters in August. But they also cautioned that the final deal size could be smaller than that due to the steep drop in lithium carbonate prices.
Tianqi has grabbed more headlines than Ganfeng – building the world's biggest lithium processor in Western Australia and seeking to close a deal to buy a coveted 24 per cent stake in Chile's SQM , the world's No. 2 producer of lithium.
Ganfeng plans to use the proceeds from its Hong Kong listing to acquire lithium resources and expand its production capacity of lithium metals, batteries, compounds and recycling.
The company made a net profit of 478.7 million yuan (S$95.6 million) in the second quarter of this year, up 33 per cent from the first quarter. Its 2017 revenue jumped 54 per cent to 4.38 billion yuan.
Helen Lau, metals and mining research analyst at Argonaut Securities, said the stock's performance was more a reflection of the sell-off in global markets and did not reflect the fundamentals of the company.
The retail portion was also under-subscribed, which put pressure on the stock as retail investors are very sensitive to market sentiment, Ms Lau said.
Ganfeng could still raise as much as US$448 million if a greenshoe option is exercised within a month of its debut.