It might seem obvious that in sunny Singapore, there's an abundance of a natural resource to be tapped for our energy needs, and a more sustainable future.
So one might wonder: Why does the island currently draw only about 2 per cent of its electricity from solar energy?
Tapping the sun's energy is more complex an issue than it might seem, beginning with at least two constraints that Singapore faces: Limited land, for solar energy generation requires large areas for photovoltaic panels to be laid; and intermittent sunshine, because of cloud movements and rain.
But a push is underway to overcome or at least mitigate these constraints, with the goal of one day having solar energy meet 15 per cent of peak electricity demand during the day.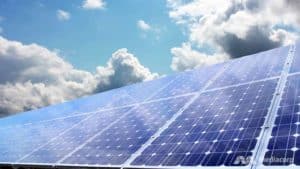 Several projects and innovative programmes are in the works – ranging from an initiative since 2008 to install solar panels on Housing and Development Board rooftops, to floating solar 'farms' on our reservoirs.
MAKING PUBLIC HOUSING SUSTAINABLE
Before the current solar power output of 140 megawatt-peak (MWp) can be bumped up to the eventual target, the plan is to reach 350 MWp by 2020. This will be about 5 per cent of Singapore's projected peak electricity demand.
And the HDB has a role to play as the largest housing developer here. It has about 10,000 residential blocks, providing "ample" roof space.
"Aspirationally, we want to install solar panels in every block that we can," HDB deputy director (Energy Research) Ng Bingrong told Channel NewsAsia's two-part special, Powering The Future.
But retrofitting rooftops with a solar energy system can be a tall order, and can take up to 40 days on each block.
"We've to take into consideration the block configuration and how to place the panels, to maximise solar generation; and looking at the existing roof structure design, how to lay the structural support and the trunking of the wiring," he said.
In 2014, the HDB and the Economic Development Board launched the SolarNova programme to accelerate the deployment of solar panels across government agencies. It will have an estimated capacity sufficient to power 88,000 four-room flats annually.
In housing estates, this electricity generated can be used to power the gamut of services needed, from water pumps to corridor lights to lifts.
Across the island, there are over 2,000 solar panel installations on commercial and residential buildings. That number is rising. But since solar energy generation is dependent on surface area, Singapore's land constraints remain a challenge.
This is being done at Tengeh Reservoir in Tuas, home to the world's largest floating solar-cell test bed. It measures 1.5 times the size of a football field.
Here, 10 different systems are being assessed, so that "we learn as much as possible before we go into a larger deployment", said Solar Energy Research Institute of Singapore (Seris) deputy chief executive officer Thomas Reindl.
In principle, a floating solar farm is not that different from traditional ones on land. "You can put solar panels wherever they face the sun," noted Dr Reindl. And in this case, the panels are placed on pontoons.
But Singapore must first test the techniques and economic feasibility of using this "interesting option" for enhancing its solar power capacity.
The EDB and national water agency PUB built the S$11-million test bed in 2016. And it generates one MWp of energy – enough to power 250 four-room flats for a year.
More importantly, the floating panels have performed 5 to 15 per cent better than Singapore's rooftop installations.
PUB chief sustainability officer Tan Nguan Sen said: "This is mainly due to the cooler temperature of the reservoir environment.
Also, we have found no significant impact on water quality and biodiversity.
Based on these results, the PUB is exploring how to scale up the deployment of floating panels. For example, it is doing engineering and environmental studies at both Tengeh Reservoir and Upper Peirce Reservoir.
With 17 reservoirs dotted around the island, there is the potential to add "a few hundred" megawatts of power, reckoned Dr Reindl.
There is, however, another consideration: Many of the reservoirs are designated for water activities. Said Mr Tan: "We would then have to plan together how we can allocate space for the solar panels and the water activities."
NOT JUST A FACADE
To install panels on more surface areas, Singapore is also turning to building facades. This requires special panels known as building-integrated photovoltaics (BIPVs), which can be placed on buildings in many ways.
"BIPVs can be structurally integrated into balconies. They can be used as a window facade, as cladding … and as a prefabricated system that can be easily plugged into the facade," said Seris research fellow Veronika Shabunko.
Last year, a Seris team installed solar panels on the side of a building at the National University of Singapore to see how they would fare in different weather conditions.
It is important to do such tests also because the panels must comply with Singapore's building codes. And apart from the regulators, BIPVs must meet the standards of another group: Architects.
Dr Shabunko explained: "The aesthetic of building-integrated photovoltaics is also very important because architects have to accept them. And engineers have to work with architects in order to integrate such systems into the building facades."
So, for instance, BIPVs can be blue, golden, black, white or semi-transparent. "There are lots of newly developed BIPV modules that are flexible and can be placed on any curved surface," she added.
NOT SUNNY ALL THE TIME
For all these efforts to mitigate land constraints, one fact will not change: Even in tropical Singapore, it is not always sunny. On average, the city state enjoys 5.5 hours of sunshine daily.
There are cloud movements. There is heavy rainfall up to five months in a year. And haze from forest fires in the region can reduce solar energy yield by up to a quarter.
All these cause an occurrence called solar intermittency and thus the energy produced would fluctuate. Hence, a team of researchers are developing solar storage technologies that will smooth out the fluctuations.
And they are doing it on Pulau Semakau.
"Semakau Island is not inhabited, and this allows us to test various kinds of technologies and different scenarios before we can deploy them in a more densely populated area," said Renewable Energy Integration Demonstrator director Choo Fook Hoong.
The microgrid being tested integrates renewable energy sources with battery storage. Such a system can supply electricity to urban consumers or to remote communities, which means it could also be an affordable energy solution within the region.
Currently in its first phase, the project features over 4,500 square metres of solar panels, lithium batteries and a hydrogen refuelling station for electric cars.
It is also harnessing another element that Singapore benefits from even at night: Wind. Noted Professor Choo,
The combined effect (of wind and solar energy) is that you have electricity supply during the day and night.
When fully completed in five years' time, the system will cover the size of eight to nine football fields.
EYES ON THE SKIES
On Pulau Ubin, another microgrid is already being put through its paces, benefiting some 30 businesses.
Before the Energy Market Authority implemented this project in 2013, diesel generators were the only source of fuel on the island, which is not on the national power grid.
And it was "quite difficult" to rely on the generators because if one malfunctioned, there had to be another on standby, said Ubin resident Koh Bee Choo, who runs a bicycle rental shop there.
"Now the solar-powered system is excellent. There's no power cut, no problem at all," said Ms Koh, who saves S$100 to S$200 a month from the switch.
While integrating such a solar grid into a small community may be straightforward, a more complex solution will be needed for the mainland.
As Dr Reindl noted, solar energy must be added to Singapore's power grid without jeopardising its stability.
That is why a control system is also being tested to forecast solar intermittency across the country. It measures the sunlight intensity at any given solar installation site, and how well the system is converting sunlight into electricity.
Any deviation from the projected numbers should trigger an alert, and action can be taken to ensure an even power supply.
To increase predictive accuracy, more cameras are now being added to aid in the understanding of cloud movements.
"Our vision going forward is to use this real-time monitoring system and eventually make it into an autopilot," said Dr Reindl.
IT'S ABOUT A SOLAR ECOSYSTEM
Even as all these technologies are being developed, the country's size is still a factor limiting their application. So the Republic is looking to become a solar hub for the region – where cutting-edge ideas can originate and take flight.
Singapore will need an ecosystem of solar energy players. And so far, more than 50 companies, local and global, have set up base here, across the manufacturing, project development and financing segments.
Electrify.sg is one example. The local start-up is building a peer-to-peer energy trading platform ahead of the full liberalisation of the energy market later this year.
This platform will allow owners of solar panels to sell the surplus power produced in the daytime to other owners and consumers. If it takes off, this trading platform might be the first of its kind in the world.
Electrify.sg co-founder and CEO Julius Tan said: "We hope that we can encourage a livelier community of both consumers and producers. They can possibly discuss how best they can optimise their solar energy systems."
Meanwhile, Norwegian manufacturer REC Solar has already won an international award for the performance and reliability of its TwinPeak 2 Series solar panels – whose research and development, design and launch were all done here.
The company has also been inspired by Singapore's land scarcity to develop more flexible solar installations.
"We're working with the Singapore government on movable solutions so we can deploy solar PVs on vacant land until it's ready for development," said CEO Steve O'Neil.
"It's this kind of ecosystem where so many people are working together to bring clean energy to Singapore and to the world."
Reducing the nation's carbon footprint remains a big undertaking, but people like him and Mr Tan are optimistic that at least the future of solar energy here looks bright.