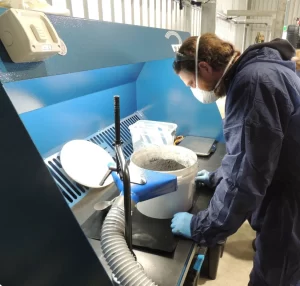 A new graphite pilot plant processing facility – one of the first in Australia – has been officially opened in Collie by Western Australia's Premier Mark McGowan and Minister for Regional Development Alannah MacTiernan.
International Graphite's Collie operation is part of push for new production facilities to meet escalating demand for raw materials to support decarbonisation of transport and energy storage.
The new facility is a milestone for Australia's battery industry and one of the new industries spearheading economic growth and transition in the State's South West, International Graphite said in a news release.
The company's pilot plant, which has successfully produced micronised and spheroidised graphite, is an important proof of concept showing that Western Australia has the capacity to become a global producer of graphite material for battery anodes, it said.
More than 30 local suppliers have been involved in setting up the new facility which houses pilot scale graphite micronising and spheroidising equipment.
On Thursday, the company announced the purchase of bigger equipment which will take the operation to the next level and produce product for qualification with potential international customers.
The Collie facility is also setting up a research laboratory incorporating an ultra-high temperature furnace that will be used to develop a thermal graphite purification process.
"This new facility is proof that International Graphite is well on its way to establishing commercial downstream graphite processing facilities in Collie," Executive Chairman Phil Hearse said in the statement.
"By the end of 2023 we expect to be completing construction and commissioning of a commercial scale graphite processing plant here in Collie. By 2025, we expect to have developed a fully integrated battery anode project with feedstock coming from our planned graphite mine at Springdale, near Hopetoun, on WA's south coast," Hearse said.
The Western State Government has contributed A$2 million, through the Collie Futures Industry Development Fund, to help establish commercial scale graphite micronising operations at Collie. Purified micronised graphite is used as a conductive additive to battery cathodes, and other industrial applications, and well as being an essential step in the production of purified spheroidised graphite for battery anodes.
"The opening of International Graphite's new processing facility is a big win for Collie's Just Transition Plan – an effort to attract new 21st century industries to the region as we decarbonise our economy," Western Australia's Minister for Regional Development Alannah MacTiernan said.
"International Graphite selected Collie as a strategic location for the new processing and manufacturing plant, based on existing regional industries and infrastructure, a skilled local workforce, and an ability to access overseas markets."