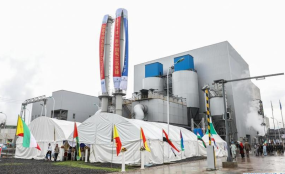 Like most African cities, the Ethiopian capital Addis Ababa, has struggled with solid waste management for decades, with all the waste generated by its population of six million, directed to Koshe – the capital's only dumpsite.
With about 1,680 tonnes of waste produced and dumped every day, Koshe has gradually, ballooned into a mammoth landfill – sprawling over an area the size of 36 football pitches – and poses a health and security risk. Some 114 people were killed there in a landslide, early last year.
But after half a century, the Horn of Africa nation may have finally put the waste problem in Addis Ababa to rest after it launched the continent's first waste-to-energy plant.
Dubbed Reppie, the facility is expected to process 1,400 tonnes of solid waste every day — about 80 per cent of the city's rubbish — to produce 185GWhr of electricity annually, sufficient to power 25 of Addis Ababa's households.
The $120 million project whose construction began in 2014 meets European standards on air emissions, according to the United Nations Environment Programme and typifies the country's shift to clean energy.
"Ethiopia has invested extensively in hydropower, geothermal, wind, solar energy and now biomass to boost manufacturing with a supply of clean, renewable energy. Reppie waste-to-energy project is part of that grand strategy," Ethiopian President Mulatu Teshome said.
Between 2012 and 2014, Ethiopia inaugurated three wind farms – Ashegoda, Adama and Adama 2 – with a capacity of about 320MW, before signing a $4 billion deal to develop two geothermal power plants with a capacity of 1,000MW in December 2017.
Construction of the $4.8 billion Grand Ethiopian Renaissance Dam, which will generate 6000MW of electricity is also nearing completion as the country looks to increase its electricity generation capacity from the current 4,206MW to about 17,300MW by 2020 using hydro, wind, geothermal, biomass and solar energy.
According to the African Development Bank, rapid urbanisation has seen the urban share of Africa's population double from 19 per cent to 39 per cent over the past 50 years, with some 350 million more people expected to move to urban areas by 2030.
However, lack of a corresponding expansion of urban facilities including investments in waste management infrastructure, has seen most African cities choking in filth.
In Nairobi, East Africa's largest city, the 2,475 tonnes of waste produced every day are dumped in Dandora, the capital's only legal dumpsite, which had already been declared full 20 years ago.
Plans to relocate the 43-year-old dumpsite have since hit a snag due to lack of alternative land, with the city's management now settling for a waste-to-energy processing plant, breaking ground will be in December.
In Kampala, more than 1,300 tonnes of solid waste is generated daily, but the Kiteezi landfill, which was gazetted in 1996, has since been filled up, forcing the city authorities to consider establishing a new one at Ddundu Village, about 20km east of Kampala.
In Dar es Salaam, the situation is no different. More than 4,600 tonnes of solid waste are generated per day but local estimates show that collection of waste in various cities in the country is below 50 per cent, and that the remaining 50 per cent is left to rot on streets.