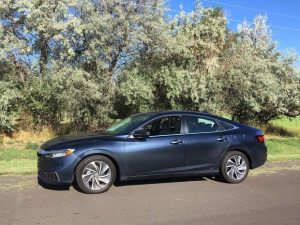 Scarcely noticeable in Honda showrooms these days is the new 2019 Insight hybrid electric vehicle, a four-door with a trunk, little different in appearance from the company's mainstream Accord and Civic gasoline-engine models.
The Insight only recently arrived and in its first full month of showroom presence in July, 1,972 were sold, which placed the Insight in the month's top 10 of gas/electric hybrid sales.
The contemporary look is good. It doesn't cast that gosh-awful style of its two previous ventures with an Insight hybrid.
Honda tried the unique look 20 years ago with its first Insight hybrid, a funny-looking two-seater which generated few sales and was discontinued in 2006. Three years later in '09, Honda launched its second go-round with Insight, styled similarly to the leading hybrid seller, the Toyota Prius. What worked for Prius didn't work for Honda and the Insight was dropped again, four years ago.
The third-generation Insight fits between the compact Civic and midsize Accord and reflects family resemblance from all angles.
In addition to its direct, longtime competitor, the Prius, the Insight goes against other compact-sized, alternatively fueled vehicles such as the Chevy Bolt and Volt, Nissan Leaf and Hyundai Ioniq.
Powered by a combination of 1.5-liter Atkinson-cycle 4-cylinder engine, an electric motor and lithium-ion battery pack, the front-wheel-drive Insight delivers consistently high fuel mileage. The battery pack is stored beneath the rear seats.
Throughout the week I spent with the new Insight, it mattered little how I drove it or where I drove it, the Insight's fuel-mileage reading registered just beneath 50 miles per gallon, ending at 49.3. Much normal driving operates on electric power, with the gas engine acting as a generator to charge the battery pack. The engine delivers power during most high-speed acceleration, while during slowdowns the Insight's regenerative braking system restores electric reserve to the battery pack.
The review model I drove was the heavier, well-eqipped Touring, with EPA fuel estimates of 51 in the city and 45 highway; the lesser-priced LX and EX versions boast EPA numbers of 55 in city and 49 highway.
A frequent accompaniment of Insight's performance is whining from its continuously variable transmission. The transmission is operated from a somewhat awkward push-button/pull-button type shifter.
Regardless, the Insight is a fun car to drive and accelerator response is improved when a drive mode button is pushed for "Sport" over "Eco." Combined output of the engine and traction motor is 151 horsepower. The Insight rides on Continental ProContact 215/50R17 tires. It is built in Greensburg, Ind.
The Insight shows off a nice interior, with perforated leather seats, stitched leather on the dash and doors, a roomy rear seat and trunk space of 15 cubic feet.
The Touring model was priced at $28,985, with LED headlights, automatic walkaway locking, 17-inch wheels, one-touch power moonroof and, with right-hand turn signal engaged, a clear photo view of the right side. Prices begin around $23,500 for the LX.
The Insight is on a wheelbase of 106.3 inches, is 183.6 inches in overall length, 71.6 in width, 55.6 in height and curb weight of 3,120 pounds.
Gains in plug-in hybrids and battery electric car models offset declining sales in gas/electric hybrids for an overall sales increase of 7 percent in alternately fueled vehicles for the first half of this year.
Six-month sales of the hybrids and electrics totaled 282,888 vehicles, amounting to 3.3 percent of the total auto sales of 8,558,117 during the same period in the U.S.
Among solid individual sales leaders are Toyota Prius Prime in plug-in hybrids and Tesla Model 3 in battery electrics, while among gas/electric hybrids a three-way race is seen among the Toyota Prius Liftback, Ford Fusion and Toyota RAV4.