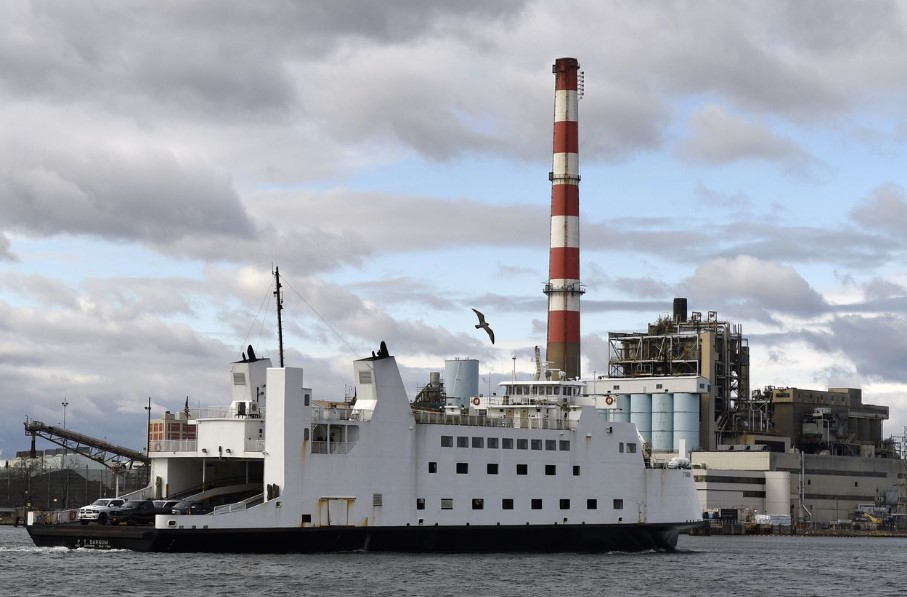 BRIDGEPORT, Conn.—For decades, officials here have searched for an economic engine to turn around this once-booming industrial city.
They pursued several waterfront casinos, hoping one would prove a job-making jackpot, but none has yet panned out. They took a swing at a minor-league baseball stadium. They built it, but the city's success didn't come.
Now an offshore wind venture is seen as a savior. Developer Vineyard Wind has pledged to invest $890 million in Bridgeport, Conn., create thousands of jobs and return the state's largest city to its heyday.
A similar, if smaller, plan is being negotiated with a separate wind-farm developer in New London, Conn., which is about an hour drive from Bridgeport.
"This is going to drive opportunity for Connecticut and the two deep water ports that we are blessed to have, Bridgeport and New London," Katie Dykes, commissioner of the Department of Energy & Environmental Protection, or DEEP, said in an interview. "We expect that by moving quickly we can ensure that the initial investment is anchored here in our state so that we will be a leader in offshore wind."
Vineyard Wind, a Massachusetts-based company owned by Avangrid Renewables and Copenhagen Infrastructure Partners, won a 20-year state contract in December to provide 14% of the state's electricity, or enough to power 400,000 homes with renewable energy. Its winning bid included agreements to use cable from a manufacturer that has been in the region since 1854 and employ a statewide high-tech manufacturing group to train workers. Vineyard Wind also agreed to work with the parent company of the Bridgeport & Port Jefferson Steamboat Company to develop a decaying 18-acre waterfront site called Barnum Landing into an operations and maintenance facility.
"Park City Wind will transform a long dormant property into a hub for 21st century jobs and create significant economic activity for the City of Bridgeport and surrounding areas throughout the development, construction, and operation of the project," said Lars T. Pedersen, CEO of Vineyard Wind.
Katherine Mamed, program coordinator for Building Pathways Connecticut, which offers apprenticeship-readiness classes for 14 trade unions, said the wind venture could reduce Bridgeport's 6% unemployment rate.
"We are really excited to work with the wind industry in Bridgeport because it is an area that is underserved," Ms. Mamed said. "People there often don't have a conduit into middle-class jobs."
A city of 150,000 with a nearly 21% poverty rate, Bridgeport has had its share of misfires.
President Donald Trump came to town in the 1990s, offering a glittering casino packed with jobs, but the state didn't approve a Bridgeport casino. Then, a minor league baseball team—the Bridgeport Bluefish—was hailed as the needed catalyst. After 20 years of sluggish growth, the team departed in 2017. That year, MGM Resorts International promised to build a $675 million casino on the Bridgeport Harbor. Trade unions rallied in support, hoping for the promised 7,000 Bridgeport jobs. MGM would need state approval for a Bridgeport casino, as would a competing bid from the two sovereign tribal nations that already run casinos on reservations in the state. They are still waiting.
MGM spokesman Bernard Kavaler said in an interview: "A competitive process is in the state's best interest." The Trump Organization declined to comment and a message left for Frank Bolton, the former owner of the Bluefish, wasn't returned.
The wind project is different, said David Kooris, chairman of the Connecticut Port Authority.
"This is not a pipe dream," said Mr. Kooris, who once served as economic development director for Bridgeport. "Because of DEEP's award of the 800 megawatts, there will be offshore-wind activity at the port, but the magnitude will be determined by a variety of factors still being negotiated."
The state's clean energy goal requires 2,000 megawatts from wind power by 2030.
Revolution Wind, a joint venture of Danish wind giant Orsted and the Connecticut-based utility Eversource, won state bids to provide 300 MW. The company plans to join with the state on a nearly $100 million project to redevelop the State Pier in New London. That pier would serve as the New London assembly and installation hub for the massive turbines, said Francis Slingsby, Orsted's head of strategic partnerships.
"It's a great facility in terms of geography," Mr. Slingsby said. "It's only 70 nautical miles from our lease areas and that means you've got less days at sea for these very expensive, installation vessels."
Revolution Wind's turbines will be in the Rhode Island Sound while Vineyard Wind's turbines will sit 15 miles off Martha's Vineyard.
There are still obstacles to overcome before electricity can flow.
Vineyard Wind was expecting final approval for an 800-MW project in Massachusetts when, in August, the U.S. Bureau of Ocean Energy Management required the company to complete an additional study analyzing the cumulative impact of wind farms. The timeline is now unclear.
Then there is the fact that the Bridgeport Harbor hasn't been dredged since 1964 and some of its channels have silted in. The Vineyard Wind project can operate without dredging, Kooris said, but the harbor will eventually need to be dredged by the U.S. Army Corps of Engineers.
"There is great potential here in Bridgeport," said Justin C. Ballotte, operations manager for the Bridgeport & Port Jefferson Steamboat Company, who noted that new retail and dining destinations along the harbor are drawing more interest in the area. "Increased operation in the harbor only makes the argument for dredging stronger."