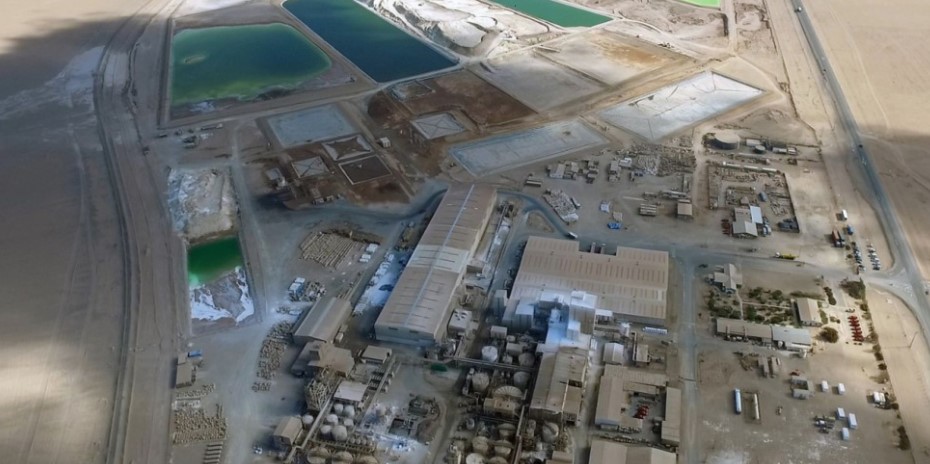 Tianqi Lithium Corp strikes US$4.1 billion deal for a stake in Chilean rival SQM, which gives the Chinese company an opportunity to shape the direction of the lithium industry amid the global growth of electric vehicles
China tightened its grip on the global supply chain for battery raw materials as Tianqi Lithium Corp struck a deal to take a US$4.1 billion stake in Chilean rival SQM, the world's second-largest lithium producer.
Chengdu-based Tianqi is seeking to almost triple production capacity through 2020, part of an aggressive expansion by Chinese companies to tie up sources of the metals and chemicals that are key to meet rising demand for rechargeable batteries and electric vehicles.
Tianqi will buy all of Nutrien's voting shares in SQM, giving it a 24 per cent stake in the Santiago-based company. Confirmation of the deal followed months of speculation that prompted Chilean government agency Corfo to request an antitrust review on the grounds it would give the two companies too much sway in the global lithium market. Corfo's former head said the deal opens the door for Tianqi to take control of SQM.
The deal "makes the lithium oligopoly even stronger than it already is", Chris Berry, a New York-based analyst on energy metals, and founder of House Mountain Partners, said in an email. "This affords Tianqi a unique opportunity to shape the direction of the lithium industry."
Competitor Ganfeng Lithium Co is aiming to raise about US$1 billion from a planned Hong Kong listing to extend its own global acquisition spree, while southeast China's Contemporary Amperex Technology is adding capacity under a plan to become the world's top battery cell maker.
In March, Glencore, the world's top cobalt producer, agreed to sell about a third of its output of the metal to GEM Co, a Chinese supplier of battery chemicals.
Tianqi, which is planning a listing in Hong Kong, rose as much as 2.4 per cent in Friday trading in Shenzhen. Shares of Soc Quimica & Minera de Chile, as SQM is known formally, fell 5.5 per cent in New York on Thursday, as Nutrien shares slid 0.4 per cent.
Nutrien is selling its 32 per cent stake to meet a condition for its creation in the merger between Potash Corp and Agrium. Nutrien still has about 20 million non-voting shares, which it plans to sell in the coming months.
The entire Nutrien stake gives the holder the right to three of eight SQM boardroom seats. But that could increase to four if the shareholding was sold in two separate blocks and the two buyers formed an alliance, according to Eduardo Bitran, Corfo's former executive vice-president.
Such a scenario is something that SQM's other major shareholder Julio Ponce wants to prevent. At a meeting in Santiago on Thursday, shareholders approved Ponce's proposal to rescind by-laws that limit voting rights for the A shares, particularly to avoid losing power if other shareholders seek control. Representatives of Nutrien voted in favour of the proposal, while minority holders including pension funds and Moneda Asset Management voted against.
In Corfo's request to Chilean antitrust authorities, it said giving control to an SQM competitor would lead to further concentration of the global lithium market and would not be in the public interest.
Tianqi said in a statement on Thursday that it would be getting a non-controlling position in SQM.
The urgency in China's pursuit of lithium deals reflects the country's lack of "world-class lithium resources", according to House Mountain's Berry. "They view it as imperative that they have to move much faster than the rest of the world to try and mitigate this issue," he said.
In March, Chile's Mining Minister Baldo Prokurica said the government wouldn't intervene in any investigation into the potential purchase of a stake in SQM by Tianqi and would support the verdict of antitrust authorities. On Thursday, finance minister Felipe Larrain was quoted as saying the government supports the entry of Chinese investors.
Last month, Xu Bu, China's ambassador in Chile, told Pulso newspaper that Bitran had made the process political in a move that could hurt bilateral trade relations.
In an interview on Thursday, Bitran countered by saying such threats by Chinese officials inhibit the antitrust process and that it was now unlikely anything could be done. In a statement, Corfo said the National Economic Prosecutor has not yet indicated whether it will investigate the transaction.
The deal follows the resolution of a years-long contractual dispute between Corfo and SQM, in which Ponce agreed to relinquish control of the company. Ponce, the former son-in-law of dictator Augusto Pinochet, had controlled SQM through a series of holding companies and an agreement with Japan's Kowa Co. Once predominantly a crop-nutrient producer, SQM has become the world's biggest exporter of lithium carbonate.
Tianqi's acquisition of the stake in SQM would likely increase its share of global lithium chemical capacity in 2018 to about 15 per cent from 12 per cent, Alice Yu, a Hong Kong-based senior consultant at CRU Group said in an email.
The producer owns assets including 51 per cent of Perth-based Talison Lithium, operator of the world's largest lithium mine, and is constructing the biggest lithium hydroxide processing plant in Western Australia. Planned expansions are aimed at becoming the No 1 lithium supplier, Phil Thick, general manager of Tianqi's Australian unit said in a March speech.
Talison's other owner, Charlotte, North Carolina-based Albemarle Corp – the sector's biggest producer – operates in Chile's Atacama salt flat alongside SQM. The Corfo-SQM agreement includes a clause preventing SQM from conducting commercial activities with other Atacama operators.