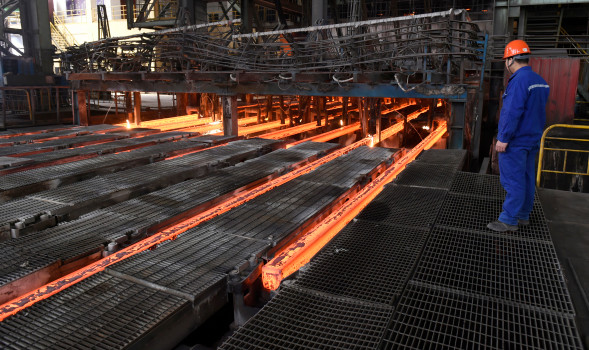 Chinese steel futures dropped to their lowest in three weeks on Monday, staying under pressure due to uncertain prospects for demand amid a gloomy outlook for the world's second-largest economy, and weak production margins.
Benchmark construction steel rebar for October delivery on the Shanghai Futures Exchange dropped as much as 1.8% to 3,921 yuan ($570.34) a tonne in early trade, extending losses for a fourth straight session.
Hot-rolled coil, the steel used in cars and home appliances, slipped as much as 1.3% to 3,802 yuan, also sliding for a fourth session.
FUNDAMENTALS
* All eyes were on Chinese gross domestic product data due at 0200 GMT, where analysts expect second-quarter growth to have slowed to 6.2% from a year earlier – the weakest annual pace since early 1992.
* The most-traded September iron ore contract on the Dalian Commodity Exchange was wobbly, trading 1.1% higher at 884 yuan a tonne, as of 0143 GMT, after falling 1.1% shortly after the market opened at 0100 GMT.
* Other steelmaking inputs were trading mixed, with Dalian coking coal futures down 0.3% at 1,396 yuan a tonne, while coke futures was 1.4% higher at 2,137 yuan.
* Benchmark spot 62% iron ore for delivery to China, SH-CCN-IRNOR62 rose 0.8% to $120.50 a tonne on Friday, near the five-and-a-half-year high of $126.50 hit on July 3, according to data tracked by SteelHome consultancy.
* China will continue to enforce production restrictions in heavy industry in winter this year and will tighten its emission assessment on steel mills when granting exemptions from curbs already in place, an environment ministry official said on Saturday.
* China needs to create an "incentive mechanism" to take into account the rising costs of steel firms using advanced and clean technologies to avoid them being priced out by environmentally uncompliant competitors, the China Daily said, citing a senior official from the China Iron and Steel Association.