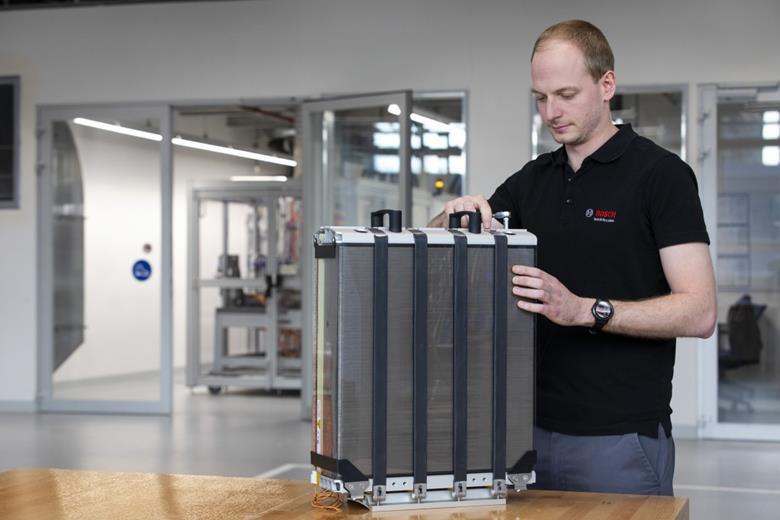 Bosch has signed an agreement with PowerCell Sweden to jointly mass produce hydrogen fuel cells for the automotive segment.
The German auto supplier said the two partners will make polymer-electrolyte membrane (PEM) fuel cells under the agreement for mass production. The stack is expected to be launched in 2022 at the latest.
"By teaming up with Bosch we can achieve a commercial break-through within the automotive industry that would be very hard for us to accomplish on our own," Per Wassén, CEO of PowerCell, said.
Following the European Union's rules for trucks to reduce CO2 emissions by 15% by 2025 and 30% by 2030, Bosch estimates that as much as 20% of all electric vehicles worldwide will be powered by fuel cells by 2030.
The company said its view is that this target can only be reached by electrifying more and more of the powertrain, with the fuel cell playing a decisive role.
"Once they have become established in trucks, Bosch fuel-cell powertrains will then increasingly find their way into passenger cars. But for this to happen, the cost of fuel cell systems needs to be progressively reduced," Bosch explained.
"The biggest cost item is the stack. It accounts for nearly two-thirds of the total cost of a fuel cell system."
"Through commercialisation and widespread marketing of this technology, Bosch will achieve economies of scale and push down costs," Dr. Stefan Hartung, member of the Bosch Board of Management and Chairman of the Mobility Solutions business sector.
"Costs also have to fall when it comes to hydrogen. Currently, this fuel is mainly produced for industrial applications, at a kilogram price that frequently exceeds €5. As production grows, the price should fall."
"One kilogram of hydrogen contains as much energy as about three litres of diesel. For 100 kilometres, a modern 40-tonne truck requires seven to eight kilograms of hydrogen."