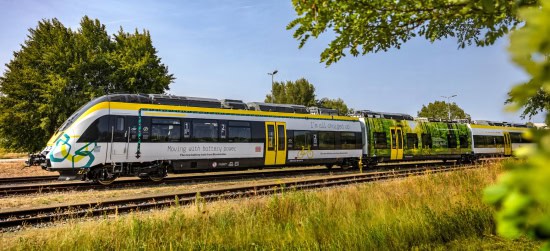 Bombardier Transportation has introduced a new battery-operated train: the BOMBARDIER TALENT 3 train. The new battery-operated train is the first of its kind to enter passenger operation in Europe in more than 60 years.
It does not generate any exhaust and sets the standards for smart mobility with peak values of 90 percent in the areas of efficiency and recyclability. It is also around 50% quieter than modern diesel trains. According to a comparative study by the Technical University of Dresden, the battery-operated train clearly has an edge with respect to the total costs across the service life of 30 years.
The range of the train will increase proportionally with the continuous capacity increases due to new battery developments. The current prototype is equipped with four BOMBARDIER MITRAC traction batteries (earlier post) and can travel routes of around 40 kilometers. In 2019, the next generation of battery-operated trains will be able to cover distances of up to 100 kilometers on non-electrified railways.
In 2019, Deutsche Bahn (DB) will start a twelve-month trial run with passengers with the current prototype in the Alb-Lake Constance region.
The German government subsidized the development of the battery-operated train with €4 million in the framework of an innovation program for electromobility. The project partners include the DB Regio subsidiary DB ZugBusRegionalverkehr Alb-Bodensee (regional transport for the Lake Constance region), Nahverkehrsgesellschaft Baden-Württemberg (Baden-Wuerttemberg Regional Transport Company) and the Nationale Organisation Wasserstoff- und Brennstoffzellentechnologie (National Organization for Hydrogen and Fuel Cell Technology) and the Technical University of Berlin.