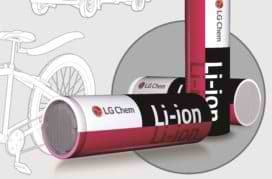 KARLSTEIN am MAIN, Germany – Europe's biggest e-bike battery maker – BMZ – has been able to secure delivery of hundreds of millions of Lithium-Ion cells. Such cells are the core of e-bike batteries as well as those for electric cars like Tesla and many 'mobile' products. With that demand for batteries is "exploding and delivery of cost-effective battery cells is crucial," said BMZ CEO Sven Bauer.
Last month BMZ GmbH entered into a long-term agreement with LG Chem Ltd., one of the world's largest cell manufacturers based in Korea. The agreement between the two companies is for the long term supply of hundreds of millions Lithium-Ion cells up to the end of 2022.
Long-term supply security
"This provides our customers with long-term supply security for their products based on Lithium-Ion technology," explained Bauer. "Establishing this long-term agreement between BMZ and LG Chem has entailed long-lasting cooperation upon mutual trust and partnership and will be pivotal point for both companies to further expand domain within Europe", said Youngsun Kim, Vice President of LG Chem Ltd., Korea.
European lithium-cell Gigafactory
After the contracts between LG Chem and BMZ end in 2022, Li-Ion cell production will be up and running in Europe. This production is to start on a small scale in Germany next year but is to be gradually upscaled to grow to a level that will be sufficient to compete with the currently all in Asia based Li-Ion cell suppliers.
This European lithium-cell Gigafactory is founded by TerraE in which BMZ is one of the investors. In 2019 and in 2020 production will be scaled up to an output of some 4.0 Giga Watt hours. In the years after, up to 2028, the planning is to grow the TerraE production to 38 GigaWh. By that time Sven Bauer reckons that about 5 billion euro has been invested in the production facilities which are to be located in Germany.