Best Buy shares soar after better-than-expected first-quarter earnings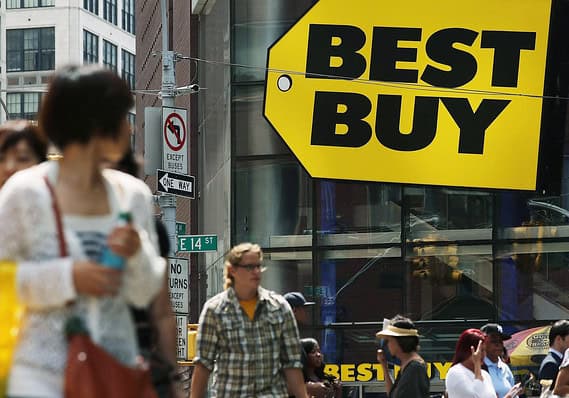 Best Buy Co Inc. attributed its better-than-expected quarter to mobile, gaming and improved overall sales trends.
Neil Saunders, managing director of GlobalData Retail, thinks it has more to do with the continuing troubles at Sears Holdings Corp. SHLD, While personal computing and mobile phones are "laggards in terms of growth," appliances is an area where Best Buy BBY, is offsetting that softness.
Don't miss: Cannabis is saving lives and changing the medical world – This company is a sure bet
"The travails of Sears, which continues to lose sales at a rapid pace, is beneficial here; a difficulty we believe Best Buy can capitalize on thanks to its wide assortment and visibility in the market," Saunders wrote in a Thursday note.
Best Buy reported first-quarter sales of $8.53 billion, up from $8.44 billion last year and ahead of the $8.28 billion FactSet consensus. Enterprise same-store sales rose 1.6%.
Best Buy shares closed Thursday up 21.5%.
On the Thursday morning earnings call, Best Buy Chief Executive Hubert Joly said appliances is one of the areas that the company is pursuing for growth. HHGregg Inc. HGGGQ, store closures are providing "some lift" in appliances and home theater. "And we'll get a share of that, it's about 200 stores, so about 20% overlap with our stores," said Joly, according to a FactSet transcript.
Read: Is this the end to banking as we know it?
Also: Bullfrog Gold Raises $816,000 Of Equity To Advance Its Nevada Gold Project
These two areas, along with a few other categories that Best Buy doesn't participate in, are worth about $2 billion, he said.
Sears reported $4.3 billion in first-quarter sales on Thursday, down from $5.4 billion last year, though it beat the FactSet consensus of $4.1 billion. The FactSet consensus was based on just two estimates.
The struggling retailer said a domestic same-store sales decline of 12.4% was driven by a decrease in appliances, among other categories.
Sears shares are up nearly 26% in Thursday trading, though they're down 25% for the past year.
See also: Is This Tiny Gold Company The Next Big Thing
"For the balance of the year, we expect Best Buy to continue to perform at a high level across multiple categories, with appliances likely to be one of the bright spots given market dynamics," said Charlie O'Shea, Moody's lead retail analyst, in a Thursday comment.
"Potential performance pressure points were evident during the quarter, including delays in income tax refunds and HHGregg's bankruptcy and still-ongoing liquidation; however, Best Buy successfully avoided the trap of chasing low quality/margin sales," O'Shea said.
Best Buy was one of the first retailers to call the delayed IRS tax refunds a benefit, with others like Foot Locker Inc. FL, blaming the year's "slow start" to the hold up.
"There is little doubt that the delayed arrival of tax refunds provided buoyancy to the electricals market later into this quarter," said GlobalData's Saunders. "However, from our customer survey data, it is evident that fewer people than last year purchased physical products with their refunds, and fewer of those opted to buy electricals. As such, we believe that the impact was helpful but somewhat limited."
Best Buy's Joly said that the domestic same-stores sales increase of 1.4% was, in part, driven by connected home, and the company plans to test and offer new products and services related to smart home products and their installation. Among them, Best Buy is rolling out an In-Home Advisory service nationwide this year.
"If the need of the customer is complex, if you are redoing your home theater, if your network needs to be improved, having these conversations in the home unlocks all sorts of discussions with customers," Joly said. Best Buy has had Geek Squad agents and members of its Magnolia Design Centers team going to customers' homes for years to help with computing and home theater issues, company executives said.
"[T]here is no revenue associated with an in-home adviser visit specifically," said Joly. "Remember this is a free visit from an in-home adviser who's going to come and help you… in your home. The revenue comes from what you would choose to purchase as a result of that visit, be it hardware or services."
Earlier this month, Best Buy announced the new Best Buy Smart Home powered by private smart home services provider Vivint, which will start rolling out this summer. Customers at one of 400 stores will be able to consult with an expert on smart home products, and receive professional installation and monitoring.
GlobalData's Saunders highlights the link Best Buy is making between good customer service and sales of these newer technologies.
"From our data, we see that there is an appetite among consumers to know more about this sort of technology and we believe Best Buy is in an ideal position to inform and engage," he wrote.
Best Buy shares are up 91% for the last 12 months while the S&P 500 index SPX,   has gained 15.5% for the period.