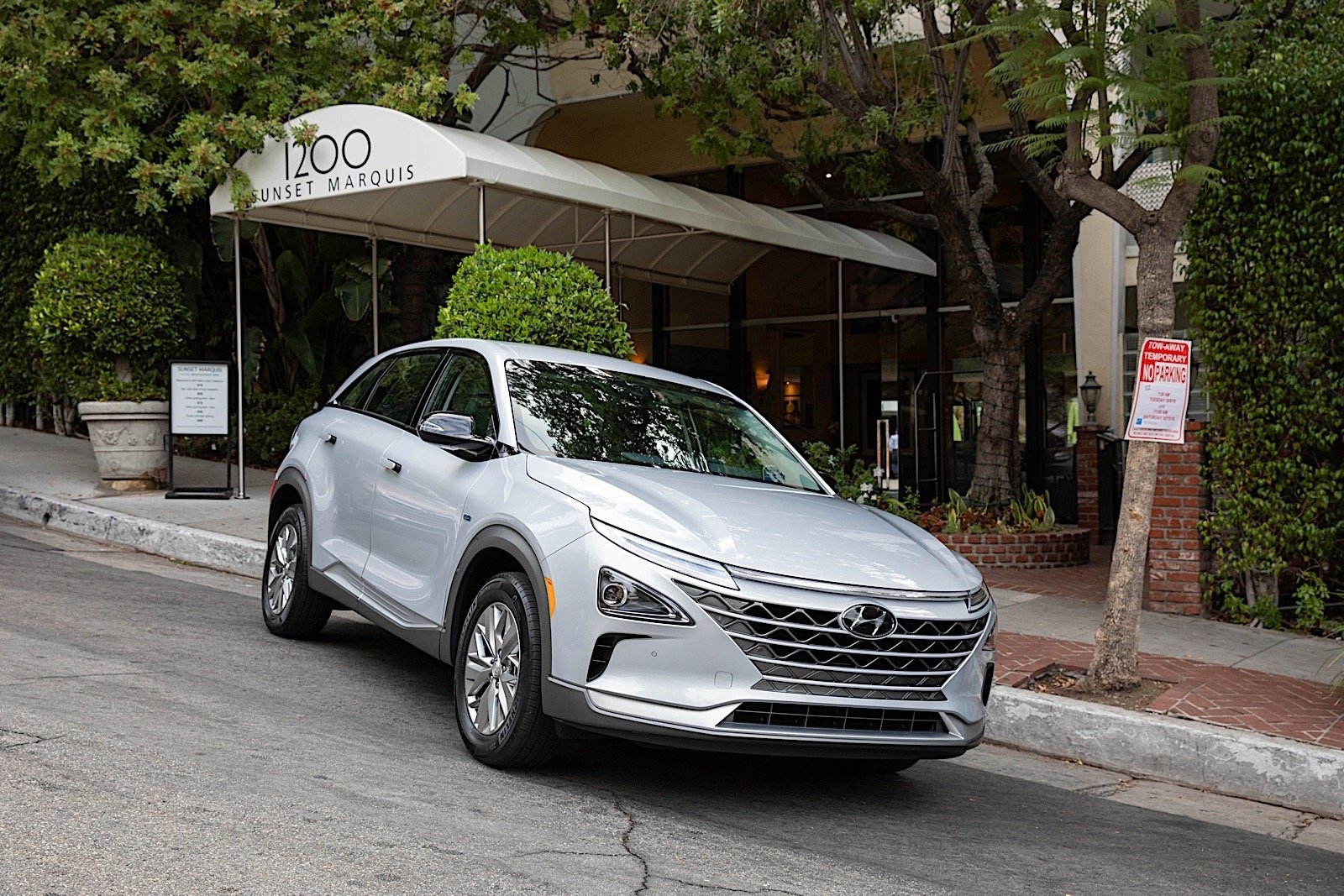 Electric vehicles have yet to take over the world due to a pair of shortcomings inherent to the technology: limited range and long refueling times. Hyundai's hydrogen-powered 2019 Nexo FCEV addresses both issues — all while it cleans the atmosphere around you like a giant, driveable Coway Mighty.
While the Kona Electric leans heavily on the concepts of "flow and circuitry" for its design, Chris Chapman, Senior Chief Designer at the Hyundai Design Center, explained during Hyundai's recent launch event in Los Angeles, the Nexo Fuel Cell is designed with "air and water" in mind (because it's hydrogen powered and expels water as waste, get it?). Hyundai describes the Nexo's exterior as "future-oriented," though apparently that future is one in which a BMW i3 and a Jeep Renegade had a lovechild.
At 183 inches in overall length, the Nexo is a substantial vehicle and noticeably bigger (and heavier) than its battery-based cousin — though they both offer nearly the same amount of head and leg room. That extra exterior size translates into a downright roomy cargo area. It offers 29.3 cubic feet of storage space, double that of the Toyota Mirai, nearly triple that of the Honda Insight and six more cu.ft. than the Nexo's predecessor, the Hyundai Santa Fe. This added space is also thanks to Hyundai's engineers switching from a 2-tank design (to hold the hydrogen fuel) to a more flexible 3-tank layout.
In keeping with Hyundai's commitment to technology, the Nexo is packed with the stuff. The center console sits high against the dash and resembles the control panel of a commercial jetliner. The Drive Park Reverse controls are engaged with quick button presses, rather than a shifter knob, as is the electronic parking brake. The infotainment, navigation, and climate control systems are all quickly accessible from the console as well. This is great for a couple reasons. One, it means that you can control a wide swath of the cabin's controls without having to dive through the infotainment system numerous menu systems (unfortunately, setting your drive specifications generally does). Two, it enables the driver to set these controls without taking their eyes off the road. For those drivers who do want to deep dive into the menu system, the 12.3-inch infotainment screen is touch-enabled and the menus can be scrolled through using controls mounted on the steering wheel.
Additionally, the Nexo will offer a suite of Advanced Driver Assist Systems (ADAS), though the features you get depend on the trim package you select. The Blue (base) package will include forward-collision avoidance, lane following assist, a driver attention warning, high beam assist, and a remote engine start. The Limited edition also includes a blind spot warning monitor, which is super cool. A camera mounted underneath the sideview mirrors sends a video feed of the lane next to you (specifically the blind spot) to the center instrument cluster. And if you do try to merge into an occupied lane, the Blind Spot Collision Avoidance Assist will actively steer you back into your original lane before things get side swipey.
You'll also find a surround view monitor for parking, remote parking assist (i.e. you get out of the car before it pulls itself into a stall), a rear cross-traffic warning for backing out of tight spots, a tiltable sunroof that spans the width of the vehicle, wireless device charging, Blue Link connectivity, Apple CarPlay and Android Auto compatibility, and a powered tailgate.
Even cooler, the Nexo's air filters, which already play a key role in the power generation system, are so advanced that they're able to remove 99.9 percent of fine particulate matter from the air. And since there are virtually no moving parts under the Nexo's hood, these filters and the battery coolant will be among the only parts you'll likely need to replace within the first 32,000 miles (aside from consumables like brake pads and rotors, of course).
The Nexo may mirror the Kona EV in terms of amenities, but the two are driven by vastly different power trains. While Battery Electric Vehicles (BEVs) like the Kona store all of the energy that they will have for the trip, Fuel Cell EVs (FCEVs) like the Nexo, actively produce the electricity that drives its motors. This enables the Nexo to store far more potential energy in the form of hydrogen, than it could as electricity in its Lithium-iron (yes, iron) battery packs. As such, the Nexo boasts a 381 mile range — that's the farthest drivable distance for any zero emission vehicle currently on the market, including Teslas. It also sports at 120kW motor outputting nearly 300 ft lbs of torque and 161 horses, which translates into a 110 mph top speed.
We unfortunately weren't able to get it up to nearly that fast while winding our way through the narrow canyon roads of Topanga State Park. Still the Nexo, performed admirably. It was definitely not as nimble as the (smaller and lighter) Kona EV but was still able to handle tight downhill turns with only a bit of understeer.
The Nexo came into its own in LA's infamous traffic, however. The combination of command-style seats with high sight lines, broad window visibility, and high-tech driver assist features drastically reduced my stress levels when navigating Santa Monica Blvd. I never once felt like other drivers "just came out of nowhere" (even the guy on Wilshire in the Porsche who took a right from the left lane without taking his eyes off his phone), namely because this car doesn't really have blind spots.
If the Nexo were powered by anything other than hydrogen you'd currently be fighting me for the first spot in line when it goes on sale later this year. Even though the SUV has unprecedented range, the number of operational hydrogen fuelling stations in the US are still quite rare, so you'd better start thinking in terms of round trips.
California will have 40 stations online by the end of 2018 and expects 59 to be ready by the end of 2020, according to Hyundai's reps, but outside of ZEV (zero emission vehicle) states along the continental coasts these fuelling stations are about as common as unicorns. Oddly, Hyundai doesn't appear to have any standing partnerships with hydrogen suppliers to help develop the necessary infrastructure for these vehicles nor does has the company announced any logistical support programs for its fuel cell customers. Both Honda and Toyota offer such services, either subsidizing the high fuel costs or comping a few car rentals a year for when customers travel outside of hydrogen fuel infrastructure range.
Seriously, hydrogen fuel is stupid expensive, around $7 a pound (at 10k psi) at the Chevron we stopped at during the test drive, which means that filling up the Nexo's nearly 14 pound capacity tank will put you back more than $100. For 380 miles of range. That's significantly more than what you'd pay to drive a Prius the same distance. As such, unless you live in LA or the Bay Area, where hydrogen stations are relatively common, you're going to have a tough time finding fuel for the Nexo.