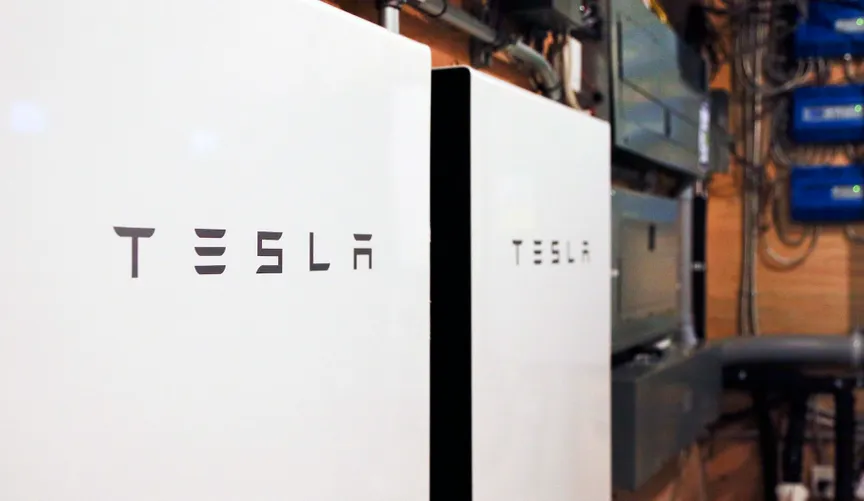 Thanks to a major policy change, California's first-in-the-nation rooftop solar industry faces a murky road ahead.
But one thing is clear about its future: It's going to involve a lot more batteries.
A growing roster of battery storage providers is eager to serve the newfound demand created when California ended net-metering for solar on April 15. Some are downright giddy about the new rules, which reward rooftop solar power exported to the grid based on its momentary value to the power system. In practical terms, extra solar generation exported during sunny hours earns almost nothing, while exports in select high-demand evening hours get a bigger payout. To take advantage of the new scheme, homeowners will need batteries that can store extra solar for those lucrative late-in-the-day periods.
That means overall battery sales could increase even as overall rooftop-solar sales decrease.
California residential solar installations are expected to drop 38% in 2024, the first full year with the new rules, said solar analyst Zoë Gaston at Wood Mackenzie (that's enough to depress national home solar installations by 3%). But Gaston also predicts the share of California home solar deals paired with batteries will rise from 11% today to over 80% by 2027. Californians installed 251 megawatts of residential batteries in 2022, and that's set to double this year, according to WoodMac's projections.
It's a good time to be a battery vendor, then. But it's not yet clear how quickly or smoothly California's rooftop solar providers can pivot to a battery-first strategy. Doing so requires talking customers through a more complicated technology and a more complex set of rules, and big corporations like Sunrun and Sunnova are at this point better positioned to adapt than smaller installers. If the transition succeeds, though, households will play a more sophisticated role in supplying clean energy at the times when the grid needs it most.
Rooftop solar companies collectively added more clean energy capacity to California's grid than any other sector over the last two years. For this industry to continue pushing the Golden State toward its climate goals, energy storage providers need to scale their production and equip solar vendors with cost-competitive battery products that customers want to buy.
How they respond may resonate well beyond California's borders.
"What California did on April 15 set the stage for the rest of the nation," said Linh Tran, a veteran home battery specialist now working as VP of product marketing at manufacturer FranklinWH. Until this moment, the state set the national standard for proactive rooftop solar policy; now that it's tossed out the old rulebook, it's setting a new kind of example that other states may look to.
Hope for a smoother transition than other solar markets
There's some comfort to be had in knowing you're not alone in a particular struggle. California is far from the first bustling rooftop solar market to yank incentives and see what happens next.
Hawaii slammed the brakes on rooftop solar in 2015. Germany reduced a generous feed-in tariff in 2010. Australia launched lucrative tariffs for solar in the late 2000s and slashed them a few years later.
German home storage vendor Sonnen not only lived through that change in Germany but built a whole business around it. The company designed sturdy battery packs that could cycle every day to make the most of rooftop solar and even bid into Germany's wholesale markets and get paid for acting like miniature power plants. Instead of dumping solar production on the grid whether it was needed or not, these batteries turned homes into responsive participants in the broader electricity system.
"This is not so new if we look to our other fellow humans around the world and see that grid science typically follows a pattern," said Sonnen U.S. CEO Blake Richetta. He added that he was ​"delighted" for the future now that California is ​"liberated from the constraints of net metering."
But where regulators changed the rooftop-solar rules, it took a substantial toll on the nascent solar installation industry. As incentives suddenly plummeted, the easy ​"lower your power bill" pitch disappeared; the number of installers and the pace of installations typically tanked. It took years for battery sales to breathe new life into those markets. This is a pattern that California would do well to not repeat, if policymakers care about jobs and clean energy progress.
But California differs from its subsidy-slashing predecessors in one key respect: Its change comes at a time when home energy storage has already grown past its infancy. Energy storage remains far from mass market adoption, but where sales used to depend on how many Powerwalls Tesla felt like shipping in a particular quarter, now an ever-deeper roster of well-capitalized companies sells products that have years of real usage under their belts.
Besides Tesla and Sonnen, customers can look to a number of companies, including: Enphase, the solar microinverter leader that has a scalable battery line; SolarEdge, the other leading rooftop solar inverter maker; South Korean battery manufacturer LG; legacy backup generator company Generac; or newcomer FranklinWH, which specializes in whole home backup. A startup called Lunar Energy has raised $300 million from investors, including solar heavyweight Sunrun, on the premise of designing a new home battery product from scratch.
Other startups tackle a different pain point: selling and delivering batteries to customers.
A newcomer called Haven launched in Southern California just in time to help households buy batteries in the new regulatory environment, announcing a $4.2 million seed funding round on April 11. Haven co-founder and Chief Product Officer Jeff Chapin previously co-founded online mattress company Casper. Haven's goal is to take a similar approach to simplifying the home battery buying experience, so it takes ​"weeks not months," said CEO Vinnie Campo. Customers can use the Haven software service to pick the right battery for their needs, and the company connects them with vetted electrical contractors to install.
"The [net-metering] change will shift solar-only installations to be solar and storage… We like to think we can be a really good partner to the small- and medium-sized sales reps and installers," Campo told Canary Media.
Battery strategies differ
These various battery providers — and larger solar installers themselves — are trying out different ways to close deals with customers.
Solar installer Sunrun has a new solar-storage offering called Shift that keeps costs down by avoiding the complications of backup power; instead, the battery is used to shift solar generation to later hours, a way to give customers bill savings in the tougher new environment.
That represents a break with past marketing strategies, because Californians used to buy home batteries predominantly for backup power during blackouts.
Sunnova, by contrast, is pitching free batteries for new solar customers in California and says resilient backup power is a key part of the draw. FranklinWH agrees — the ​"WH" stands for ​"whole home," after all.
"People still want their solar to work during outages," said Tran from FranklinWH. ​"I don't think we should divert consumer attention away from that."
Sonnen also pitches backup power, but its messaging leans heavily on using battery smarts to get the most economic payback for customers; it's been doing this for years in Germany, and that experience just became a whole lot more relevant to California consumers.
Optimal performance of a solar-storage system requires more than simply maximizing consumption of one's own solar production, Richetta said. Sonnen batteries forecast the weather, and if the next day's solar outlook looks like it won't be enough to cover the expensive evening hours, the battery partially fills itself on cheap grid power the night before. Supplementing solar production with grid power makes use of the new standalone storage tax credit in the Inflation Reduction Act, which frees batteries to charge from the grid, not just solar, without sacrificing a lucrative federal incentive.
As a manufacturer, Sonnen reaches customers by partnering with solar dealers. In California, its leading partner is Baker Electric Home Energy. That San Diego–area installer has sold Sonnen batteries to 300 homes so far under its ChargeOn brand, Richetta said. Sonnen expects to deploy 3,000 batteries with Baker in 2024, the first full year without net-metering. Total Sonnen sales in California could exceed 20,000 by 2025, Richetta predicted.
Sonnen also operates those batteries as a virtual power plant, bidding their demand-reduction services into multiple wholesale market opportunities. Participating households earn $150 to $300 a year for incrementally helping the broader energy system. You could read that as a nice little bonus for battery owners, or as evidence that California needs to up its game on paying distributed batteries for helping the grid. In states like Hawaii and Utah, households earn thousands of dollars upfront for committing their batteries to grid services. That's evidence of how much value home batteries can provide if policymakers take them seriously.
Baker has offered to train solar contractors in other parts of the state and license the ChargeOn branding, Richetta said. Or, other companies can sell their own solar-battery package and tap into Sonnen's virtual-power-plant network, called SonnenConnect.
Ultimately, solar salespeople will need to figure out how to pitch batteries in a way that resonates with customers who've never heard of an avoided-cost calculator. They may lean on bill savings, backup power, grid services or some combination of the above.
Solar installers that want to keep their doors open will have to test their messaging in real time. Their jobs, and California's clean energy progress, depend on a fast learning curve.