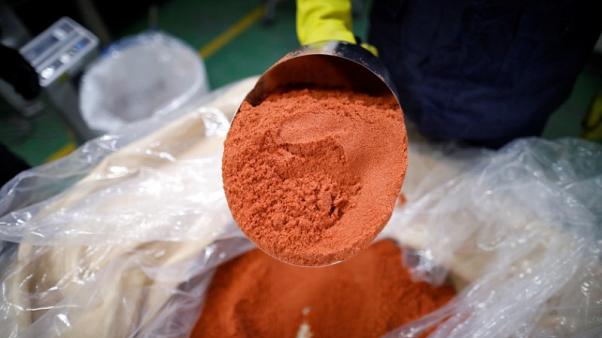 A surplus of cobalt chemicals used to make the rechargeable batteries that power electric vehicles has seen Chinese refiners switch to producing metal, sending prices down 30 percent in recent months.
The electric-vehicle revolution is expected to boost demand and prices for cobalt, which stabilizes and extends the life of lithium-ion rechargeable batteries. However, such a shift is unlikely to happen until the next decade, when production and sales of electric cars are seen ramping up significantly.
The rise in London Metal Exchange cobalt to a contract high at $98,000 a tonne in April stemmed from robust demand among traditional sectors such as jet engine makers and falling metal supplies, not – as many believe – surging demand from battery makers.
Prices have since crashed to around $69,750 a tonne as cobalt metal started to come out of China, trading sources said.
Analysts say an excess of cobalt sulfate in China has pressured prices of the chemical, which is at a discount of roughly $1,500 a tonne to the metal, spurring some Chinese refiners to make metal instead for export to the United States and Europe.
China is the world's largest manufacturer of cobalt sulfate made from intermediate products such as concentrate and cobalt hydroxide, sourced from the Democratic Republic of Congo, which holds the world's largest resources of the mineral.
CRU analyst George Heppel reckons the DRC produced 69,350 tonnes of cobalt contained in concentrate and other raw materials in the first half of this year, compared with 49,800 tonnes in the same period last year.
"The main reason the cobalt price has come down is because the Chinese market has become saturated with sulfate because of a massive increase in cobalt exports from the DRC from both the artisanal and conventional sectors," Heppel said.
"We expect DRC supplies of mined cobalt in concentrate to increase to 107,000 tonnes this year from 80,000 tonnes last year, a significant jump from the 64,500 tonnes in 2016. Consumers are becoming reliant on the Congo."
CRU expects the DRC to account for 139,000 tonnes or 75 percent of global cobalt supply by 2020, from 70 percent this year.
Wood Mackenzie analysts estimate the DRC accounted for 78,000 tonnes or 65 percent of global cobalt supplies last year and expect it to supply 91,000 tonnes this year, or 68 percent of the total.
In terms of the market balance, Wood Mackenzie sees a small surplus this year. For next year and 2020 its consultants expect surpluses of 20,842 and 25,171 tonnes respectively.
One reason for weaker demand in China is a meteoric 60 percent rise in prices between November 2017 and April this year.
"Many sulfate producers are sitting on higher-cost raw materials so have been reducing output to try and bring the market into balance again," said Gavin Montgomery, a research director at Wood Mackenzie.
"There seems to be plenty of sulfate in the market."
Analysts say tighter credit in China was also behind weaker demand this year as it left local sulfate producers unable to restock until they were paid by their customers in the lithium-ion battery sector.
"It could be a few months between refiners paying for cobalt and getting paid," said Caspar Rawles, analyst at Benchmark Minerals Intelligence. "The industry had relied pretty heavily on credit, but cash flow became an issue."