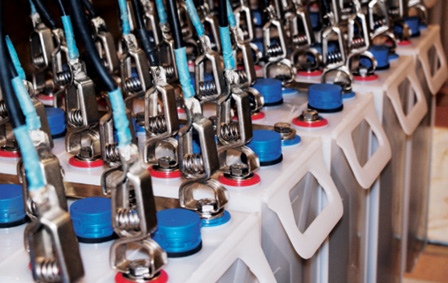 A set of new batteries have been installed at the Megalopolis B power station in Greece. George Charalampousexplains how the backup battery system will withstand severe earthquakes and operate reliably in the heat of the Grecian summer.
Replacing time-served assets can be challenging. New equipment is rarely a like-for-like substitute for the original and many factors may have changed since the original installation – including building codes and minimum technical requirements.
This was the case when the Public Power Corporation of Greece wanted to renew the backup batteries at Megalopolis B, a 300 MW coal-fired unit in the Peloponnese.
PPC is the largest electricity producer and supplier in Greece with approximately 7.4 million customers. It operates conventional thermal, hydroelectric and renewable generators that together account for 85 per cent of Greek generating capacity. Unit B is part of a facility that has a total of 1140 MW thermal generation.
When selecting a backup battery system, the operator's priority was to ensure safe, reliable and long-lasting backup power in a hot and seismically active environment.
BATTERY SELECTION
The battery system is required to provide more than eight hours of backup time for mission critical equipment, including switchgear, oil pumps and lighting, as well as safe shutdown of equipment and a controlled transition to backup power generation.
PPC selected a battery system comprising a total of 680 cells in two identical arrays of Alcad MB765P batteries. The MB batteries are designed to provide backup power for a mix of high power and low power sustained loads at industrial sites such as power plants, substations and oil and gas facilities. The installation has been designed to closely match PPC's requirements for power, voltage and duration.
While there are many different options for power output and energy storage capacity across Alcad's range of backup batteries, Alcad identified the optimum size for Megalopolis B with the help of its BaSics (Battery Sizing and Configuration System) software tool.
This tool is designed to help engineers in optimizing their sizing calculations. It also helps to select the correct battery for the specified application, create the optimum battery layout for the available battery room, and calculate the heat generated by the batteries and the ventilation required.
The batteries were selected for their proven high quality, reliability and high resistance to the shock and vibration that may be needed to withstand an earthquake.
Another advantage of the MB cells is high chargeability, which enables faster recharge time.
Following a full discharge, the cells can recover at least 80 per cent of their capacity in 15 hours under float charge conditions of 1.4 to 1.7 Volts per cell.
LONG LIFETIME IN A HOT CLIMATE
An additional factor considered for the battery selection was the battery's ability to withstand extreme temperatures over a long lifetime. The temperature at Megalopolis varies from 15 to 30˚C and although the battery room has ventilation, it does not have air conditioning. As a result, it's vital that the batteries will perform reliably at +30˚C.
It is well known that elevated temperatures have an impact on battery lifetime. Heat accelerates the electrochemical reactions in all battery types, leading to premature aging. However, some batteries are able to withstand high temperatures for a longer time.
Comparing the design lifetimes of nickel technology and lead-acid batteries at 20˚C, nickel will last 20 to 30 years and lead-acid will last up to ten years.
However, if the heat rises to a constant 35˚C, nickel batteries will last 16 years, versus only up to five years for lead-acid. The gap will widen further as the heat rises.
As a result, adopting a nickel technology battery system makes financial and technological sense when operated in a hot climate.
The system will operate reliably for longer, need less maintenance and require longer intervals between asset replacement – meaning a lower Total Cost of Ownership.
Being located at the intersection of several tectonic plates, earthquakes are common in Greece.
As a result, it is essential that the battery system operates reliably in the aftermath of the worst-case earthquake for the region.
Shaking and rupture of the ground can damage structures, cause tidal waves and harm power generation, transmission and distribution assets – potentially leading to fire and electrical surges.
As a consequence, backup batteries have an important role at power stations in earthquake zones. They ensure availability of control and monitoring equipment, safe shutdown of equipment and clearing of faults.
In terms of frequency and severity, Greece typically experiences one earthquake every decade which is rated at seven or higher on the Richter scale.
While the Richter scale is commonly used to compare severity of earthquakes, it is a measure of the total energy released in an earthquake.
However, duration of earthquakes can vary – with the result being that the Richter scale is not a suitable measure for engineers to use as the basis of designing structures to withstand earthquake conditions.
Instead, the engineering community uses Peak Ground Acceleration (PGA) as the basis of anti-seismic designs.
At Megalopolis, the Greek government has published a guideline that buildings and structures in and around the town should be able to withstand at least 0.16 g (a maximum acceleration equivalent to 0.16 times the Earth's gravity).
ANTI-SEISMIC INSTALLATION
Alcad's authorized agent in Greece, Semicom GP Hellas, supplied a battery installation that can withstand an earthquake with a PGA of 0.2 g. Its scope of works included designing a new floor plan arrangement for the new batteries, racks and power cables, as well as supplying, installing, commissioning and testing the new battery system.
The project called for complete decommissioning and dismantling of the existing battery system and battery racks and replacement with the new battery solution.
The Alcad MB batteries have high mechanical strength and robustness, with an internal steel plate structure and polypropylene outer casing.
These features mean that the cells themselves are tough and robust and can withstand vibrations, shock loads and mechanical impacts, especially when they are installed on earthquake proof racks as in this application.
The key difference between standard and earthquake-proof battery racks is that the seismic version has larger support components and additional cross-bracing. The design is modular and can be scaled up to meet the demands of different batteries and higher earthquake intensity, as measured by PGA.
ACCESSIBILITY CHALLENGE
The replacement project itself posed an unusual challenge as the battery room was located on the top floor of a high building which was not served by elevators.
However, each of the 680 new cells weighs around 40 kg and could only be moved in once the existing battery system had been removed. As a result, Semicom used a phased approach. The first preparatory phase was to establish access by breaking through the external wall of the battery room and installing a temporary lift to serve the project. It then rearranged the power cables before installing, connecting and commissioning the new batteries.
Once the installation was completed, the lift was dismantled and Semicom replaced the outer wall with new brickwork.
LIMITED TIMEFRAME
A further challenge was posed by the limited timeframe available. PPC needed the batteries to be replaced within a two-week planned outage period while the power station was powered down for other service and maintenance activities.
To avoid extending the outage further, Semicom scheduled a team of six technicians to work ten-hour shifts every day throughout the outage period to complete the job on time.
As well as supplying and installing the new battery system, Semicom also provided on-site training to PPC's technicians.
This was designed to help them develop a full understanding of operation and maintenance techniques and therefore ensure long and reliable lifetime operation of the system.
One reason for PPC's selection of Alcad as a manufacturer was the firm's track record in supplying backup power battery systems for industrial facilities in Greece. These include other sites operated by PPC as well as private power and infrastructure sites.
Ultimately, PPC needed backup batteries to demonstrate long-term reliability to give the confidence that emergency systems will work faultlessly when required. Alcad has a lot of installations in Greece where batteries have successfully served for more than 25 years.
Following the installation, Semicom received an excellent appraisal from the PPC for its professionalism, quality of work, ability to cope with the challenges of the project and for keeping to the challenging timeframe.
With the new battery system being completed in spring 2017, it has now been proven in operation for more than a year.
In operation, the MB cells have low maintenance requirements, requiring a straightforward annual maintenance inspection to check that the charging system, battery and auxiliary electronics are functioning as expected.