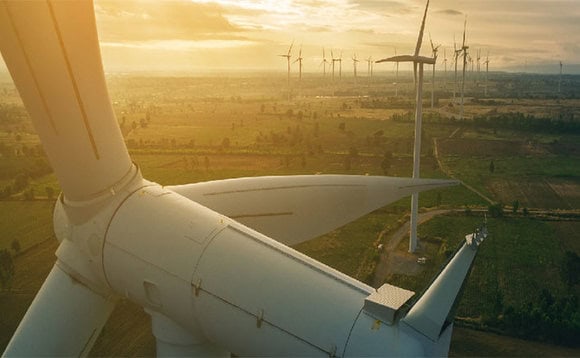 AT&T partners with NextEra Energy Resources secure 820MW from new wind farms in Texas and Oklahoma
Telco giant AT&T has inked one of the largest renewable energy deals in recent US history, securing a deal with NextEra Energy Resources to deliver 820MW of new wind energy capacity.
The company said the move would support new wind farm projects in Texas and Oklahoma and help deliver on its ambition to "enable a clean carbon economy".
AT&T added the deal, which was confirmed late last week, would enable the construction of over 300 new turbines, delivering "home grown" power to help meet the tech firms' energy demands.
The new wind farms will be located in various counties across southern Texas and Caddo County, Oklahoma. AT&T agreed to purchase 600MW of wind energy from Texas and the remaining 220MW of capacity will come from Oklahoma.
Joe Taylor, vice president of global tech optimization and implementation at AT&T, said the firm's investments in wind power "can help scale this critical energy source for America's transition to a low-carbon economy".
The company added that the deal would help support its wider decarbonisation strategy, which has seen it set a "10X Carbon Reduction Goal" to save 10 times the footprint of AT&T's operations by the end of 2025.
NextEra's partnership with AT&T is projected to reduce greenhouse gas emissions equivalent to removing over 530,000 cars from the road.
Under the terms of the deal, AT&T will also provide a $50,000 grant to Texas State Technical College (TSTC) to create the AT&T Wind Energy Scholarship. Moreover, NextEra is to interview students graduating from the TSTC wind technician program for future positions.
In addition to creating approximately 1,000 construction jobs, AT&T predicts the new wind farms will pay out $167m to landowners in lease payments and $190,000 in property taxes to local communities.
In other US wind industry news, the US Department of Energy announced on Friday it has awarded $18.5m grant to the New York State Energy Research and Development Authority (NYSERDA) to establish a National Offshore Wind Research and Development Consortium.
The consortium is expected to be broadly modelled on the UK's Offshore Wind Catapult initiative and will be tasked with advancing the "cost-effective and responsible development of offshore wind in the United States".
NYSERDA is to partner with the Carbon Trust and the Renewables Consulting Group (RCG) to develop the Consortium, which will also be backed by a public-private partnership bringing together offshore wind developers, utilities, research laboratories, and other states.