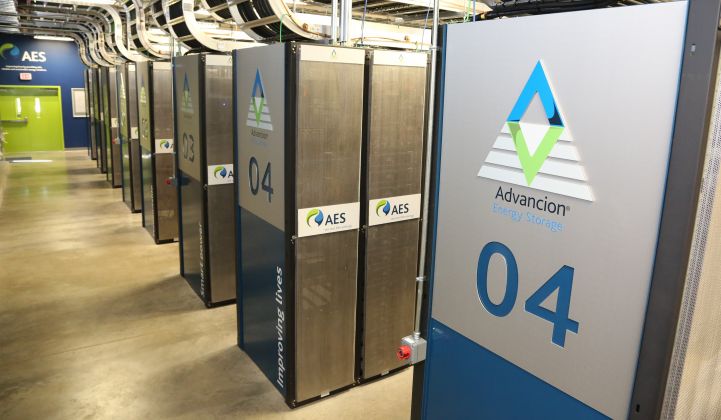 The Salt River Project will build Arizona's first standalone energy storage plant for peak power.
The utility has contracted for a 20-year power-purchase agreement with AES, which will own and operate the 10-megawatt/40-megawatt-hour system provided by Fluence. The project will sit in Chandler, outside of Phoenix, to deliver peaking capacity to the metropolitan area.
"The Southwest has a peak that's shifting later in the day as solar penetration increases," said Kate McGinnis, Western U.S. market director for Fluence, which is jointly owned by AES and Siemens. "This peaking unit can help meet that need that comes later in the day after the sun sets."
This will be the first time a standalone battery system serves peak capacity outside of California, where the Aliso Canyon gas leak prompted a rapid-fire storage procurement for local capacity.
It also demonstrates an evolution in Arizona utilities' comfort with storage technology.
Arizona Public Service started out with small storage systems to balance out an influx of distributed solar on distribution feeders. Then it scaled up with the Punkin Center project, which uses a storage system in an isolated desert town to avoid building new transmission wires.
In the last year, APS, Tucson Electric Power and SRP have all signed deals for solar plants paired with energy storage, to shift clean energy production into the evening, when the system peak arrives. This model takes advantage of the state's attractive solar resource, while recognizing that more midday solar on its own isn't so helpful.
TEP set records with the price point on its NextEra deal last year, which has since been overshadowed by the aggressive bidding in Xcel's all-source solicitation.
APS inked a deal with First Solar for a solar-plus-storage peaker in February. SRP commissioned a 20-megawatt solar/10-megawatt storage project with NextEra earlier this month.
Today's announcement pushes the concept further, by leveraging storage on it own. That energy agnostic design lets the utility charge up as needed, using whatever energy mix is available to the grid at that point in time.
"It reflects a capital-efficient decision on the part of SRP, as the utility already likely faces an over-generation situation on its grid and seems confident that the standalone asset will provide peaking benefits without the need of an onsite generator," said Ravi Manghani, energy storage director at GTM Research.
The nonprofit public utility further reduced its capital outlay by signing a PPA rather than purchasing the equipment outright.
The system will function much like the one AES built in Escondido, Calif. as part of the Aliso Canyon procurements, although SRP's will sit inside a building, rather than in a series of containers.
Storage offers the utility a relatively unobtrusive asset that can be sited in a populated region without emitting particulates or other pollutants.
"We do find that utilities with territory in metropolitan areas have challenges siting local generation within their territory," McGinnis said. "Storage has the benefit of being pretty easy to site and is more visually appealing than a peaker plant."
Arizona has provided a steady stream of projects for AES even ahead of the final decision on the utility regulator's energy modernization proposal, which would codify a storage goal and ratchet up the share of peak power that comes from clean sources.
The state's utilities have each gained experience with grid-scale storage, such that they won't be unprepared if the regulators affirm that proposal. Each new project generates additional data points on how the systems can be structured and operate.
"We're seeing utilities get more comfortable with storage for different applications as commercial reference points become available for those applications," McGinnis said.
Separately this week, Fluence signaled an increased focus on storage in the Asia-Pacific region via a partnership with Australian renewables developer Lyon Group and JERA, a joint venture of Japanese utilities Tepco and Chubu.
Under the agreement, Lyon will develop projects with JERA as the investor and Fluence as the storage vendor and service provider.
The consortium has already begun developing three sizable solar-plus-storage projects in Australia.
One in Cape York, Queensland will have 55 megawatts of solar and 20 megawatts/80 megawatt-hours of storage. Even more impressive are the sites being developed in Nowingi, Victoria, which will have 253 megawatts of solar alongside 80 megawatts of 4-hour duration storage, and Riverland, South Australia, with 253 megawatts of solar and 100 megawatts/400 megawatt-hours of storage.
JERA controls 66 gigawatts of generation in Japan and 8 gigawatts in other countries, so the agreement could unlock an ample market for pairing storage with existing or new generation.
Fluence first entered the Australian market this spring with a 30-megawatt system sited at a substation in a congested transmission zone; that project is expected to be completed by the end of the year.