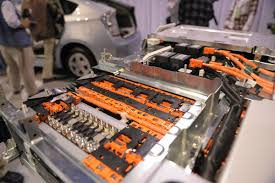 Seeing the momentum moving toward electric vehicles, the Automotive Research Association of India (ARAI) is working on building a facility that will test EV batteries.
The research association of the Automotive Industry with Ministry of Heavy Industries and Public Enterprises, Government of India has also announced its plan for building the e-mobility centre of excellence to test all set of vehicles from two-wheelers to buses.
The e-mobility centre will be ready in next few months, where as the battery testing facility will be ready in next six months. The testing body is already equipped with facilities to test EVs, motors and controllers.
"To test all set of vehicles, we have scaled up the facility and it will be ready in next few months," said AA Badusha, senior deputy director & head Homologation Management, Regulation & Vehicle Evaluation, ARAI.
He also confirmed ETAuto that the research association is currently working on the battery testing facility in Chakan, Pune. This facility will test the battery behaviors and will analyse its load. But this is not from the regulation point of view but more on understanding the overall performance of the battery and the vehicle.
As the government is putting thrust on electric vehicles, original equipment manufacturers (OEMs) are also readying their blueprint to launch electric vehicles (EV) to become future ready.
Currently, Suzuki Motor with SMC, Denso Corporation, and Toshiba Corporation is setting up a lithium-ion battery plant in Gujarat. The venture is expected to be operational in 2020.
Mahindra & Mahindra and Tata Motors, currently, are manufacturing electric vehicles in India, while Ashok Leyland, Maruti Suzuki India, Toyota and Renault have also started working on their respective products.
At the same time, a series of startups are also working on this area. A few of them have already launched and some are planning to launch their EVs in the near future.
A joint report by NITI Aayog and Rocky Mountain estimates that India's leapfrog vision of a shared, electric, and connected mobility system could create a $300-billion domestic market for electric vehicle batteries by 2030, representing nearly two-fifths of global EV battery demand.
Moreover, the report also predicts that the country can capture 25-40 per cent of the total economic opportunity, represented by EV battery manufacturing under a scenario, where India imports lithium-ion cells and assembles these cells into battery packs.