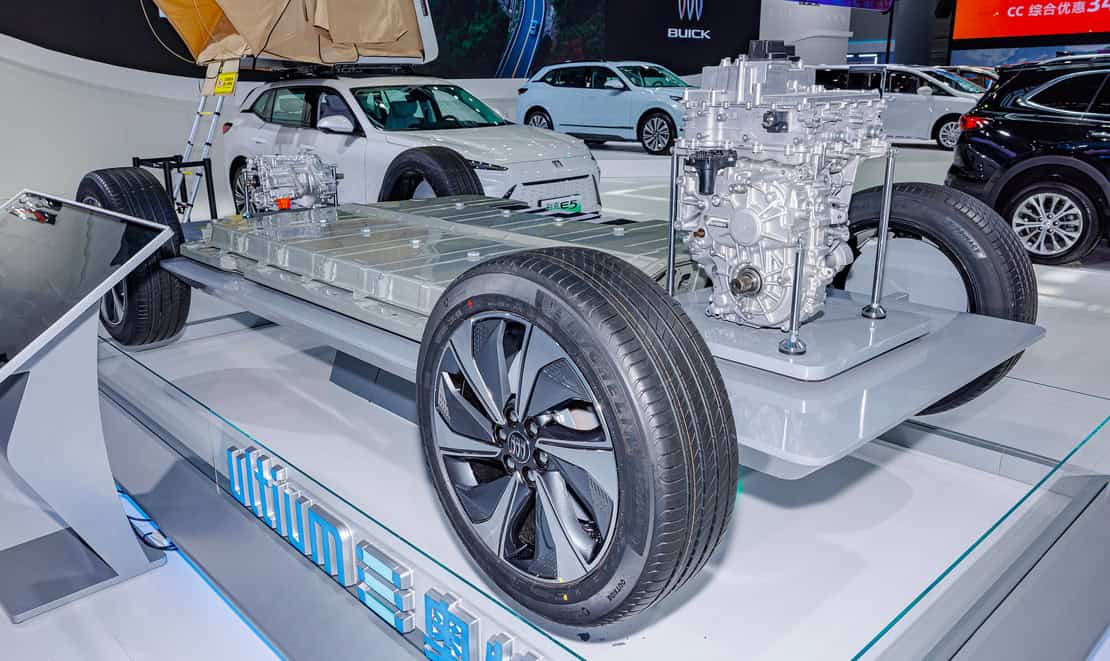 The news that big auto companies like General Motors and Ford Motor are slowing their electric vehicle rollouts has one group a bit relieved: battery-makers.
This nascent U.S. industry has received $58 billion of investment in the year since the Inflation Reduction Act became law, according to Jay Turner, a professor at Wellesley College in Massachusetts who maintains an EV-investment database. That's far more than any other part of the EV ecosystem. People in the industry say they could use a break from this red-hot streak to catch their breath.
"A slower pace of demand for battery materials is actually positive for the effort to build up a secure supply chain outside of China," said Ben Steinberg, a spokesperson for the Battery Materials & Technology Coalition, a trade group for members of the supply chain.
The battery industry's relief stands in contrast to others who have reason to fear even the perception that demand for EVs is receding.
That group includes President Joe Biden, who is highlighting last year's Inflation Reduction Act and its provisions to build a wide-scale domestic EV industry as a reason for voters to hand him reelection in 2024. Another is the mining industry, which is vulnerable to a swoon in EV interest.
"It's incredibly important, critical, to maintain support for dramatic growth in EV manufacturing and continued support for demand, which is what the IRA has been doing," said Albert Gore, the executive director of the Zero Emission Transportation Association (ZETA), a trade group of EV-related companies.
But the battery industry is grateful for a pause as it races to build from scratch a system of great complexity. The ecosystem of makers of powders and films and foils will, even under the best of circumstances, take years to make the products that automakers need.
"It allows a bit of breathing room for new production to come online at a normal speed that allows project developers to better control cost. Building things domestically at break-neck speed inevitably means higher costs," Steinberg said.
Slowing the EV train, even just a bit, may also be a welcome dose of reality, said Celina Mikolajczak, the chief battery technology officer of Lyten, an early-stage battery materials maker.
"Even if these guys are scaling back their plans, they are scaling them back to the reality of what can be done," she said, "rather than what everyone in the world would like to be done."
EVs both brake and go
In the last weeks, three big American automakers — Ford, General Motors and Tesla — have made it clear that demand for EVs is wavering.
Tesla CEO Elon Musk, whose company makes only EVs, worried on a call with investors that high interest rates would keep customers away. And the legacy automakers have both retrenched.
Ford's CEO, Jim Farley, said last month that the company would delay building a battery factory and would slow-walk $12 billion in EV investments. GM dropped its goal of producing 400,000 EVs annually by next year and delayed the rollout of some high-profile new electric models, like the Chevrolet Blazer SUV and Silverado pickup truck. It also scrapped a partnership with Japan's Honda to make low-cost EVs.
But other automakers are going full speed ahead. Toyota last week added a massive $8 billion investment to build its battery factory in North Carolina, more than doubling its projected spending. BMW and Volvo, foreign automakers with plants in the U.S., said their EV divisions are generating strong sales.
It is a confusing and contradictory picture. A problem that automakers can't ignore is that EVs are piling up at dealerships unsold.
"We've kind of plateaued in the early adopters, the people who are … committed to owning and driving an EV," said Jim Appleton, president of the New Jersey Coalition of Automotive Retailers. "That first 10 percent was the easy 10 percent. The next 90 percent is going to be hard-fought."
But at the same time, EV sales are breaking record after record.
In the quarter that ended Sept. 30, national EV sales reached nearly 8 percent of all new cars sold, according to Cox Automotive. In California, the country's EV capital, zero-emission vehicles make up 27 percent of auto sales, according to the California Energy Commission.
"There's a lot of swirling dynamics around EVs," said ZETA's Gore, who is the son of the vice president under former President Bill Clinton. "I think it's really important to make sure that folks are really paying attention to the larger trend and not over-magnifying any one data point."
Even GM's CEO Mary Barra while breaking the news of GM's slowing EV investment, cautioned against reading too much into it.
"I want to emphasize that our EV momentum is building. We see it in everything from cell production, to manufacturing, to software," she said during a call with investors in October.
A dreaded slowdown label
Under these murky circumstances, a slowdown — or even the perception of a slowdown — could have far-reaching consequences.
One is political. Biden has wrapped much of his economic and climate-change agenda around building an industrial ecosystem for electric vehicles, and if the market for EVs is chilling, it could call his decisions into question.
The White House didn't immediately respond to a request for comment Sunday about whether the Biden administration is concerned that an EV or battery slowdown could derail its climate agenda.
The Republican front-runner and former President Donald Trump has called the move to EVs "a transition to hell." And Republican strategists have said that the incentives in the Inflation Reduction Act, many of which are targeted toward EVs, could be undermined if a Republican wins the White House.
Another consequence is economic, especially for mining firms that are in the early stages of building out new mines for critical EV minerals, like lithium, graphite and nickel.
Some mining leaders said that with extraordinarily long time horizons — it can take a decade or longer to get a mine into production — a slowdown could have long-term consequences.
"The industry is desperate for new mines and supply chains to be built to help scale the critical minerals, [stabilize] the price, and keep the price of the battery on its present falling trend," said Simon Moores, the CEO of Benchmark Mineral Intelligence, a United Kingdom-based battery materials data and intelligence provider, in an email.
"The biggest thing a slow down in rate of growth will impact is funding," he said. "If the funding slows the industry falls back into the same problems it had in the last phase of growth."
Pause that refreshes
Meanwhile, some in the battery supply chain are welcoming the prospect of a break to get organized after receiving a torrent of dollars.
"The fact that the demand is down means OK, maybe we can take a breath for a minute," said Lyten's Mikolajczak.
The issue, she said, is that supply relationships are being formed, and contracts sought, in the absence of actual product. "The supply chain to support the number of gigawatts [of batteries] that people are talking about, it doesn't really exist yet," she said.
Critical suppliers are flooded with requests, Mikolajczak said. This includes equipment makers — those who make the machines that make the components — and those who make the components themselves. She added that some customers who have locked in contracts might see the product they are buying in two years, but those who haven't might wait three to five years.
That sentiment is shared by some in the mining industry, which has the task of organizing a new global supply chain of raw materials and handoffs to the companies who will refine them.
A pause in the "velocity of demand … means we have some time to focus on building up domestic battery manufacturing and secure supply of raw materials like nickel from our own reserves and allies like Australia, Canada, South Korea, Chile and Japan," said Todd Malan, the chief external affairs officer for Talon Metals.
The company has primary U.S. operations in Tamarack, Minn., where it is proceeding on a nickel mining joint venture with Rio Tinto.
Last week, Talon finalized a $115 million grant from the Biden administration to build a nickel-processing plant in North Dakota. The facility, which is slated to source nickel from the company's proposed mine in Minnesota, has an offtake partnership with Tesla.
"A little breathing room for investment, permitting and construction of the secure battery supply chain outside China is constructive," said Malan.
Atop this new battery supply chain are big factories directly linked to automakers. Many are alliances between automakers and South Korean battery fabricators.
For example, SK On, the battery division of South Korean conglomerate SK Group, is partnering with Ford to build battery factories in Tennessee and Kentucky and supplying batteries to Volkswagen's plant in Tennessee. And the battery arm of Korea's LG Electronics is working with GM on factories in Ohio, Tennessee and Michigan and with Honda in Ohio. Korean automaker Hyundai is partnering with both SK and LG as it builds battery plants in Georgia.
Still another class of big fish are automakers who are building their own mammoth factories, such as Toyota in North Carolina, as well as Tesla, which is expanding its battery factory in Nevada.
Below these sits a constellation of suppliers that are making factories of varying size to create established and cutting-edge materials.
Much of the momentum comes in the form of federal support. The Biden administration, through the Department of Energy, is playing a hefty role in funding younger and riskier ventures it deems necessary to build out a full supply chain. The funds come from the bipartisan infrastructure law passed two years ago.
"In the past year alone, DOE's Office of Manufacturing and Energy Supply Chains (MESC) has invested in a portfolio of over $1.72 billion in projects that extract and process lithium, graphite and other battery materials, manufacture components, and demonstrate new approaches, including manufacturing components from recycled materials," said DOE spokesperson Samah Shaiq in an email. DOE says the private sector has funded these same projects to the tune of $3.3 billion.
And the Biden administration has no intention of slowing down.
"MESC intends to build on this momentum by investing in approximately $3.5 billion of projects across the battery supply chain next year," Shaiq concluded.
In this superheated crescendo of activity, Mikolajczak said, the battery industry doesn't mind taking a moment.
She said, "If the automakers slow their roll, we say, 'Great, do it, guys.'"