The Norwegian government on Thursday expressed a desire to buy electric planes in coming years in an attempt to duplicate its success in becoming the world leader in sales of electric cars (EVs).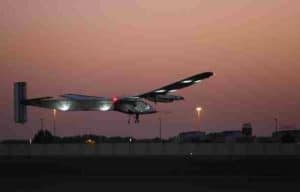 State firm Avinor pushes for use of electric planes
Avinor, a state firm that runs 45 airports in Norway claimed that the government commitment to the battery-powered aircraft could encourage the development of electric and hybrid technologies by large companies such as Airbus or Boeing.
Dag Falk-Pedersen, who heads Avinor, told reporters at a conference in Oslo: "In my mind, there's no doubt that by 2040 Norway will be operating totally electric on short-haul flights. Airbus told us they need a customer and they need a market – and we can offer them both. Of course they need a bigger market and more customers. But someone has to start."
Falk-Pedersen said that because of the mountains and fjords many runways must be short and are ideal for electric planes that can accelerate faster than conventional aircraft. He said that the company could be presenting a tender within a year or two to commercialize electric aircraft. The tender might be for 5 to 15 planes with between 12 and 50 seats.
Norway hopes to duplicate it success with electric cars
As reported in a January article, Norway's new registrations for electric cars including hybrids for 2017 was more than 50 percent.
Norway's Transport Minister Ketil Solvik-Olsen said that the government was trying to repeat this success in promoting electric cars in pushing for more electric airplanes. The government gives tax breaks, and other perks such as free parking and charging points for those who purchased electric cars (EVs).
The minister admitted that when he began to talk about battery-powered planes most people were at least a bit sceptical.
Norway needs to reduce it greenhouse gas emissions
The greenhouse gas emission in Norway in 2016 were three percent above 2016 levels. EV promotion and now pushing for electric planes along with the use of more biofuels. The Norwegian government appears determined to reduce its pollution.
Electric planes need a lot of development to be commercial
Electric planes can receive their electric power from many different sources not just batteries as are the planes Norway intends to buy. Other sources of power are solar panels, fuel cells, and power beaming among others.
Electric planes have huge problems with weight, the bulk of batteries, and limited ranges.
A Seattle-area startup last October with capital backing from Boeing and JetBlue Airways Corp has announced a hybrid electric aircraft to be marketed by 2022. Note that it is a hybrid rather than completely powered by batteries. It will be able to carry up to 12 passengers.
Most electric planes have not been designed to carry many passengers
The CityAirbus
Airbus is building the CityAirbus an electrically powered Vertical Takeoff and Landing Aircraft (VTOL) as a demonstrator. It is intended to carry four passengers initially with a pilot. However, it is intended to eventually become an autonomous aircraft. Flights with and then without pilots are planned this year and next with certification and commercial introduction planned for 2023.
Solar Impulse 2
The Solar Impulse 2 is famous in that it is the first electrically powered plane to circumnavigate the globe starting in 2015 but not ending until 2016 as it had a long stop in Hawaii for battery repairs.
The plane has four electric motors. It gets its power from solar cells on the wings and on the horizontal stabilizer. The power is stored in lithium polymer batteries and drive propellers.
The Solar Impulse 1 made a trip from Madrid Spain to Rabat Morocco in 2012.