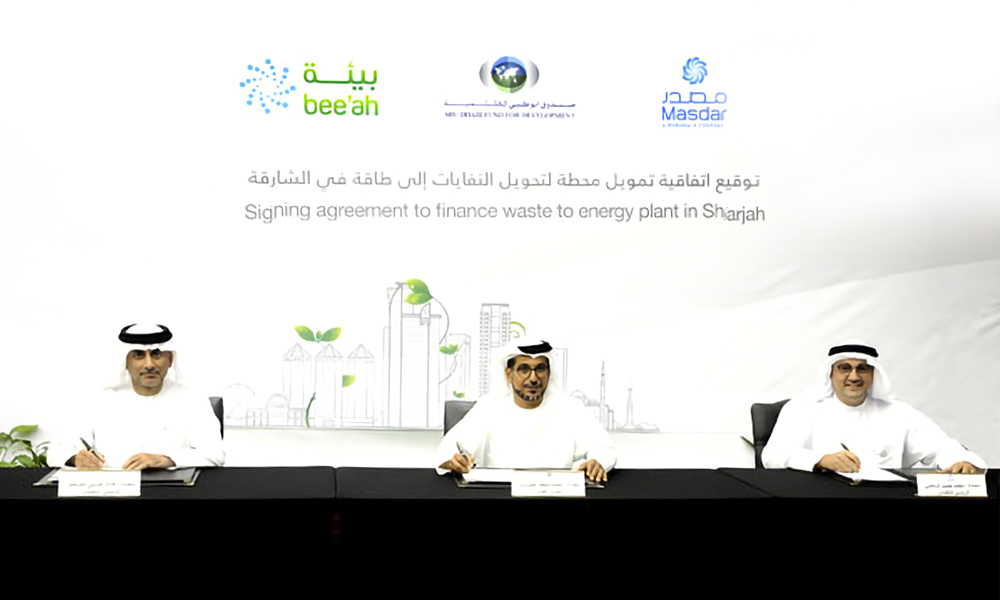 The Abu Dhabi Fund for Development (ADFD) has announced that it will fund the development of a 30MW waste-to-energy facility in Sharjah. The national entity has approved a $33 million concessionary loan for the project, which follows on from its initial commitment to the project earlier in the year.
The project is said to be the second of its kind in the MENA region and will be the flagship project of the Emirates Waste to Energy Company, a JV between Masdar and Bee'ah. The facility is being built to help Sharjah achieve its zero-waste-to-landfill target and the UAE's objective of diverting 75% of municipal waste from landfills by 2021.
The facility is said to be an important step in translating the UAE's sustainability objectives into reality, says Mohammed Saif Al Suwaidi, the director general of ADFD, after signing the deal with Mohamed Jameel Al Ramahi, the chief executive of Masdar, and Khaled Al Huraimel, the group chief executive of Bee'ah.
"We are confident that the Sharjah waste-to-energy facility will bolster the UAE's journey towards a renewable energy future. Moreover, ADFD is also keen on reinforcing the key pillars of the UAE national economy by supporting local companies. Not only will this project stimulate the creation of a new economic sector in the country, but it will also encourage new job opportunities in Sharjah," commented Al Suwaidi.
The project is expected to begin operations early in 2021 and is estimated to treat more than 300,000 tonnes of solid waste per year. It will have the capacity to generate around 30MW of energy, according to the ADFD statement.
Masdar's Al Ramahi said that the facility could displace almost 450,000 tonnes of carbon dioxide emissions per year, and save an equivalent of 45m cu/m of natural gas per year.
"The completion of this funding agreement is a key step in the development of the facility, a pioneering project which, once on stream, will make a major contribution towards achieving the UAE's goal of producing 50% of its electricity needs from clean energy sources by 2050. Our collaboration with ADFD and Bee'ah is further evidence of the commercial viability of advanced clean technologies here in the UAE and the wider region," remarked Al Ramahi.
Bee'ah's Al Huraimel concluded, "As one of the first waste-to-energy facilities in the region, this iconic project firmly puts the UAE on a path to securing the green energy future of the nation. Bee'ah is pleased to have the support of nationally renowned entities like the ADFD in making this project a reality. In addition to bringing clean energy to thousands of homes, this facility constitutes the final step in the zero-waste-to-landfill strategy, creating a new paradigm for the integrated management of waste."