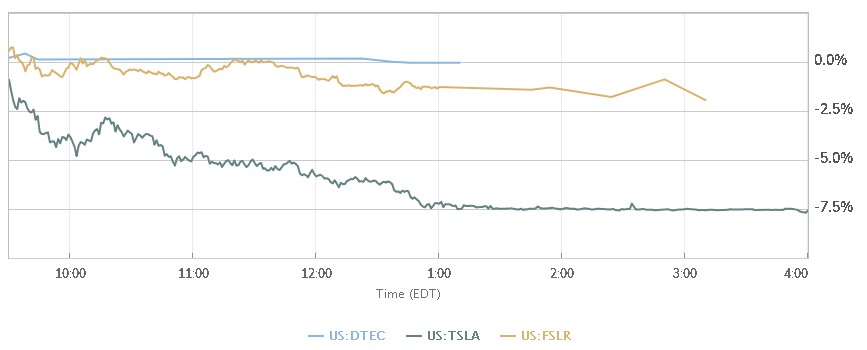 Investors looking to access the clean energy theme have a new exchange traded fund to consider. The ALPS Clean Energy ETF (cboe:ACES) debuted Friday.
ACES follows the CIBC Atlas Clean Energy Index. That benchmark is "comprised of U.S. and Canada-based companies that primarily operate in the clean energy sector. Constituents are companies focused on renewables and other clean technologies which enable the evolution of a more sustainable energy sector," according to Colorado-based ALPS.
ACES takes a different approach than what is seen in many traditional clean energy ETFs. Many of the legacy funds in this space focus on one alternative energy concept, such as solar or wind power. On the other hand, ACES offers exposure to seven clean energy themes, including, solar, wind, smart grids, biofuels, geothermal, electric vehicles and fuel cells.
ALPS has previously used a similar methodology on some of its funds. For example, theALPS Disruptive Technologies ETF DTEC, -0.04% features exposure to 10 fast-growing investment themes within the technology sector. DTEC is up 10.27 percent since coming to market last December.
ACES looks to tap into the clean energy movement beyond mere adoption of renewables.
"The transition to clean energy is not just about adding more renewables," according to ALPS. "It's about cleaner and smarter technologies transforming worldwide production and consumption of energy. This shift is disruptive to traditional sources of energy, but it also presents a compelling and long-lasting investment opportunity for the companies and industries positioned for the change."
Familiar names in ACES' lineup include Elon Musk'sTesla Inc. TSLA, -7.23% First Solar Inc. FSLR, -1.30% TerraForm Power Inc. TERP, -0.60% andSunPower Corp. SPWR, -4.35%
ACES said it has another way of potentially mitigating risks associated with clean energy investing.
The focus on American and Canadian companies reduces risks relative to foreign holdings such as currency rates, financial disclosures and regulatory and policy changes, according to the ETF issuer.
The new ETF has an expense ratio of 0.65 percent per year, or $65 on a $10,000 investment.