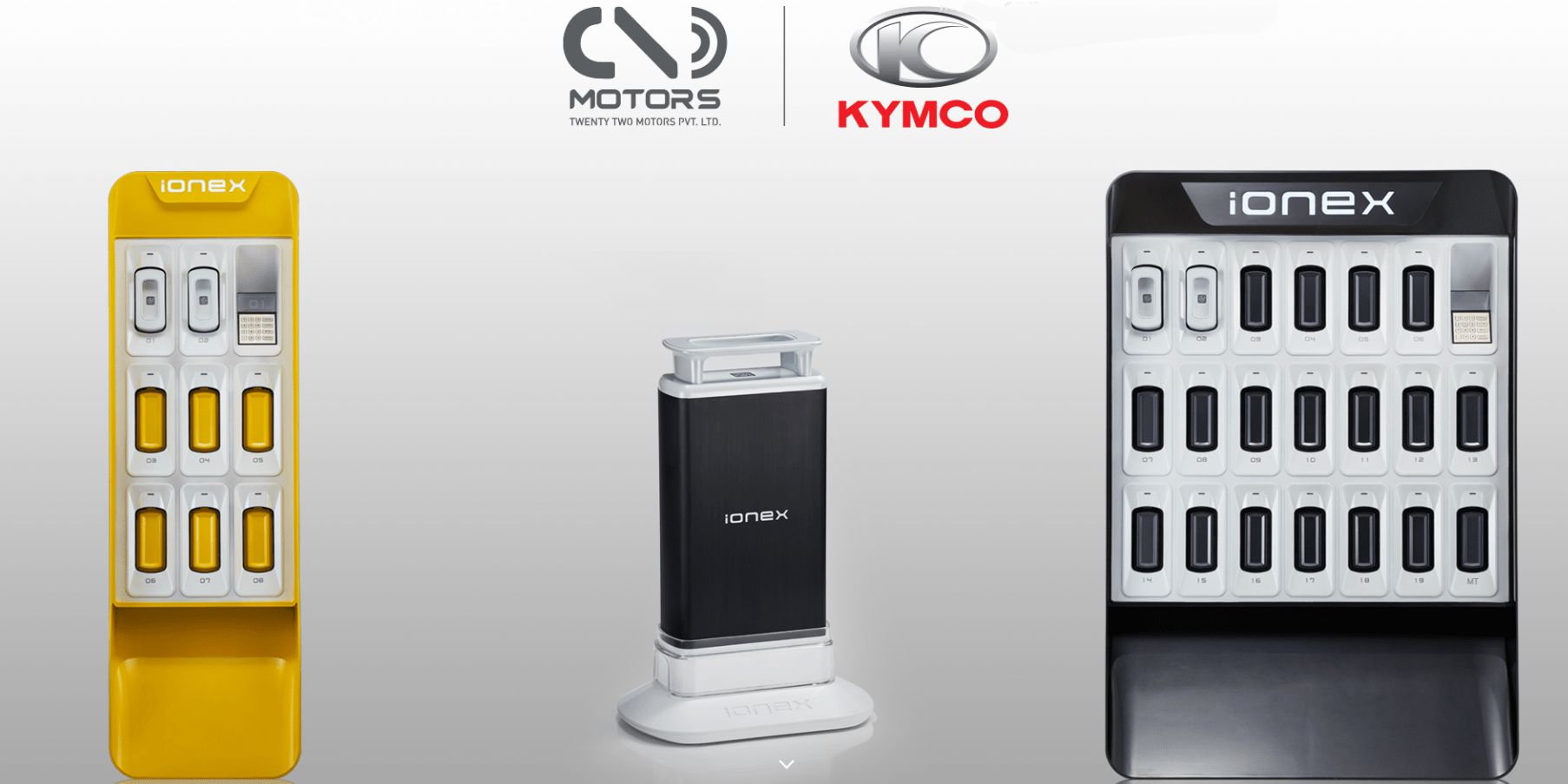 KYMCO, the largest scooter manufacturer in Taiwan, may have developed the single swappable battery standard that we've all been waiting for. KYMCO's electric scooters are powered by the company's modular and removable Ionex batteries.
KYMCO developed the batteries with the goal of creating a standard battery platform that other companies could design electric vehicles around. Now they've declared their first publicly announced partnership that will see their batteries powering electric scooters built by another manufacturer.
Ionex batteries to power 22Motor's Flow electric scooter
In a joint statement today, KYMCO and 22Motors announced plans to offer a redesigned version of 22Motor's Flow electric scooter. The new scooter will incorporate KYMCO's Ionex batteries.
The two companies created an equal partnership to leverage both of their strengths.
While KYMCO does have their own electric scooter line that uses the Ionex batteries, they are also seeking to spread components of their platform, including the batteries. To achieve this, the company unveiled KYMCO Commercial two weeks ago at the Paris Motor Show.
KYMCO Commercial is a complete turnkey solution that offers electric scooters, swappable Ionex batteries, Ionex battery charging and swap stations, and software/apps for managing fleets of electric scooters in commercial applications, such as scooter sharing programs and delivery scooters.
Just two weeks after unveiling Ionex Commercial, 22Motors has become the first publicly announced company to begin incorporating the swappable Ionex batteries into their vehicles.
22Motors' Flow scooter was unveiled earlier this year, where it originally came with its own removable battery system. The Flow's original batteries were sufficient for 50 mi (80 km) of range on a single battery, or twice that much with two batteries. Now that the company is shifting towards KYMCO's Ionex batteries, they'll be able to take advantage of KYMCO's Ionex charging stations.
The Flow scooter will still be able to support up to two Ionex batteries at once. However, 22Motors has not indicated if the switch to Ionex batteries will have any effect on the range of the Flow scooter.
Currently, Flow scooters are only available in India and are priced at around $1,040, making them competitive with gas-powered scooters. 22Motors has stated that the price of the Flow scooter with Ionex batteries should not change.
Ionex battery charging as a service
The Flow scooters will be sold with two Ionex batteries as well as a home charger. This allows riders to park their scooter outside and carry in the two batteries for charging.
Additionally, 22Motors will provide Ionex fast charging stations where riders can charge their batteries for a small fee. Fast charging can refill the batteries in one hour.
Also, many riders will be able to charge for shorter periods to gain enough charge to reach their next destination. At that point, they can continue to slow charge with a wall charger.
It doesn't appear that 22Motors plans to offer a battery exchange service like Gogoro does for their electric scooters in Taiwan. However, since the KYMCO Commercial system supports this, it could be just a matter of time.
The Ionex batteries will be imported at first. However, the companies indicated that future Ionex batteries may be produced locally in India if demand is sufficiently strong.