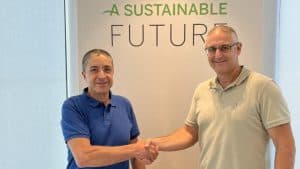 One of the Holy Grails along the road towards making electric cars an internal combustion engine (ICE) killer is improving battery range and charging time.
Startups such as StoreDot in Israel are working on a "100 miles in five minutes" solution, but most batteries for electric vehicles currently require 35 to 40 minutes to get to an 80 percent charge with a dedicated fast charger, or overnight with a home charger.
Israeli startup EExion is now joining the fray with its "Energize-N'-Go" energy-storage technology that can rapid-charge e-mobility vehicles in just five minutes.
While StoreDot replaces the graphite in the battery with a mix of metalloids including silicon and other proprietary organic compounds, EExion uses next-generation carbon electrodes – claimed to charge a battery 100 times faster than today's lithium-ion batteries, the industry standard for EVs.
EExion's CTO, David Malka, says the startup's technology "provides a long-lasting, exceptionally efficient energy source at a considerably lower cost, with a zero to full charge in minutes, while retaining specific energy to almost unlimited number of cycles."
EExion's batteries reportedly keep working for over 30,000 recharging cycles. Lithium-ion batteries only last for 300 to 500 charging cycles.
Energize-N'-Go uses chemically manipulated supercapacitors, a technology that already powers the regenerative braking in electric cars, buses, trains and even elevators.
By eliminating lithium, battery production is less harmful to the environment. Moreover, lithium, like another key electric battery component, cobalt, is becoming increasingly scarce.
The Ramat Gan-based EExion just completed a seed fund round led by Capital Nature with the participation of Zurich-based international syndicate 4WARD VC and San Francisco-based Climate Capital Collective (C3).
EExion says it is targeting micro-mobility scooters and e-bikes, electric motorcycles and rickshaws, shared EVs, and warehouse robotics and logistics.