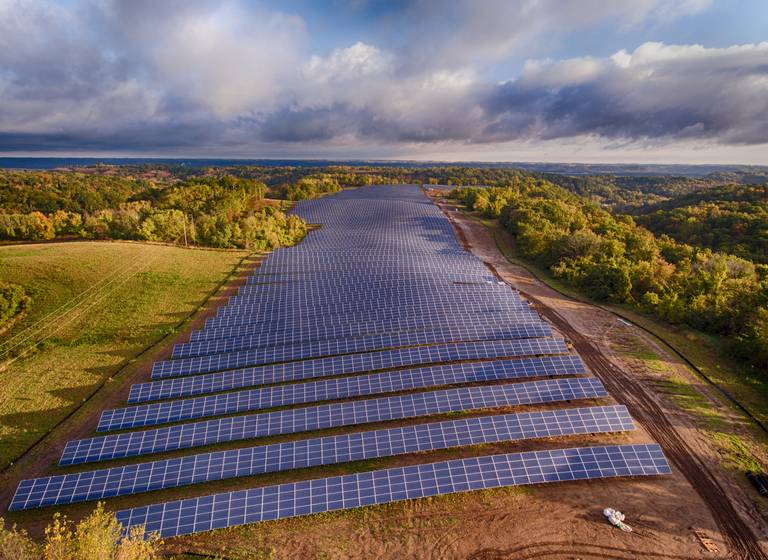 After years of putting off hopeful retail developers, Cathleen Lindauer finally found the type of development she feels is right for a portion of her land south of Belleville.
She plans to lease 40 acres of her 130 total acres of corn and soybean farmland to a solar energy company.
With soybean prices falling to their lowest levels in years, farming the sun instead of the land is becoming an increasingly attractive, and sometimes more profitable, use of property for some landowners.
"It hurts small farmers when the prices are so low," Lindauer said. "It's nice to diversify to help boost the farm's bottom line."
But solar projects often come with a reduction in farmland, raising concerns about whether farmers are giving up limited, prime farmland to non-agricultural purposes, said Rae Payne, senior director of business and regulatory affairs for the Illinois Farm Bureau.
"We've heard some overall concern about that, but we are strong advocates for private property rights," Payne said. "If a business transaction works for them, I think they should have the right to then make that decision."
The solar trend started after Illinois lawmakers approved a goal to achieve 25 percent renewable energy in the state by 2025. The legislation includes tax incentives for businesses and residents, leading to a statewide increase in solar projects.
Two other solar projects in St. Clair County, one at another family farm and a proposed solar array at MidAmerica Airport, are under consideration.
If they go forward with approval from County Board members and county officials, St. Clair County could be in for an influx of green energy, enough to power businesses on airport property and roughly 3,000 homes in the Belleville area.
More than 130 acres in St. Clair County for solar
Lindauer has helped farm her land for 45 years — at first helping her father farm it and later becoming owner. Lindauer also works as tourism director for the Greater Belleville Chamber of Commerce.
Instead of giving up her property to retailers who would buy and cover up her land with concrete and "big buildings," she decided to lease the land to a purpose that would keep the area a "quiet zone" and allow wildflowers and prairie grasses to grow. Minnesota-based Geronimo Energy will develop the land, pending County Board approval.
"We really held out thinking this was the best possibility not only for my family but also for St. Clair County," Lindauer said. "We wanted to make sure we were not only going to be friendly to the ground but to our neighbors as well."
The solar farm on Lindauer's land will be the first of its kind in St. Clair County if the County Board approves the project. County Zoning Board of Appeals members gave their approval at a recent meeting.
The 4-megawatt solar farm on Lindauer's land just northwest of Pecan Lake Drive and Illinois 159 would generate enough energy to power up to 800 homes, according to a Geronimo Energy spokeswoman.
The land will remain in Lindauer's ownership. Construction, which could take four to five months, would begin after receiving approval from the County Board.
At the nearby Reifschneider family farm, another solar farm will take shape if approved by the County Board. Another Minnesota-based energy company, Innovative Power Systems, would develop three 32-acre plots in Smithton Township near Mulligan Lane and Illinois 159.
Altogether, the three farms could power 2,000 average homes, according to Eric Pasi, chief development officer for Innovative Power Systems.
"Land is accessible, the solar resource is good compared to the rest of Illinois, and utility infrastructure in Belleville is ideal for interconnection," Pasi wrote in an email to the BND.
Construction on that project could begin as soon as next summer, according to Pasi. The total cost of construction could reach $20 million.
Members of the Reifschneider family did not immediately return a request for comment.
The developments would not affect residents' energy bills, according to a spokeswoman for Ameren Illinois.
Solar energy purchased by Ameren matches the price the utility pays in the open market for energy generated from other sources, according to spokeswoman Marcelyn Love.
But not everyone is in favor of solar developments. In Connecticut, one legislator in 2017 went as far as proposing a bill that would have put a moratorium on state incentives for solar developers amid concerns about losing valuable farmland.
In North Carolina, one county considered an outright ban on solar construction, according to The Daily Tar Heel, the University of North Carolina at Chapel Hill's student newspaper. Residents said they were concerned about property values decreasing and disruption of the local landscape.
But in Illinois, the state's policies favor solar development, and the state Farm Bureau supports renewable energy.
"As far as our organization, we're not opposed to solar farms, nor are we actively supporting them," said Payne of the Illinois Farm Bureau. "But I think renewable energy is always something our organization has supported."
A solar project at MidAmerica
Another business poised to take advantage of St. Clair County's solar potential is Chicago-based GlidePath Advanced Energy Solution. The company recently received approval from the county Public Building Commission to explore the possibility of developing a solar plant on airport land.
GlidePath will conduct a feasibility study to determine whether constructing and operating a solar plant on airport land is viable. The plant would generate power for the airport and area customers as well as provide battery storage.
If the development goes forward, the solar plant would generate power for energy-hungry companies at the airport, including North Bay Produce and Boeing.
The company would lease land from the airport, though it's not yet clear where exactly the solar farm would be developed. The study will determine a preferred site, while the Public Building Commission would determine lease pricing.
Getting the contract right
More than 20 solar companies approached Lindauer about her land, which sits near an Ameren Illinois substation. She finally settled on Geronimo Energy, a farmer-owned company, after going "beyond the limits" to ensure she was doing what's right for her farm and family.
In order for solar projects to work in farmers' favor, land owners should hire a lawyer to look over contracts, which can last as long as 40 years, said Payne of the Illinois Farm Bureau.
"These contracts can be rather legally complex. At a minimum, we suggest anyone considering a lease for their land for solar facilities hire an experienced attorney so they can understand exactly what the terms mean," Payne said.
Payne recommended farmers contact their local county farm bureau if they're considering solar development. Payne also said farmers should contact a lawyer "before signing anything."