Analysts are Predicting a Doubling of Global Lithium Demand, Making the Arrival of Newer Lithium Players such as Lithium South Development Corporation (TSX.V:LIS) (OTC:LISMF) Imperative for a Battery Revolution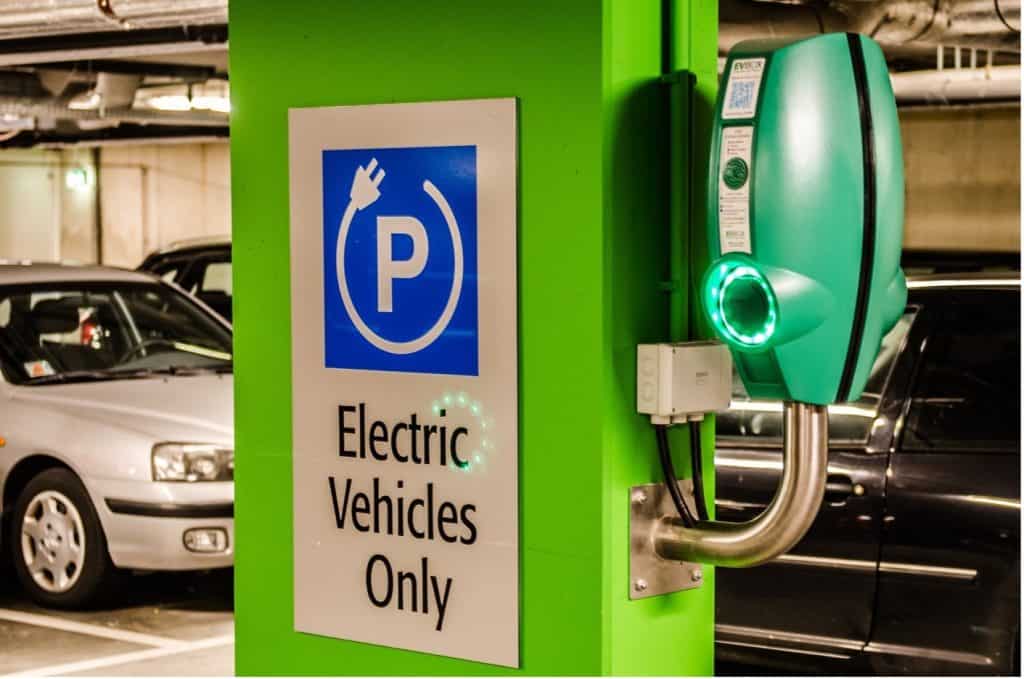 We're witnessing a complete overhaul of the auto industry in many countries that are injecting new demand into the Electric Vehicles (EVs) market through regulatory changes, which some experts are saying could potentially include swift adoptions to be pushed in the United States.[1] Last year China kicked off a zero emissions vehicle mandate, enforcing Chinese vehicle manufacturers and importers to make or import at least 10% EVs in 2019—which increased to 12% in 2020.[2]
Wisely, multi-billionaire investment superstar Warren Buffett of Berkshire Hathaway fame got out ahead of the market years ago when he backed BYD Co. (OTC: BYDDF), which recently posted surging profits showing an increase in sales of 41% in Q3 2020,[3] and Q3 earnings up 3,000%.[4]
Many other countries are following China's lead on this electric car strategy. UBS analysts wrote in a note: "Over the next five years we anticipate Chinese players across the EV supply chain to aggressively enter the overseas market."[5]
Now we're seeing how initiatives such as the 20-million electric vehicle goal from Elon Musk's Tesla (NASDAQ:TSLA) could push the American EV manufacturer's business into India.[6] Tesla is not only at the forefront of vehicle production, but also in the overhaul of new electric power grid and battery storage technology. With increasingly loud demands for renewables-based electricity supplies in places such as the UK, more energy storage is going to require a great many new batteries.[7]
One of the biggest hurdles to this vision could be the ability for manufacturers to secure enough supply of lithium—an integral ingredient in the making of batteries needed for EVs and smart power grids to run. Because of this, analysts project global lithium demand to more than double from 47,300 tonnes in 2020 to 117,400 tonnes in 2024.[8]
In order to get there, the lithium market will need to see all hands on deck, coming from operations in different parts of the world, including hard rock lithium operations in Australia, and brine-derived lithium sites in what's known as the Lithium Triangle in South America.
Unfortunately, the production costs of hard rock mining can be restrictive, and the losses due to the evaporation process of brine pools also cause heavily criticized efficiency headaches.[9]
Something has to change.
Thankfully, through a breakthrough technology… help is on the way.
And it's called Direct Lithium Extraction (DLE).
We've identified a significant property in the thick of the Lithium Triangle, with a unique partnership agreement with a buyer and technology provider that's set to pilot a DLE operation in the near term.
Perhaps the best site to witness a potential revolution in the lithium industry could be coming from the Hombre Muerto North (HMN) project, owned and operated by Lithium South Development Corporation (TSX.V:LIS) (OTC:NRGMF)

---
Intro to DLE and Lithium South Development Corporation (TSX.V:LIS) (OTC:LISMF)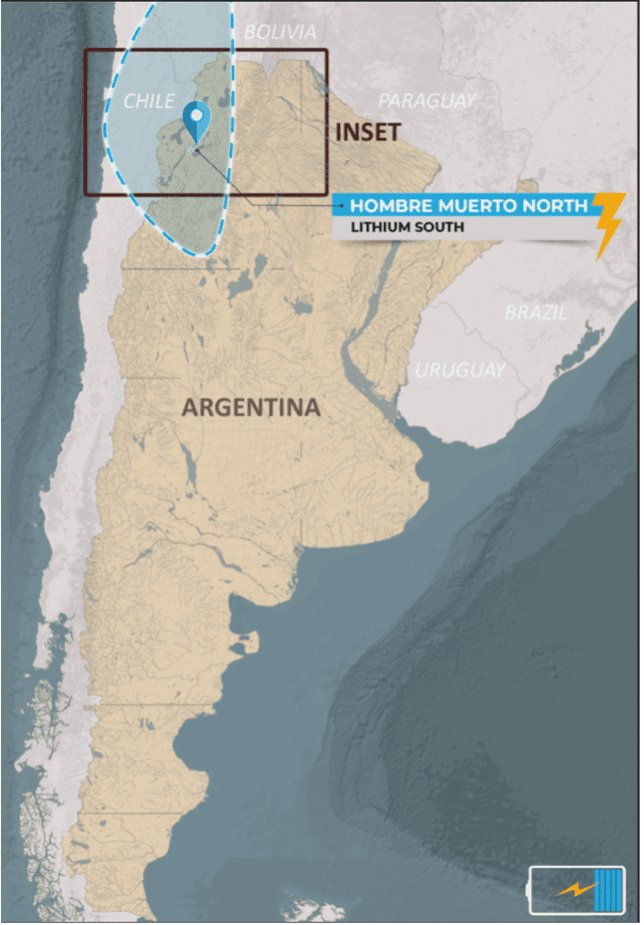 Located in the heart of the Lithium Triangle (within the borders of Argentina) is the 3,287-hectare Hombre Muerto North (HMN) Project, 100%-owned by Lithium South Development Corporation (TSX.V:LIS) (OTC:LISMF).
Lithium South isa junior Canadian mining company that has strategically put together one of the most intriguing new plays the lithium sector has ever seen. The project comes with a NI 43-101 resource statement detailing a Measured and Indicated Resource of 571,000 tonnes LCE with >750 mg/L Li, and a low Mg/Li ratio, and over 1.6 million tonnes of potash (KCI) equivalent.
In 2019, the company released an NI 43-101 Preliminary Economic Assessment Report, which can be found linked here.
What perhaps makes the HMN project is Lithium South's partnership with industry leaders Chemphys and SinoLithium who bring over 20 years of lithium experience.
This partnership not only provides internationally recognized conversion and processing expertise, but also access to full funding for a pilot validation of Direct Lithium Extraction (DLE).
By implementing DLE technology, Lithium South isset to more efficiently develop the HMN project by:
Reducing production lead time

Shaving the process down from >18 months to a matter of just hours*

Increasing lithium recovery

Leading to higher resource availability and production capacity

Potentially doubling recovering from ~40% to an anticipated ~80%*

Reducing the land footprint

Through a decreased need for large evaporation ponds
* – Subject to QP certification
Rather than taking several months to years to produce lithium from solar evaporation, DLE can potentially bring production time down to mere hours.
Not only that, but the recovery of lithium shoots up exponentially, with some preliminary studies showing this technology having a lithium recovery rate of approximately 90%—a substantial improvement on a 30% recovery rate achieved through the current solar evaporation process.[10]
Through its combination of a world-class lithium resource in one of the world's most prolific lithium regions, and its partnership with Chemphys, it's prudent to believe Lithium South Development Corporation (TSX.V:LIS / OTC:NRGMF / FSE:OGPQ) presents a unique opportunity at potentially the perfect time in its story to pay more attention to.
---
HMN+LIS.V – A LITHIUM TRIANGLE BREAKOUT STORY IN THE MAKING
The Lithium Triangle produces ~50% of global lithium production—all at the world's lowest quartile cost.
Lithium South Development Corporation's (TSX.V:LIS) (OTC:LISMF) Hombre Muerto North Project is a Tier-1 lithium project within the heart of the Lithium Triangle, on the Argentina side.
What makes HMN stand out as a prime candidate for proving the superiority of utilizing Direct Lithium Extraction (DLE) technology, is its high lithium content combined with its low impurity brine chemistry.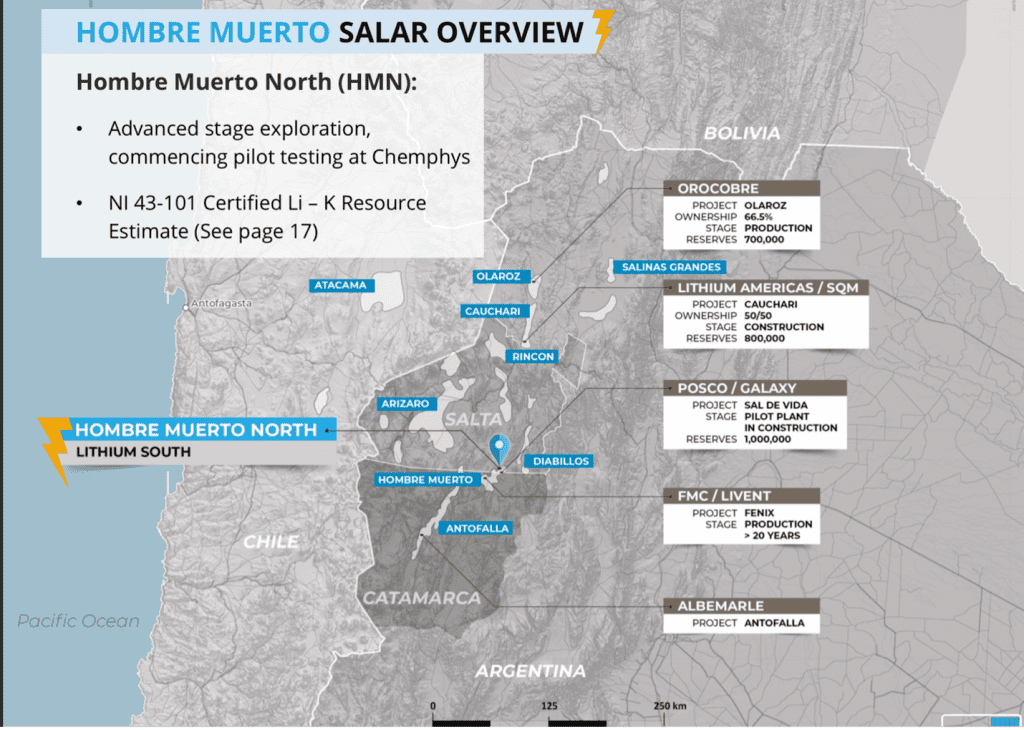 As can be seen in the area map, the HMN project is not only an advanced stage exploration project in the heart of the region, but that it's near multiple major projects from such lithium giants as Albermarle Corporation (NYSE:ALB), FMC Corporation (NYSE:FMC), Livent Corporation (NYSE:LTHM), POSCO (NYSE:PKX), Galaxy Resources Limited (OTX:GALXF), Lithium Americas Corp. (NYSE:LAC), SQM (NYSE:SQM), and Orocobre Limited (TSX:ORL) (OTC:OROCF).
All of the comparable players in the region have performed very well in 2020, with gains over the year ranging from 80-1,400%.
Let's now take a look at how each has performed individually.
Company
Symbol
Share Price Today
% Increase in 12 months
Mkt Cap
Lithium South Development Corporation
TSX.V:LIS OTC:LISMF
$0.79
289%
$40.23M
Albemarle Corporation
NYSE:ALB
$153.54
133%
$18.13B
FMC Corporation
NYSE:FMC
$109.33
59%
$14.63B
Livent Corporation
NYSE:LTHM
$17.90
190%
$2.79B
POSCO
NYSE:PKX
$65.55
105%
$20.73B
Galaxy Resources
OTC:GALXF
$1.95
306%
$987.3M
Lithium Americas
NYSE:LAC
$16.42
509%
$1.95B
Orocobre Limited
TSX:ORL
OTC:OROCF
$3.75
182%
$1.27B
*Latest share price taken from Yahoo! Finance on March 17, 2021
**All price in USD
Closest to the HMN are FMC/Livent's Fenix Lithium Mine and POSCO/Galaxy's Sal de Vida Project—both of which are located in Argentina's Salar de Hombre Muerto.
It's worth taking a deeper look at how they progressed and are performing today.
---
CASE STUDY 1: FENIX LITHIUM MINE
Located in the Salar del Hombre Muerto salt pan in Argentina, the Fenix Lithium Mine is an integrated brine extraction and lithium processing facility owned and operated by FMC Corporation and Livent (a spin-off company from FMC since 2019).[11]
The manufacturing facilities produced approximately 17,000t lithium carbonate and 4,000t of lithium chloride in 2019. [12]
After a mine expansion is completed, total production capacity for the facility is expected to increase up to 40,000t from 2022 onwards.[13]
As of March 2019, the Fenix Lithium Mining concession on the Salar del Hombre flat was estimated to hold recoverable reserves of up to 1.2 million tonnes of LCE.
Livent recently extended its supply agreement with EV company Tesla for lithium hydroxide through the end of 2021.[14]
HMN COMPARISON NOTES:
Lithium South Development Corporation (TSX.V:LIS) (OTC:LISMF) has its own supply agreement with Chemphys set for once production begins at the HMN project.
As well, with its Measured and Indicated resource of 571,000t of LCE, the HMN project currently has close to half of what the Fenix Mine had in 2019.
Because HMN is set to utilize DLE technology, which could potentially produce lithium recoveries double that of traditional solar evaporation methods, it becomes more competitive with the nearby operations that are already known on the global stage.
---
CASE STUDY 2: SAL DE VIDA PROJECT
Back in 2018, Korean major POSCO purchased a stake in a northern portion of Galaxy Resources' Sal de Vida Project for US$280 million—providing a much appreciated cash injection for the project.[15]
Proceeds from the transaction were allotted towards the advancement of the Sal de Vida's development.
By summer 2020, Galaxy Resources announced it had moved the project into the design phase.[16] The company confirmed that it's on track to begin production at the Sal de Vida lithium brine project in Argentina by 2022.
Sal de Vida is expected to yield up to 25,000 tonnes a year of lithium carbonate for batteries and 95,000 tonnes of potassium chloride, a key fertilizer ingredient—over a mine life of 40 years.
Galaxy estimates Sal de Vida would take $474 million to develop and generate $354 million in annual revenue, and that it will spend approximately $12 million over H2 2020 on piloting, engineering, well drilling and owner costs.
HMN COMPARISON NOTES:
According to a Preliminary Economic Assessment using the traditional evaporation method for its calculations, the HMN project is expected to cost Lithium South Development Corporation (TSX.V:LIS) (OTC:LISMF) approximately US$98 million to construct, and presents a NPV of US$217 million—over a mine life of 30 years.
Pay back (from production) was expected to only be 2 years and 5 months.
However, the use of DLE technology could be the real gamechanger on the economics of the facility.
Completion of the QP review of laboratory DLE test work is expected this November, complete with published results. By Q1 2021, pilot DLE test work is set to have been completed, and on-site DLE pilot unit testing is set to run alongside evaporation process test work in Q2 2021.
Much like Galaxy, Lithium South has secured a significant Asian partner to help facilitate the project through its earlier stages into production, which is currently projected to commence by Q1 2024—just in time for the expected more-than doubling of lithium demand.[17]

---
ONGOING STRATEGY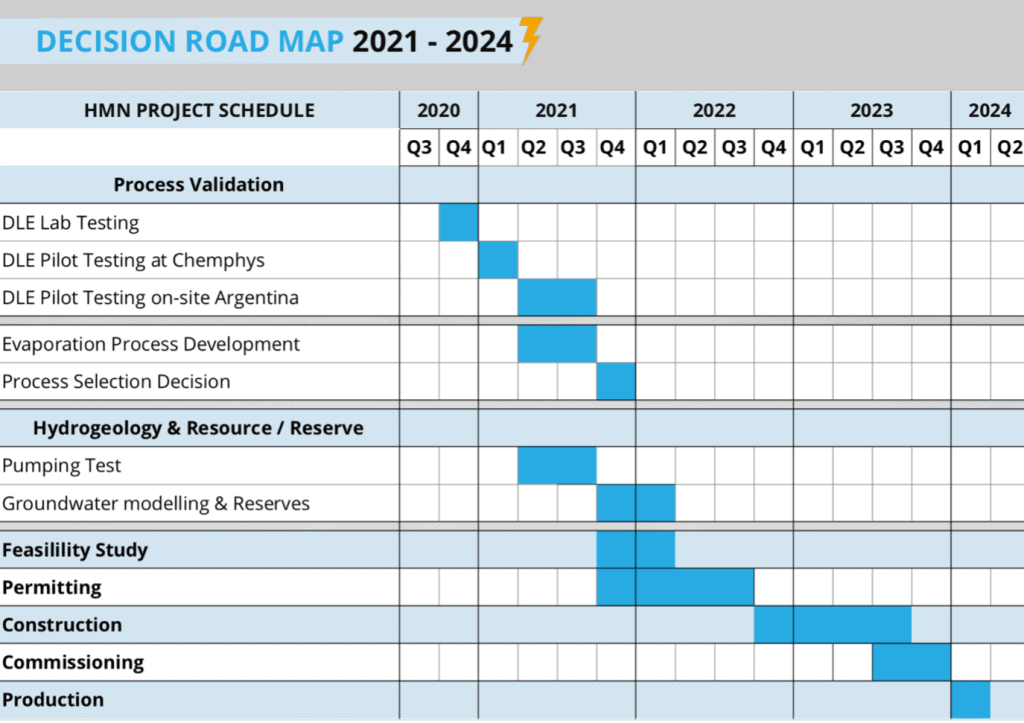 Together with their partners Chemphys, the Lithium South Development Corporation (TSX.V:LIS) (OTC:LISMF) team has a strategy through to production by Q1 2024.
Currently the project is working towards the pilot testing phases, as they work towards the completion of DLE Lab Testing.
Targeting pilot unit onsite in Argentina is expected or Q2 2021.
Over the next 12 months, the company has a work stream planned that includes long term pumping test and traditional evaporation process development ground water modeling, as well as DLE pilot testing. In total, the next year's work load is expected to cost US$2.1 million.
SinoLithium (parent company of Chemphys) has agreed not only to fully fund the DLE laboratory and pilot testing programs under QP supervision, but also 30% of the project's Feasibility Study.
Upon successful completion of the above, SinoLithium will earn-in up to a 30% working interest in the HMN project.
Chemphys has a 100% off-take from the HMN Project, ensuring Lithium South with an expedited access to the battery application market.
---
THE EXCEPTIONAL TEAM BEHIND LITHIUM SOUTH
Chemphys – Direct Lithium Extraction & Processing Team
Chemphys have an 11-member technical team working full time on development of the Direct Ltihium Extraction Technology. Founded in 1998, Chemphys is recognized as one of the world's leading lithium processing and technology companies with over 22 patents (valid and under application) developed in-house.
Fernando E. Villarroel – Director & Project Manager
Mr. Villarroel has 12 years of experience in the mining industry in Argentina with a focus on Lithium process development. From 2009 to 2013 he worked with Lithium Americas Corp. as Project Manager which included construction management and commissioning of the initial pilot evaporation facilities and laboratory at the Cauchari Olaroz Lithium Project. He has also acted as a consultant to Neo Lithium and International Lithium Inc. He holds a degree in Industrial Engineering and has specialized training in Data Modeling & Analysis for Business and Engineering from M.I.T.
Hains Technology Associates
Hains Technology Associates, located in Ontario, Canada will provide technical guidance and Qualified Person review of all test work conducted by SinoLithium. In addition, Hains will work directly with Mr. Carlos Galli who will provide technical support locally in Argentina. Hains and Carlos Galli are recognized for their lithium expertise having conducted many studies for companies within the industry.
Adrian F.C. Hobkirk – President and Chief Executive Officer
Mr. Hobkirk has 26 years of experience in the mining and venture capital industry, He has been involved in Guyana for over twenty years and founded the company to develop the Groete Gold Copper Deposit in 2006, the third largest gold deposit in Guyana. He has worked in many countries including Argentina and is the largest shareholder of Lithium South, founding the company in 2016.
Christopher P. Cherry – Director & Chief Financial Officer
Mr. Cherry has over 20 years of corporate accounting and audit experience. Formerly an auditor with KPMG, Mr. Cherry has extensive corporate experience and has held senior-level positions for several public mining companies. He is a certified general accountant and a chartered accountant.
Allen V. Ambrose – Director
Founder and President of Minera Andes from November 1995 until it's combination with McEwen Mining in 2012., Mr. Ambrose directed the exploration and completion of the San Jose Mine in Argentina for Minera Andes. He now sits on the board of McEwen Mining. He has over 30 years of experience in the mining industry and is the co-discoverer of the Brisas Gold Deposit in Venezuela.
Gordon K. Neal – Director
Neal has more than 35 years of experience in governance, corporate finance and investor relations. He founded Neal McInerney Investor Relations in 1991. Through marketing more than $4 billion in debt and equity financings, the company grew to be the second largest full-service Investor Relations firm in Canada He is currently VP Corporate Development for Silvercorp Metals Inc.
Alison Dai – Director
Ms. Dai has 9 years of experience in the lithium industry and is responsible for business development and is a director for Chengdu Chemphys Chemical Industry Co., Ltd. In her role at Chemphys, Ms. Dai has been involved in developing strategic partnerships, international markets and procurement. Prior to joining Chemphys, Ms. Dai was an investment banking analyst at J.P. Morgan Australia in the mining and metals team. Ms. Dai holds a double degree in Bachelor of Laws and Bachelor of Commerce from the University of Western Australia.
---
7 Key to Success for Lithium South Development Corporation (TSX.V:LIS) (OTC:LISMF)
Projected DOUBLING of Lithium Demand by 2024 from Explosive EV Growth in the coming years, as projected by GlobalData
World Class Resource of 571,000T Lithium Carbonate Equivalent (measured & indicated), consisting of values greater than 750 mg/L Li with a low Mg/Li ratio
Partnership with Industry Leaders Chemphys and SinoLithium , which bring 20 years lithium experience, and are internationally recognized for conversion and processing expertise, and an established long-term customer base for quality approved battery quality lithium products
Innovative Technology with a fully-funded pilot validation of Direct Lithium Extraction (DLE) technology to more efficiently develop the Hombre Muerto North project, to reduce production lead time, increase lithium recovery, and decrease the need for large evaporation ponds
Partners have agreed to fully fund pilot validation of DLE technology to more efficiently develop the Hombre Muerte North project.
Prime Real Estate in Salta, Argentina within the world famous Lithium Triangle, near multiple major producers
Exceptional Team built to successfully develop the Hombre Muerto North project efficiently and economically.
---
SOURCES:

[1] https://www.jwnenergy.com/article/2020/11/2/us-election-outcome-could-stir-up-electric-vehicle/
[2] https://chineseclimatepolicy.energypolicy.columbia.edu/en/electric-vehicles#:~:text=In%202019%2C%20each%20Chinese%20vehicle,than%2030%2C000%20vehicles%20in%20China.
[3] https://www.bnnbloomberg.ca/buffett-backed-byd-s-profit-surges-as-electric-car-sales-recover-1.1515197
[4] https://finance.yahoo.com/news/buffett-backed-byds-q3-earnings-044243574.html
[5] https://www.cnbc.com/2020/10/23/chinas-electric-car-strategys-implications-for-us-energy-security.html
[6] https://www.cnbc.com/2020/10/22/teslas-20-million-ev-goal-could-take-elon-musk-to-india-next.html
[7] https://www.ft.com/content/35089ffd-aed5-48bd-83dc-df6d9c43ac00
[8] https://www.mining.com/global-lithium-demand-expected-to-double-by-2024/
[9] https://newenergynarrative.com/evaporation-ponds-are-a-waste-of-time-money-space-and-water-and-lithium-producers-would-be-wise-to-lose-them/
[10] https://www.nsenergybusiness.com/features/lithium-brine-extraction-research/
[11] https://www.prnewswire.com/news-releases/fmc-corporation-announces-details-of-final-separation-of-livent-corporation-300792891.html
[12] https://www.nsenergybusiness.com/projects/fenix-lithium-mine-salar-del-hombre-muerto/
[13] https://www.bnamericas.com/en/news/miningandmetals/fmcs-fenix-expansion-deal-enters-force/
[14] https://www.nsenergybusiness.com/news/lithium-producer-livent-extends-supply-deal-with-ev-firm-tesla/
[15] https://www.miningweekly.com/article/posco-deal-provides-cash-injection-for-sal-de-vida-galaxy-2018-08-28
[16] https://www.mining.com/galaxy-moves-sal-de-vida-lithium-project-to-design-phase/
[17] https://www.nsenergybusiness.com/news/industry-news/global-lithium-demand-2024/
---
Nothing in this publication should be considered as personalized financial advice. We are not licensed under securities laws to address your particular financial situation. No communication by our employees to you should be deemed as personalized financial advice. Please consult a licensed financial advisor before making any investment decision. This is a paid advertisement and is neither an offer nor recommendation to buy or sell any security. We hold no investment licenses and are thus neither licensed nor qualified to provide investment advice. The content in this report or email is not provided to any individual with a view toward their individual circumstances.Lithium News is a wholly-owned subsidiary of Market IQ Media Group, Inc. ("MIQ"). MIQ has been paid a fee for Lithium South Development Corporation advertising and digital media from the company directly. There may be 3rd parties who may have shares of Lithium South Development Corporation, and may liquidate their shares which could have a negative effect on the price of the stock. This compensation constitutes a conflict of interest as to our ability to remain objective in our communication regarding the profiled company. Because of this conflict, individuals are strongly encouraged to not use this publication as the basis for any investment decision. The owner/operator of MIQ own shares of Lithium South Development Corporation which were purchased as a part of a private placement. MIQ will not buy or sell shares of Lithium South Development Corporation for a minimum of 72 hours from the publication date on this website March 3, 2021, but reserve the right to buy and sell, and will buy and sell shares of Lithium South Development Corporation at any time thereafter without any further notice. We also expect further compensation as an ongoing digital media effort to increase visibility for the company, no further notice will be given, but let this disclaimer serve as notice that all material disseminated by MIQ has been approved by the above mentioned company; this is a paid advertisement, and we own shares of the mentioned company that we will sell, and we also reserve the right to buy shares of the company in the open market, or through further private placements and/or investment vehicles.
While all information is believed to be reliable, it is not guaranteed by us to be accurate. Individuals should assume that all information contained in our newsletter is not trustworthy unless verified by their own independent research. Also, because events and circumstances frequently do not occur as expected, there will likely be differences between any predictions and actual results. Always consult a licensed investment professional before making any investment decision. Be extremely careful, investing in securities carries a high degree of risk; you may likely lose some or all of the investment.
---