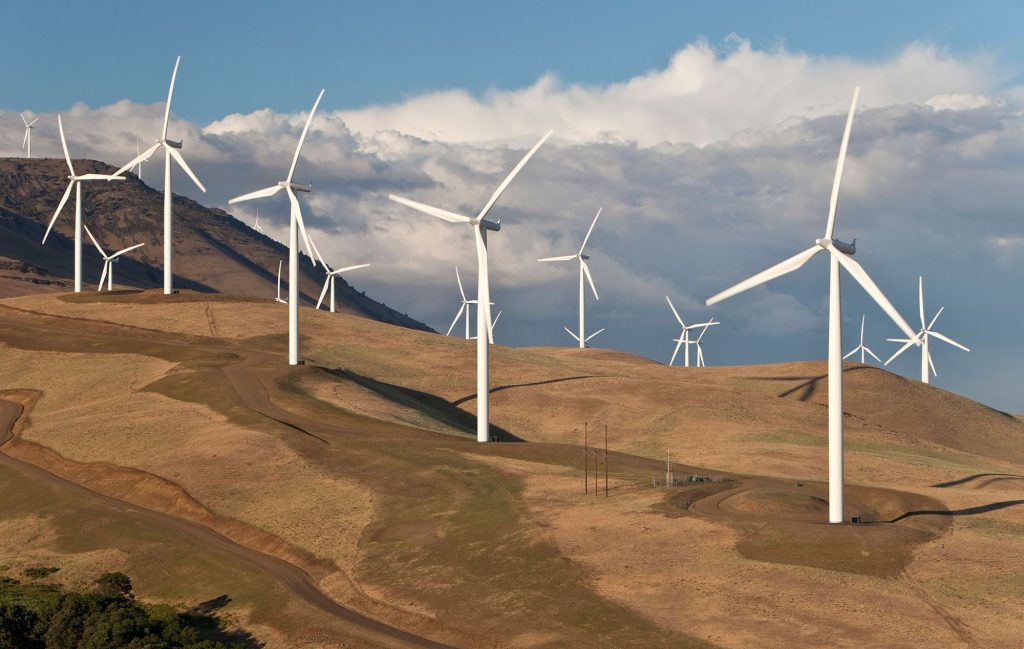 There's a lot of good news about wind energy these days.
Costs keep falling. The sector keeps putting more and more people to work. And growing numbers of cities, states, countries and companies around the world are embracing wind as a powerful tool to cut emissions and create a sustainable future.
We even published an e-book about wind energy last year to share some incredible facts about wind power because it's such a win-win-win: good for our climate, good for our health and good for keeping the lights on.
But here's a fact you might not know. Just four states account for more than half of the wind electricity generation in the U.S.
Pretty shocking, right?
Let's dive in.
1. Texas
Wow. Everything really is bigger in Texas. The Lone Star State produces and consumes more energy overall than any other state in the country — in fact, its electricity production is double that of Florida, the next closest state.
Still, it's beyond impressive to see that the state accounted for more than 25 percent of the country's wind electricity generation in each of the past three years.
Wind also generated 22 percent of the state's electrical needs as of July 2019: notably, edging out coal (21 percent, as of July 2019, of the state's power). And just to show how quickly energy transition can happen with the right policies, this is a far cry from 2003 when wind made up just 0.8 percent of the Lone Star state's power.
Plus, Texas ranks first in the country for both installed and under-construction wind capacity — and supports more than 25,000 wind-related jobs.
2. Oklahoma
Way to go, Oklahoma! The bulk of Oklahoma's power generation for decades was from natural gas and coal, but in 2016 wind surpassed coal-fired generation in the state for the first time. And in 2018, wind energy provided 31.7 percent of all in-state electricity production.
Plus, Oklahoma's incredible wind resource also provides economic development — it supported more than 7,000 direct jobs in 2018.
3. Iowa
Iowa's also a big FAN of wind energy (get it? We're so sorry). In fact the Hawkeye State has almost doubled its wind generation since 2011. Wind provided 34 percent of total electricity generation in Iowa in 2018, putting the state second in the nation for wind energy as a share of total electricity generation. It produces more power than it consumes, and sends a surplus to nearby states.
Iowa also ranks second in the nation for installed capacity with more than 10,100 MW of wind online, And as of 2018, Iowa is home to more than 9,000 wind industry jobs.
4. Kansas
Rounding out the list is Kansas. Wind turbines accounted for 36 percent of the electricity generated in Kansas in 2018 — a larger share than any other state — reflecting a fivefold increase since just 2010. Wind energy is also only just slightly lagging behind coal, which makes up 39 percent of generated electricity in the state.
In 2018, developers installed 543 megawatts of new wind generation in Kansas, according to a new U.S. Department of Energy study.
What You Can Do
Are you looking for ways to make a difference and be part of the movement for renewable energy?
Our upcoming Climate Reality Leadership Corps training in San Antonio, Texas (the top producer of wind energy in the country!), is a good place to start. As a Climate Reality Leader, you'll join a network of more than 20,000 like-minded activists working to share the science of what's happening to our planet and secure the safe, sustainable tomorrow we all deserve.
We can't remain silent in the fight against the climate crisis.
As we like to say: Give us three days. We'll give you the tools to change the world.