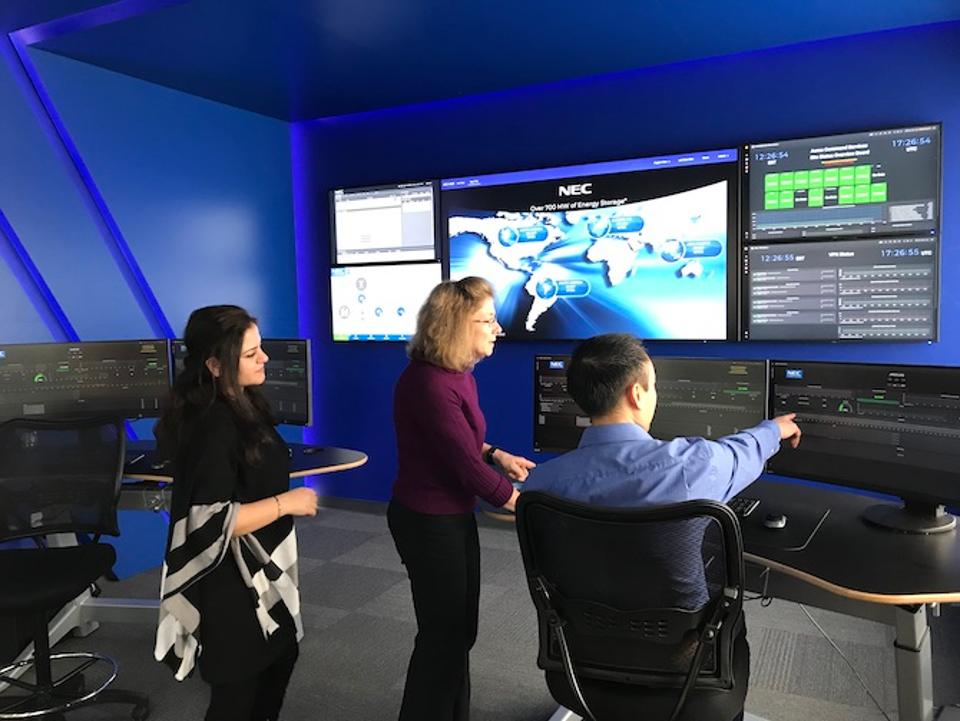 When NEC Energy Solutions CEO Steve Fludder looks at today's electric power grid, he sees a network of conventional power plants, wires, and poles that have generated and transported power for well over a century. He also sees the relatively rapid transformation of the grid to something new and different.
At the highest conceptual level, Fludder views this transition as a migration towards "a digitally optimized system" which is largely about a shift in how and where we store energy on the grid. "Really if you think about it," he says, "the electric power system has always had storage." A pile of coal awaiting the conveyor belt, gas in a pipeline, fuel rods in a nuclear plant, or water behind a dam – they are all forms of energy storage, raw fuel prior to conversion to electricity. But today that's all changing.
With the output of our newer and cleaner wind and solar generation resources dictated by the weather, grids cannot control when the energy gets generated. So we have to take that increasingly lower cost energy whenever it's available, and incorporate it into the grid. "The transformation at the basic level" he asserts "is where that storage actually resides….storage is moving from the fuel stored outside the wires into the grid itself and from molecules to electrons." In other words, storage is moving largely into batteries and the software that manages them.
Fludder's team has been working aggressively to accelerate that transformation, building NEC Energy Solutions into one of the largest players in the energy storage space. In just the past several years, the company has seen its megawatts (MWs) under management soar from 150 MW in 2017, to 250 in 2018, and to a little over a gigawatt (1,000 MWs) today. The company was originally part of A123, the MIT battery start-up. Japanese information technology and electronics giant NEC acquired A123's grid focused system integration business, giving the revitalized storage business a shot in the arm with its strong balance sheet and its expertise in data science.
Fludder notes that to this day, the company continues to sell and manage projects with A123's lithium iron phosphate technology. However, it has since also branched out to collaborate with a number of suppliers that offer nickel-manganese-cobalt technologies, including Korean companies LG Chem and Samsung, as well as a number of reputable Chinese manufacturers.
The value's in the business model and the software
From Fludder's perspective, the key to value creation is in the overarching intelligence – the software that manages and dispatches the storage resource. He sees batteries continuing their inexorable historical march down the cost curve, since, "Battery manufacturing is that type of process where volume is its friend." At the same time, the underlying battery technologies continue to improve, continuously yielding better performance at lower cost. NEC's goal is to take advantage of those gains by maintaining flexibility with respect to various suppliers while focusing on its core competencies in system design, grid integration solutions, and its constantly evolving digital platform.
Since energy storage is an extremely competitive global game, Fludder's team must focus on staying ahead in cutting costs. A key part of that strategy, he indicates, is to develop and standardize optimal deployment configurations wherever possible. This approach reduces upfront investment capital expenditures, while allowing an increasingly large number of projects to become cost-competitive.
Complementing this relentless approach to cost management, NEC has placed a large bet on continuously refining its digital strategy, utilizing the data from a growing customer base to improve performance and optimize the economic opportunities that may vary significantly by market. This numbers game plays well to NEC's inherent strengths in data science, since an expanding installed base yields increasing quantities of valuable data. The company deploys machine learning to constantly improve its algorithms with respect to projected battery performance and degradation. Resulting improvements in operational flexibility create additional opportunities to generate even more revenue. It's a virtuous cycle that works well. In fact, says Fludder, "I can't think of anything more suitable for the application of data science than battery performance over time…I like to say 'when you buy from us, you join a club.' Our algorithms are as good as they are because we get data from the entire installed base."
So what is NEC's offering and who is its customer? The company typically offers a contract covering installation and long-term service, with guarantees specifying performance and availability of the storage asset. NEC's customer is generally an independent power producer (IPP) who in turn holds a power purchase agreement with the end-use customer (in many cases a utility). "We have pay-for-performance type contracts," Fludder says, that in some cases allow the system to change use cases over time. "It can either be a fixed fee, or pay-for-performance contracting tied to how they (the IPPs) get paid."
To ensure that it meets its commitments and that operations run smoothly, NEC Energy Solutions maintains a network operating center (NOC) in Westborough, Massachusetts hosting a computer bank containing multiple digital algorithms. Over time, as the algorithms have become increasingly powerful and sophisticated, the balance between computers and employees has shifted in favor of the machines. "There's always going to be people," Fludder asserts, "but we're shifting from folks who do the actual service to those who manage the AI digital platform that delivers the service." That allows the company to continue its rapid growth trajectory while managing costs.
Multiple growth markets in the U.S.
With a large sales pipeline in place, Fludder sees little sign of that growth slowing anytime soon. He points to the fact that just within the U.S., energy storage has moved from being an isolated phenomenon in a few limited states to a resource that is being widely promoted and deployed by governments and utilities across the landscape.
In New York, he noted, the company already has five battery storage projects in New York City, including the just-commissioned 4 MW/16MWh Gateway Shopping Center in Brooklyn and the recently inaugurated TWA hotel microgrid complex at JFK airport. With Albany promulgating a statewide target of 3,000 MW and a $400 million commitment of financial support to complement the Empire State's pro-storage policies, Fludder views all of New York as ripe for business, with NEC developing some larger projects, including a 20 MW undertaking with Key Capture Energy in Saratoga.
Massachusetts also looks to be a strong market. Last August, NEC announced projects with six municipal utilities totaling over 20 MW. Fludder notes that the ability to develop multiple similar-sized projects allows the company to leverage resources to improve overall efficiencies and manage costs. He sees the Massachusetts market, with its new Clean Peak Energy Standard as having significant potential to drive larger projects, some quite possibly attaining the 100 MW range.
Enhancing this potential all along the Eastern Seaboard is the planned build-out of over 18,000 MW of offshore wind located off seven states. Fludder comments that energy storage can enhance the offerings of these wind projects. He believes the addition of storage into this mix is inevitable, "When you have 10's of gigawatts on the seaboard, more renewables means more need for balancing services, and time-of-day energy shifting – that's really what's driving storage as the solution that can provide a multitude of services and different benefits."
Looking to other areas of the country, he sees California continuing to be a very strong market, particularly after the recent wildfires and pre-emptive utility outages, as well as the Public Utility Commission's recent call for an additional 3,000 MW of 'resource adequacy.' He also views the Southwest as being a solid market, with New Mexico and Nevada standing out. In short, he comments, for larger utility-scale projects, "It's show time."
Global opportunities
Storage here in the U.S. is on the upswing, and there are admittedly some very impressive projects on the books, including a 250 MW project NEC is building out in the western U.S. However, the domestic market is still modest in comparison with some of the other areas in which NEC is currently active. For example, Fludder says, "Systems in Europe are getting bigger. We rarely do systems in the UK under 50 MW anymore."
A dedicated observer of systems and human activity, Fludder believes that at least for the near future we will see four hours of duration as a "kind of a sweet spot," and that's where NEC will focus its efforts. "Four hours," he comments, "is the typical duration of the peak in electricity markets just about anywhere in the world. It's the nature of many things, whether with demand for takeout food or traffic on the road. For energy, there's a similar peak that happens in every market around the world." As a consequence, storage systems will tend to gravitate towards the most economical durations. To illustrate his point, he poses the theoretical question: "If you build an 8-hour battery and half its duration can serve peak, what are you going to do with other half of its capacity?"
In the next few years, Fludder sees the storage space expanding rapidly, with NEC winning a solid share of the market, owing to its focus on data and cost management. He notes that his roughly 200 employees "are excited about coming to work every day, because we are changing the world." That world is rapidly moving from the old and top-down grid of the past to something that has never been seen before. While there is as yet no exact blueprint for that grid of tomorrow, it's abundantly clear that it will involve a growing population of smarter and more responsive resources that is increasingly data-driven. "The future is a digitally optimized storage system." Fludder confidently asserts. "That really is the future."