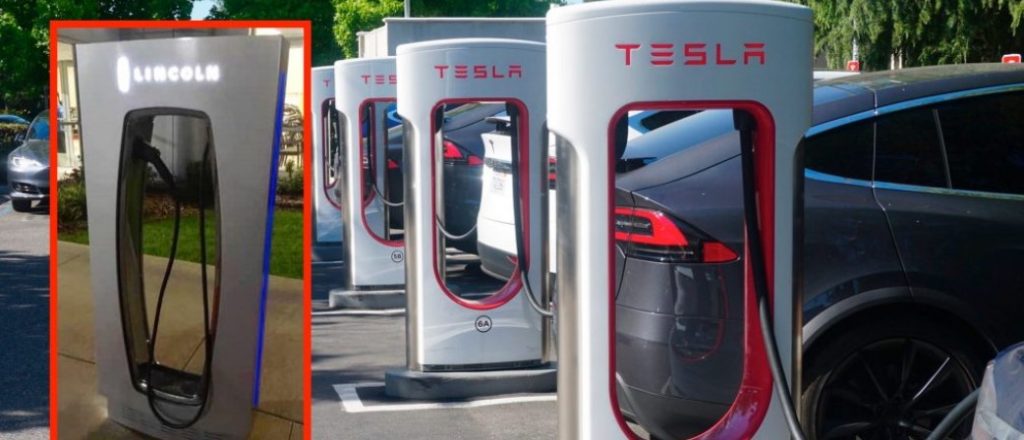 Lincoln, Ford's luxury brand, released its new charging station, and it's a clear rip-off of Tesla's Supercharger design.
However, I say they shouldn't stop there and copy Tesla's entire Supercharging business model.
Ford has been tentatively moving into the EV space lately with its first all-electric vehicle built to be electric from the ground up is set to be unveiled next month.
It's going to be an all-electric crossover based on the Mustang — apparently with 300 miles of range on a single charge.
Earlier this year, Lincoln confirmed that it is making an electric vehicle based on Ford's Mustang-inspired EV.
Furthermore, the premium brand has announced plug-in hybrid versions of its Aviator and Corsair vehicles.
In preparation for its push in electric vehicles, the company started making its own charging station, and it looks like it was heavily inspired by the Tesla Supercharger (spotted by u/ifwinterends on Reddit):
The charging stall has the same shape as the Tesla Supercharger with the connector installed in the hollowed-out interior.
The main difference appears to be blue design accents instead of red accents.
It looks like a mix of Tesla's GEN 1 and GEN 2 Supercharger designs:
However, Lincoln's station actually seems to have a small cable and connector, which most likely mean that it's only a level 2 charging station meant for its upcoming PHEV vehicles.