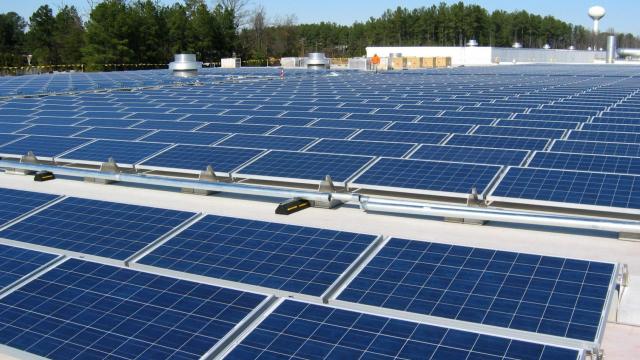 Large solar power facilities and wind farms would have to lay out end-of-life plans, and how they plan to pay for them, under legislation under discussion at the General Assembly.
Supporters said Senate Bill 568 would make North Carolina one of the first states in the nation to plan ahead on the recycling and disposal of solar panel components. The industry pushed back Wednesday, its lobbyists saying the bill is a disincentive for investors looking at growing industry.
"It's a 'solution' looking for a problem," said Chris Carmody, executive director for the North Carolina Clean Energy Business Alliance.
Carmody said the end-of-life horizon for most solar farms is at least 20 years away, leaving plenty of runway for study before regulation. He accused Sen. Paul Newton, R-Cabarrus, a former Duke Energy executive and the bill's lead sponsor, of "imposing a whole lot of costs on an industry he doesn't like."
"Duke Energy does not profit from solar the way they do from nuclear and natural gas," Carmody said.
Newton said he's trying to build a roadmap for the industry and avoid a "gotcha" 20 years from now when the heavy metals and other potential contaminants in solar panels have to be dealt with. Duke, he noted, was within the law for decades storing coal ash in unlined pits, but a pair of high-profile spills in Tennessee and North Carolina changed the game, potentially costing the utility billions to clean up ash ponds across the state.
Solar and wind "don't want to be the next Duke Energy," Newton said.
The bill would require companies to give financial assurances that they'll be responsible for breaking down wind and solar farms at their end of lives, returning the underlying property to it's pre-construction condition. That could mean a bond up front, but it could also mean letters of credit or promises from a parent company that passes a financial test.
It would be up to the state Department of Environmental Quality to decide the method and price, potentially on a case-by-case basis. DEQ would also write recycling and other rules between now and July 1, 2021, but the bill lays out minimum standards and bans solar panels from landfills, a ban similar to the one for televisions and computers.
There was a push earlier this session to end that TV and computer ban, but it petered out.
Under Newton's bill, solar components that can be reused or recycled must be, and other components would be disposed as DEQ prescribes. Sites generally would have to be cleaned up within two years. The bill also includes an annual $2,500 registration fee for solar panel manufacturers selling their panels in the state.
The bill covers wind farms, too, but it exempts Amazon's facility in Pasquotank and Perquimans counties, which is the state's only utility-scale wind farm. The General Assembly is debating a three-year moratorium on new wind farms in much of the state, and that bill cleared the state Senate Wednesday with lawmakers saying they hope to strike the moratorium from the bill as negotiations continue.
Newton said most of the material in solar panels can be recycled, and the requirement should create green jobs. He said there are enough solar panels already installed in North Carolina to stretch to San Francisco nearly eight times. He said he wants the new requirements to be effective at the least expense possible, but he wants protections for the state when hurricanes tear up arrays or if companies go bankrupt.
He showed pictures of a partially demolished solar facility in Puerto Rico and questioned what chemicals were leaching into the water table there.
"I don't want to hurt the industry," he said. "Without these (rules) in place, we're going to have some Puerto Ricos."