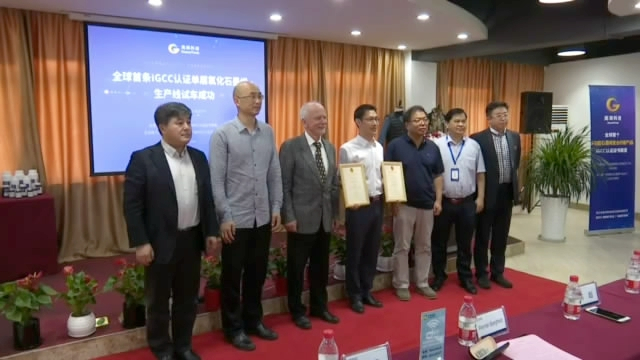 Graphene, a one-atom-thick layer of carbon atoms, is a kind of material that will boost 5G's potential. And Zhejiang University in east China has made breakthroughs in the field of graphene, with two graphene products granted international patents.
Graphene manufacturers are clustered in the UK, China, and the United States. China boasts the most manufacturers with over 4,000. According to China Daily's report, half of the world's graphene-related patents have been filed in China.
Graphene's flexible properties can be used to develop a number of high-tech products. The thinnest material is one that has a research focus in China. A graphene research team from Zhejiang University has been developing the emerging sector for several years.
The team has introduced a number of graphene products to the market. Two of those, single-layer graphene oxide and graphene composite fiber, have been granted international patents.
Professor Gao Chao from the team said that the annual output of graphene products is expected to reach 10 tons. "We have made great progress in the sector. The graphene industry has entered a new era. China is now leading the international graphene technology," Gao noted.
The graphene sector's production value reached 18 million U.S. dollars in 2017, jumping nearly 70 percent from the previous year, accounting for a little more than one-fifth of the global market. And the global graphene industry is expected to grow at an annualized rate of 40 percent from 2018 to 2026.
In 2017, the demand for graphene for lithium batteries constituted more than 50 percent of the total. But that proportion will decrease in the future as graphene is increasingly used in new energy, composite materials, wearables, thermal management, energy conservation and environmental protection.