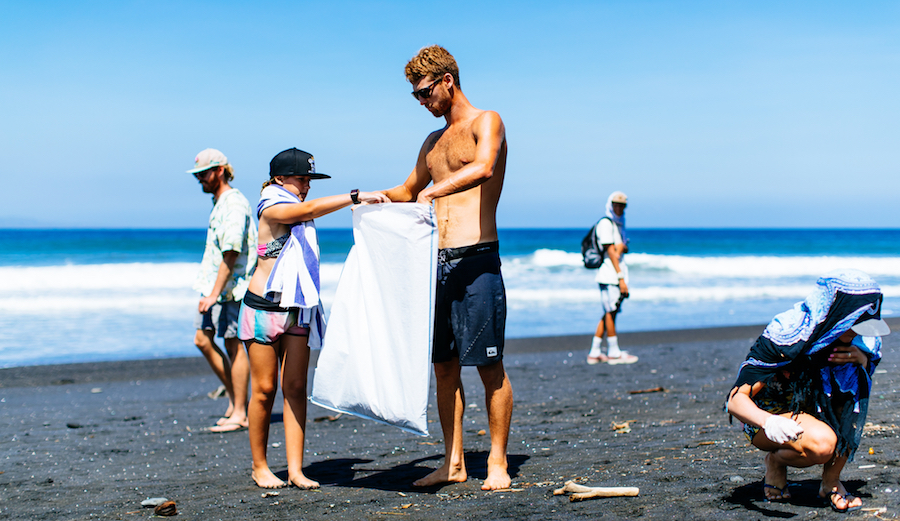 The World Surf League will institute sweeping changes to its Championship Tour and Big Wave Tour in an effort to eliminate single-use plastics at its events and become carbon neutral by the end of the year, the League explained in a Tuesday press release. The decision was inspired by prevailing trends surrounding the "climate crisis" and the global plastic pollution epidemic.
"The WSL is incredibly proud to break new ground in sports in the urgent battle against climate change and ocean pollution," said WSL CEO Sophie Goldschmidt in a statement. "We believe it's our responsibility to be 'all in' with our efforts to protect the ocean and beaches amid the devastating climate crisis we all face. We invite everyone who cares about the ocean to join us."
In the League's announcement, it cites a number of statistics about the effects of climate change as contributing factors to minimizing its carbon footprint. Namely, the WSL explains, the ocean has absorbed over 90 percent of excess heat and 30 percent of the carbon in the atmosphere. The result is rising sea levels, a higher frequency of, and more intense storms, and ocean acidification.
And while professional surfing has a vested interest in preserving the well-being of the world's oceans, the pro surfing lifestyle – e.g. jetting around the world multiple times per year, accumulating surfboards made of toxic petroleum-based chemicals, and the like – has a sizable carbon footprint.
According to the release, the WSL will aim to offset its carbon footprint by supporting REDD+ (reduce emissions from deforestation and forest degradation) and VCS (Verified Carbon Standard) certified carbon offset projects around the world, and "regionalizing [its] operation" to reduce non-essential corporate travel. STOKE (Sustainable Tourism & Outdoors Kit for Evaluation) Certified will aid the WSL in calculating its carbon offset program. It's unclear if these efforts apply also to WSL athletes, or simply league staff and contest organizers.
The WSL is one of a handful of athletic organizations to sign the UN Climate Change agency's Sports for Climate Action Framework – a global commitment to adhere to the fundamental principals of the Paris Climate Accord and incorporate strategies to minimize carbon emissions. Other signatories include the NBA, FIFA, the International Olympic Committee, Tokyo 2020, and the New York Yankees.
Stops on the Big Wave Tour and Championship Tour will also be entirely free of single-use plastics (e.g. food-service items like bottled beverages, cutlery, and cups) by the end of the year, the League said.
The signal that a major sports league making such an ambitious commitment sends to fans and the rest of the world is not lost on WSL athletes.
"I think it's a great stance and an important message to send to people around the world," said Kelly Slater. "The ocean is vital to everyone, for food, for oxygen and especially to us surfers. I think everyone should make it their priority to care about this issue and make changes in their lives to help."