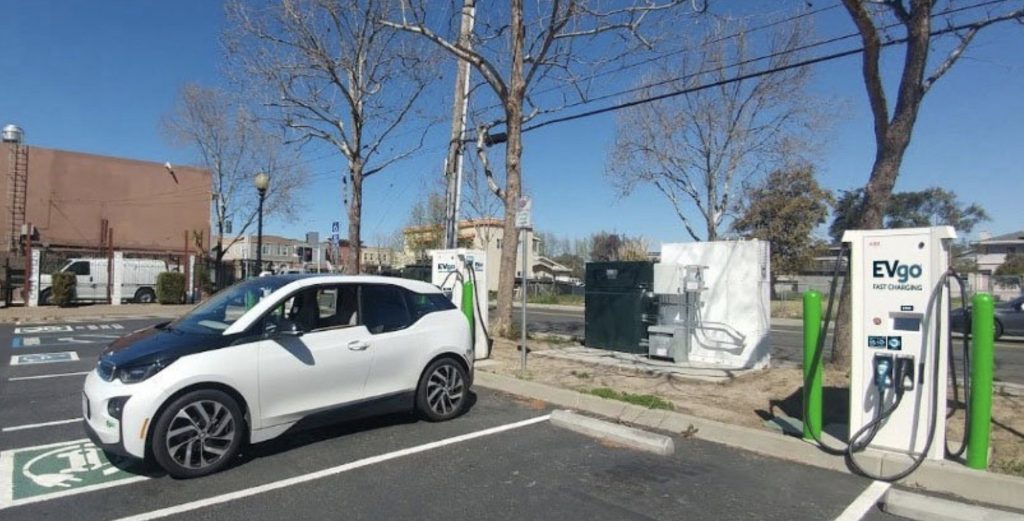 EVgo has contracted for 100% renewable energy to power its fast charging network, the company announced today, making it the first US EV charging network to do so.
EVgo will use a combination of Green-e certified wind and solar energy through its electricity suppliers and its renewable energy certificate partners to reach its 100% renewable commitment.
In its announcement, EVgo said it "contracts with its energy suppliers and renewable energy certificate (REC) partners to ensure that each gigawatt-hour delivered on its fast charging network financially supports an operating renewable energy generator in the U.S."
The network is a member of the Renewable Energy Buyers Alliance, a recently launched organization made of up of more than 300 companies. REBA has set a goal to bring more than 60 gigawatts of new renewables online in the US by 2025.
In California, EVgo is procuring 100% solar RECs from state providers, and the network has announced its intent to purchase bundled renewable energy from partners that are certified through the California Air Resources Board Renewable Energy Pathways program.
Other Initiatives

Among other recent initiatives at EVgo, the network recently announced it "has completed or has in construction" 14 battery storage systems located at 11 fast charging stations, which it says is "the largest deployment of battery storage systems at public fast charging stations in the nation."
The network introduced fast charging hubs for GM's Maven car sharing service in Los Angeles, in addition to a few other California-centric charging projects.
Last month, EVgo announced plans to roll out its autocharge technology to all account holders with a CCS charger-compatible vehicle nationwide by the end of 2019. The tech automatically recognizes an EVgo account holder's vehicle to allow for immediate charging without the need for an app or credit card.
EVgo powered more than 75 million electric miles in 2018, and the network plans to double its capacity by the end of 2020.