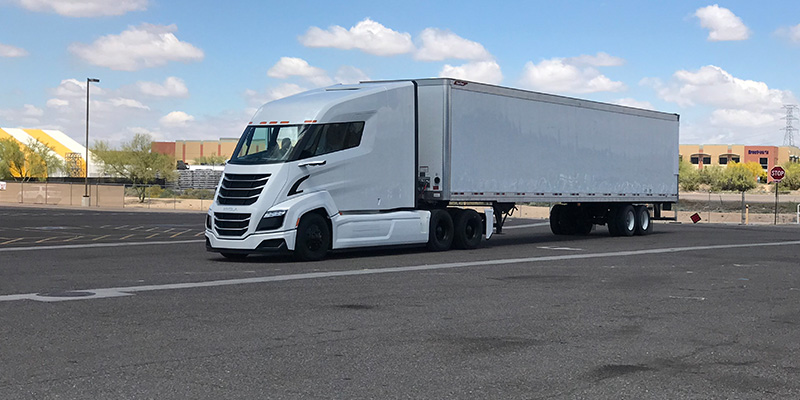 As it launched development of heavy-duty hydrogen fuel-cell trucks, startup Nikola Motor aggressively sought the help of major automotive suppliers rather than attempting to build the vehicle on its own.
"It was smart that they didn't want to build up every area of expertise," said Jason Roycht, head of commercial vehicles for Robert Bosch in North America. Bosch dedicated 50 engineers to the Nikola project.
"Tying those two things together around the trucking industry was brilliant," Roycht told Trucks.com. "It's always been sort of a chicken-and-egg topic."
Nikola has talked with Anheuser-Busch about making hydrogen refueling available near its major breweries and distribution centers, which would help meet the company's sustainability targets. Both influenced the decision to buy up to 800 Nikola trucks, said Ingrid De Ryck, Anheuser-Busch vice president of procurement and sustainability.
"What makes us believe this partnership is going to work (is) the manufacturing of the truck as well as the establishment of the infrastructure," De Ryck said.
The 800 fuel-cell trucks would represent about 30 percent of Anheuser-Busch's dedicated truck fleet. They would reduce the company's greenhouse gas emissions by 18 percent, a large part of its goal of cutting those emissions 25 percent by 2025.
CO-LEADERSHIP

As Nikola evolved from showing its Nikola One prototype long-haul truck in 2016, Bosch and other suppliers worked with one another and Nikola to design a truck capable of meeting performance and safety requirements.
"I would call it almost a co-leadership role with Nikola on a couple things," Roycht said. "Nikola hasn't gone through the development process of 15 vehicles. It's their first."
Brake systems-supplier Wabco Holdings Inc. invested $10 million in Nikola in late 2017. It worked closely with Bosch to integrate stability control in the Nikola Two, which Nikola Chief Executive Trevor Milton said is on target for production in late 2022.
"What (Milton) has done is create a collaboration platform that enables us to do advanced development with suppliers like Bosch that is a safe place to take our technology where we are not exposed to sharing too much," said Jon Morrison, president of Wabco North America.
Milton pressed for speed in getting the trucks ready for production, which created some tension because Bosch encouraged a "measured and proper" approach.
"The tension has produced a bit of a change in the approach from Nikola for the better," Roycht said.
ORDERS HALTED

Nikola's order bank would keep its planned assembly plant at capacity for 20 years, Milton said. It has stopped accepting reservations for the trucks in North America. The Nikola Tre, a day cab model for Europe shown for the first time this week, is scheduled for production in 2023.
Ryder System Inc. has watched the collaboration of Bosch, Wabco, Meritor Inc. and others. Ryder will maintain and service the trucks. It has experience with compressed natural gas, which has some of the same handling requirements as hydrogen. Ryder also is gaining experience in supporting electric vehicles.
"We feel very confident they've teamed up with the right players," said Chris Nordh, Ryder senior director of advanced vehicle technologies and energy products.
Like Bosch, Ryder carefully weighed the risks of going all in with Nikola.
"This went all the way to our CEO," Nordh said. "It involved every department at Ryder to pull a product like this into our fleet."