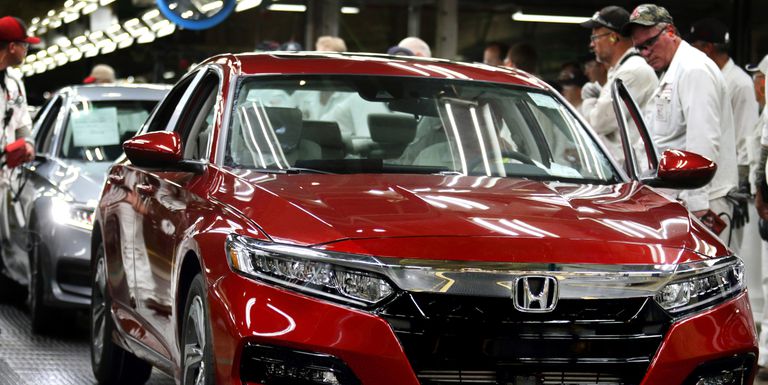 Just as Ford is squeezing more electric vehicles into its Flat Rock plant in Michigan, Honda is doing the same in Ohio. Big H is temporarily stopping the second shift at its Marysville, Ohio, plant to retool for hybrids and battery-electric cars, according to Automotive News. The change is slated to begin in August.
Unlike the way the Big Three manage their unionized plants—a boom-and-bust cycle of mass hiring followed by mass firing—Honda said it won't lay off any of its 4700 salaried and hourly non-union employees in Marysville. Instead, it said it will find new roles for workers on the displaced shift. Honda has never resorted to layoffs in its 37-year history in this country, a quiet fact that many inside Honda respect over long, steady careers.
The plant upgrade underlines Honda's forecast that electrified models, including the company's hydrogen fuel-cell technology, will comprise two-thirds of global sales by 2030. While Honda hasn't formally announced any new models, the company is clear that it will add hybrid powertrains to more of its current vehicles. A hybrid CR-V, for example, would fit into this category. Also, if demand grows for Japan-built EVs like the Clarity—which is designed to accommodate multiple powertrains—Honda could potentially move production to Marysville.
As it stands, the Clarity plug-in hybrid and electric models and the Acura RLX Sport Hybrid are imported from Japan. The hybrid Accord, Insight, Acura MDX Sport Hybrid, and Acura NSX—including their electric motors and batteries—are built within Ohio and Indiana. For consumers, more locally built cars means Honda can reduce costs and keep sticker prices stable—or prevent them from soaring if the looming threats of import-car tariffs take hold.