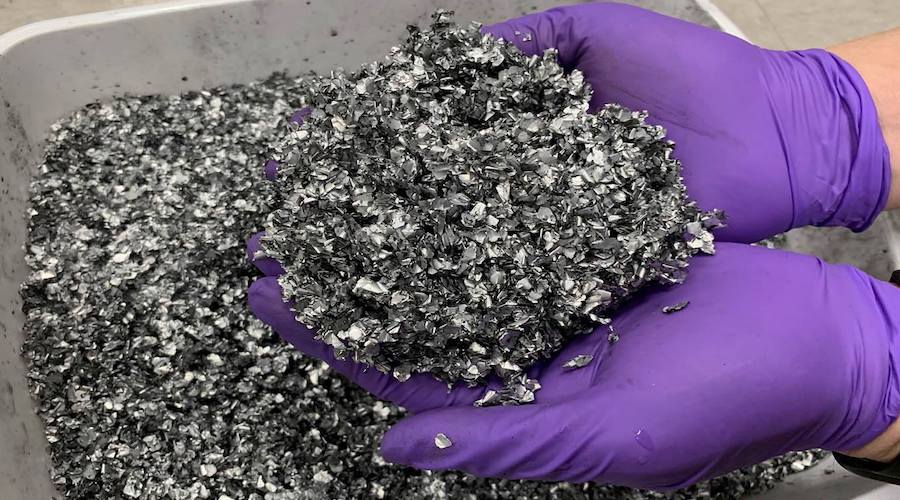 American Manganese (TSX.V: AMY) is seeing the payoff of its efforts to develop a technology capable of recycling cathode material and generating products for lithium-ion batteries that are as close to the final form as possible.
This week, the Surrey, British Columbia-based company announced that independent lab Kemetco ran a series of tests and the results showed that AMY's pilot plant was able to achieve high extraction rates from lithium-ion battery cathode material.
In detail, Kemetco sourced from a U.S. recycler several batches of commercially available scrap NMC, which contains lithium-nickel-manganese-cobalt, and scrap NCA, which contains lithium-nickel-cobalt-aluminum battery cathode material.
Then, lab experts tested the material in stages 1 and 2 of the pilot plant operation using the technology developed by American Manganese that, earlier this month, received a patent from the United States Patent and Trade Mark Office.
Kemetco conducted a separation of the cathode active material from aluminum foil. Subsequently, the separated active material was processed with AMY's patented method. For the NMC scrap, the average recovery rate was 94%, while for the NCA scrap the average recovery rate was 91.4%.
According to the proponents of the technology, if commercial NMC and NCA scrap cathode materials were to be used, the recovery rate would increase because such elements have an additional wash and screen.
"From the pilot plant, we have improved the handling of large quantities of commercially available material on a continuous basis, in terms of separation of active material from aluminum foils. The proven effectiveness of extraction is a great demonstration as we plan for commercial production," said Larry Reaugh, President and CEO of American Manganese, in a media statement.
Reaugh also said that his company is moving forward with the preparation of stages 3, 4, and 5 of the pilot plant, which will include the purification and recovery of battery grade ready lithium carbonate and base metal oxides, as well as recycling of reagents and water.
"The company aims to provide these high purity recycled battery materials to lithium-ion battery manufacturers with a goal of developing a circular economy through conflict-free and sustainable methods such as AMY's patented recycling technology," the CEO said.