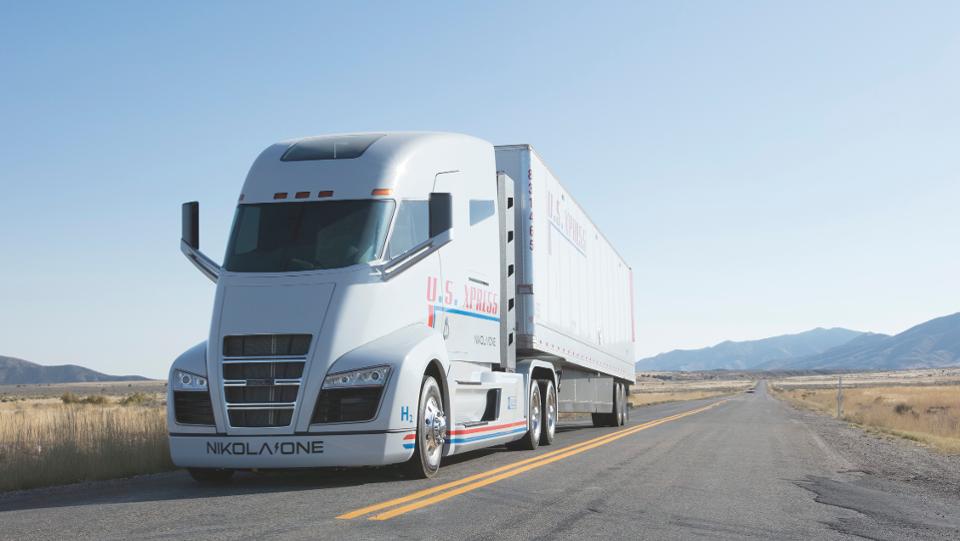 Hydrogen has been a promising but elusive vehicle fuel for half a century, powering a range of fuel cell cars and SUVs but never quite solving cost and efficiency snags and lack of fuel stations that make it less attractive than batteries for zero-emission vehicles. The problem isn't the technology, argues the founder of Arizona startup Nikola Motor, but that big trucks are a much better choice for hydrogen.
The 4-year-old maker of hydrogen tractor trailers is extolling a vision as brash as the one Tesla's founders unveiled 13 years ago with its pricey all-electric cars: Nikola will act as a catalyst to bring hydrogen to the mainstream, building tens of thousands of hydrogen-powered big rigs and a coast-to-coast hydrogen station network to fuel them. It also wants carmakers like Toyota, General Motors, Honda, Hyundai and Daimler to use those stations to expand their hydrogen fuel cell vehicle sales beyond California.
It won't be cheap: Nikola is seeking $1.25 billion to fund it, on top of $300 million raised so far, CEO Trevor Milton tells Forbes. He'll make a big push this week with a Nikola-led hydrogen tech conference in Scottsdale, Arizona, convening suppliers, partners, potential investors, future customers and carmakers, to gin up excitement and win powerful allies.
"You can't do this alone. Toyota and the others can't do it on their own and neither could we," he said. "The thing that Nikola brings to the table is we actually provide the entire network, we're building 700 hydrogen stations around America. It will be the largest in the world."
Milton is pushing trucks because it's easier to package the bulky tanks that hold compressed hydrogen gas on big trucks than cars, the technology's costs are easier to recoup on heavily used commercial vehicles than cars and refueling time and driving range are comparable to diesel trucks. He'll be competing with several companies readying battery trucks including Tesla–which has signed up Pepsi, Anheuser Busch, FedEx, Walmart as customers–as well as Daimler, BYD and startup Thor. But he sees a big advantage for Nikola's hydrogen fuel cell system for long-distance highway runs of 500 miles or more: It's much lighter than Elon Musk's battery-powered Tesla Semi.
"Hydrogen works way better on heavy-duty (trucks), and we're 5,000 pounds lighter than Tesla," he said. "Look at Anheuser Busch. They ordered 40 or 50 trucks from them and 800 from us." In fact, he claims Nikola has lined up $14 billion in truck leases from big shippers including Anheuser Busch and U.S. Express, each of which is a seven-year lease is worth about $1 million.
"We're sold out for eight years of production," said Milton, who worked for steel and metals powerhouse Worthington Industries and sold low-emission fuel systems for heavy-duty vehicles for German engineering firm DHybrid before founding Nikola.
But none of those orders turn into revenue until Nikola completes its fundraising push and gets into production, targeted for late 2022. Its fueling network, with stand-alone stations dispensing hydrogen extracted from water, using electricity produced by wind, solar and other renewable sources, will take much of the 2020s to set up. The next three years will be tough and require nonstop spending by the unproven startup. But its success would benefit companies that have been plugging away in hydrogen for years, improving the odds of getting industry support Milton seeks.
Sales of electric cars are growing worldwide as batteries and component costs improve, led by Tesla, and increasing numbers of medium- and heavy-duty electric trucks and buses can be found on the streets of big cities and at ports. But the physics of long-range semis, hauling up to 80,000 pounds including the cab and trailer, mean the winning technology is still a wildcard.
"If you want to electrify heavy-duty trucks, a Class-8 truck needs seven tons or 700-kilowatt hours of battery in there, that makes four to five packs to store in the truck. By comparison, you get the same range from a few hundred kilograms of hydrogen," said Bernd Heid, a senior partner at McKinsey & Company, who researches trucking industry trends and technology.
Similarly, batteries require vastly more recharge time than either hydrogen or for conventional diesel fuel. With diesel, every minute of fueling provides 20 miles of range for a big truck, while with hydrogen, a minute of fueling provides 12 miles of range, Heid calculates. For a battery-powered truck, each minute of charging only provides 3 miles, he said. So for a truck to go 500 miles, it takes about 25 minutes for a diesel, 42 minutes for hydrogen and potentially more than two and a half hours for a battery truck. (Musk has said Tesla will have a network of "Megachargers" that provide 400 miles range in 30 minutes for its futuristic Semi, with its battery packs plugged into individual chargers to simultaneously repower them.)
"Trucking is a business that is ideally operating 24-seven," Heid said. "Every minute or hour that you have downtime not operating, it doesn't make money. The filling or charging time is a huge business impact."
Fuel cell and battery-powered vehicles are both electric, sharing the same motors and many other components. The key difference is that batteries store electricity and fuel cells produce it onboard as needed, in an electrochemical process that extracts electrons from hydrogen forced through fuel cell membranes. Aside from the electricity, the only byproduct is water vapor, rather than harmful diesel exhaust. Beyond cars and trucks, they've been used by NASA for decades, they work as stationary electricity generators and are being developed to power trains and even ships and ferries.
For battery cars, it's relatively simple to create public charging infrastructure to allow drivers to power up when parked, but even a fast charge can take 30 minutes or more. Fuel cell cars can be refueled in about the same amount of time as those using gasoline, though the number of public stations dispensing compressed hydrogen gas in California, which has the most, is just 37 currently, clustered in the Bay Area, Los Angeles and Orange County and down to San Diego. Dozens more are planned, but like the extensive Supercharger network Musk has built up for Tesla owners, Nikola's 700-station goal would be a game-changer for cross-country travel.
"If there's suddenly this expansion of hydrogen infrastructure across the U.S., it's a big deal," said Craig Scott, national manager for Toyota's U.S. advanced technologies group. "It would be a very good thing to have more hydrogen stations opening up–more is more."
Toyota has sold Mirai hydrogen sedans in California and Japan for the past few years, and operates two fuel cell trucks at the Ports of Los Angeles and Long Beach, with more on the way. It's even building a hydrogen plant at the ports, making the fuel from waste material, to power its fleet.
Milton will elaborate this week on a strategy that will take the better part of a decade to realize. It includes prepping a 500-acre site for its plant outside of Phoenix, with plans to break ground early next year. It's designed to eventually crank out up to 50,000 semi-trucks a year, a massive amount of production capacity in the world of big rigs. Nikola has also unveiled three different models, including the long-range Nikola One, with a sleeper cab, the Nikola Two for shorter uses, and the Nikola Tre, which will be offered with a choice of hydrogen system or batteries for shorter-range hauling.
"About 90% of all the orders that come in are coming in hydrogen, the other 10% are for electric," Milton said. "The nice thing about Nikola is we're the only company that can say, yeah, we offer both and we'll shoot it to you straight–based on your needs."
(Separately, Nikola filed suit against Tesla in federal court in Arizona last year claiming the design for its Semi unveiled in November 2017 was far too close to the Nikola One, which had its public debut more than a year earlier. Tesla tried to have the suit dismissed, but the litigation continues and may not be resolved until 2020.)
There's no question that Nikola's aspirations may exceed its abilities, but it will take years to know for sure.
In 2006, when Musk and Tesla's original management team laid out a quixotic vision to transform the auto industry with a new generation of electric cars, few at the company's public debut in Santa Monica, California, thought success was in the cards. Thirteen years later Musk's mission isn't complete but Tesla has achieved far more than expected and pushed auto rivals to go electric.
If Milton achieves half as much for hydrogen, while automakers keep building up their fuel cell offerings as hydrogen finds its way into new applications, the impact would be dramatic.