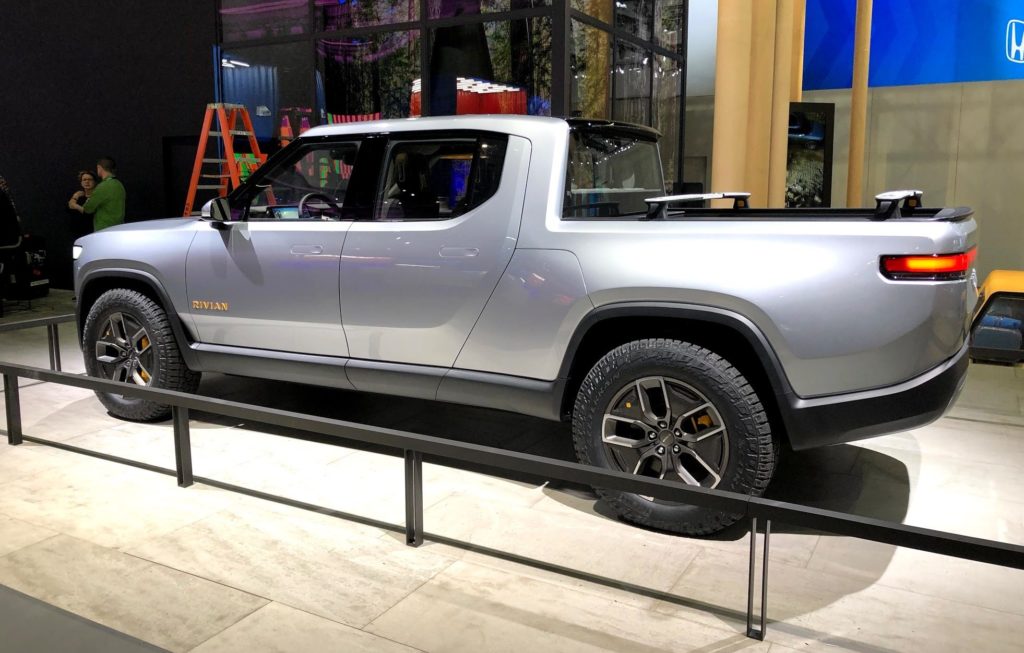 Rivian has filed for a patent to expand the energy capacity of its upcoming R1T electric pickup truck through a novel auxiliary battery which can be added to the truck's bed after manufacture.
The patent was filed last year, published last month and today is marked as "pending" by the US patent office.
The Rivian R1T also has the largest battery in a consumer vehicle yet, largely because it's going to be a big, heavy vehicle with relatively poor aerodynamics (when compared to electric compacts/sedans). Rivian is also marketing the R1T for the "adventure truck" market, which will tend towards more range-heavy use cases. Some of the more remote adventure destinations may not have charging points nearby (though 50A RV hookups offer good overnight charge capacity), and towing large equipment will also result in reduced range.
To address these concerns, Rivian has already talked about installing quick charging points at common "adventure destinations" which might not otherwise see so many EV charger installs.
But now we're learning details of another method Rivian is planning to use to extend the energy capacity of the R1T.
At the front of the R1T's truck bed, there are multiple connections, including integrated cooling circuits, to lock in a temporary "auxiliary battery" which would increase the energy capacity of the truck temporarily. The battery would fit into the R1T kind of like a standard truck bed toolbox, according to diagrams attached to the patent application.
One interesting note is that the batteries do not go in the R1T's "gear tunnel", the lockable storage area behind the passenger compartment and in front of the truck bed. This seems like it would have been a natural place to put them, but perhaps installation is simply easier in the truck bed. The patent describes the installation method as either via forklift or being lowered in from above via winch and cables. Then it is bolted into place along the sides of the bed.
There's no information yet about size or cost. But this is additional capacity over and above the standard 105/135/180kWh capacity options. Given the size of the battery, it could be another 50-80kWh or so with the newest energy dense cells, which would result in a pretty massive amount of energy storage and lots of possibility for backcountry adventure.
Rivian also plans to produce the R1S, an electric SUV, though this patent only covers auxiliary batteries for the R1T, the electric pickup truck.