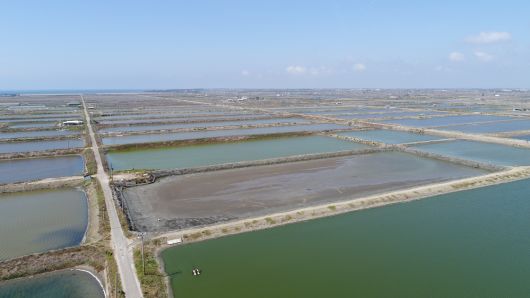 Google unveiled an ambitious plan eight years ago to build a wind energy project in the Atlantic Ocean running all the way from New York to Virginia. That massive "underwater spine" has been slow to progress, but Google is moving ahead with its first water-based renewable energy project — it is just a little smaller in scale: Solar panels atop a series of fishing ponds in Taiwan. The deal marks Google's entry into the Asian renewable energy market.
Google, a subsidiary of Alphabet, recently became the first company to make a purchase under the 2017 Taiwan Electricity Act, which allows non-utility companies to purchase renewable energy. For the 10-megawatt solar array in Tainan City, Taiwan, Google will install poles, with solar panels at the top of them, above fishing ponds.
The idea of building solar projects sited on water — known as floating photovoltaics, or "flotovoltaics" — is becoming more popular.
Last year China built the world's largest floating solar farm on a lake that used to be a coal mine, one of several flooded mine sites in China used for solar projects. It includes 166,000 solar panels and has a capacity of 40 megawatts, which can power 15,000 homes. The World Economic Forum reported that China is expected to add 40 percent of the world's new solar panels by 2020. Japan is the world leader in floating photovoltaic installations, with more than 60 projects built since its first in 2007.
Google's fishing pond project may differ from many water-based solar efforts that use structures like pontoons to float the solar panels directly on the water. While it is possible to float solar panels directly on the surface of fish farms — it has been done on projects overseas — the Google project development team has not yet decided how the solar panels will be situated above the water, according to a company spokeswoman. She would only share a link to a Taiwanese site which included several examples of water-based designs the project could ultimately take. Google is currently focused on poles that would have solar panels hoisted on top of them, a concept known as a "canopy" system.
Shade has been presented as a key benefit of floating photovoltaics as the panels blocking of sunlight reduces evaporation from key reservoirs. In Google's case, the project design could result in improvement in fishing yields because elevated panels provide optimal room for fish while also providing them with shade. That finding was based on an experiment conducted by the Fisheries Research Institute (COA) unit of the Taiwan Council of Agriculture.
Floating solar projects also have logistical advantages. They can be placed near existing electricity transmission infrastructure at hydropower sites, and close to demand centers.
Projects in the U.S. are lagging Asia
While the United States was home to one of the first floating solar projects ever, in 2008, it is lagging far behind Asia in embracing the technology.
But there are some signs of interest in the U.S. Last July, the city of Los Angeles gave preliminary approval for an 11.6-megawatt floating solar power plant at the Van Norman Lakes Reservoir, though it faces more regulatory hurdles. A small floating solar project (252 kilowatts) was completed last October over a wastewater treatment pond in Kelseyville, California, for the local municipality.
More municipalities and land owners are looking into floating solar, according to Chris Bartle, business development manager for Ciel & Tierra, a Petaluma, California-based floating solar project company which manufactures the racking systems that allow the solar panels to float and be anchored in water — it worked on the Kelseyville project. Bartle said industrial ponds, wastewater treatment plants, agricultural ponds, water treatment plants, and municipal reservoirs are all interested in the concept. The LA project, if ever approved, would be the biggest in the U.S., though Bartle said other projects are much further along and of a size — in the megawatts — that should add confidence to the market.
The Orlando Utilities Commission has constructed floating solar arrays at a site that at one point was designated to be a future coal plant, a project that billionaire green energy advocate Michael Bloomberg toured on Monday.
Bartle said in addition to providing a source of on-site power supply, and electricity that can be sold to a third-party, many potential project sites are interested in this design to prevent algae growth on water (a big concern for drinking water supply) and as a way to help prevent evaporation through shade (a big concern in areas that are prone to drought).
Floating solar market could be huge
Floating solar is still far behind land-based projects, according to a World Bank report, but the growth curve is accelerating. Installed floating solar power capacity increased from 132 megawatts in 2016 to more than 1 gigawatt last year. Ground-mounted photovoltaic systems reached 1 gigawatt in 2000. The World Bank says a "conservative" estimate indicates potential for 400 gigawatts of floating solar globally.
The National Renewable Energy Laboratory (NREL) — a part of the Department of Energy — found in a December 2018 report that as much as 10 percent of U.S. energy supply could be met by siting solar projects on 24,000 man-made U.S. reservoirs. The electricity that NREL estimates could be generated from projects sited on water would also save 2.1 million hectares of land.
Floating solar projects are taking off in Asia for a few reasons: high population density and competition for available land. These factors will become more important around the world as part of solar project site selection in the future, experts say.
Marginalized local communities also factor in some of these project decisions.
"The local landowners will receive reliable income from renting the space above the fishing ponds to solar projects," said Marsden Hanna, senior lead, global energy markets and strategy at Google Cloud.
Hanna said the construction, operation and maintenance of the solar project will create jobs, but Google declined to quantify the jobs to be created or the additional income local landowners will receive. Solar power plants typically create more short-term construction jobs for the building phase than permanent jobs in operating the power project.
According to the International Renewable Energy Agency, the renewable energy sector has surpassed 10 million jobs created; solar jobs created in 2017 alone reached 3.4 million, even as U.S. solar industry jobs slump as a result of tariffs the Trump administration placed on foreign panels.
Solar prices have declined dramatically
"There's a number of things attractive about renewables, besides the low carbon part of it. Prices are coming down to historic lows, and it makes sense from a price perspective," said Daniel M. Kammen, professor of energy, UC Berkeley and former science envoy for the U.S. State Department.
The price to generate solar power has fallen dramatically over the past decade, from several hundred dollars per megawatt hour to as low as $25/megawatt hour currently, and the prices are expected to go as low as $14/megawatt hour, according to a recent forecast from energy market consultant Wood Mackenzie.
In a recent interview, Mike Terrell, head of energy market development at Google, said that the investments in renewable energy make "business sense," citing inexpensive prices as a major factor. In the third quarter of 2018, corporate buyers of renewable projects, led by tech companies, experienced this largest single-quarter surge in purchase of large-scale solar projects, growing from 13 percent to 15 percent of the market, according to Wood Mackenzie.
Since 2010, Google has signed more than 30 solar and wind projects across the Americas and Europe, making it the largest corporate purchaser of renewable energy. The Taiwan project is not the first Google solar venture to be built in an unusual or difficult location. Google buys power from a project located in Chile's infamously remote Atacama Desert, a place Hanna referred to as "one of the driest places on Earth." The EL Romero Solar PV Plant has supplied clean energy that is equivalent to 240,000 homes and is the largest solar plant in Latin America, and one of the largest plants in the world.
In January, Google announced that in line with its construction of new data centers — which are energy-intensive operations — in Tennessee and Alabama, it is purchasing 413 megawatts of energy output from 1.6 million solar panels across several new solar power plants being constructed by NextEra Energy, Invenergy and the Tennessee Valley Authority. Two 150-megawatt solar projects in the TVA deal will be the largest ever for Google.
The 10-megawatt project in Taiwan — for which Google has partnered with Diode Ventures, Taiyen Green Energy, J&V Energy and New Green Power — is on track to be completed in 2020 and comes at a time when Google is investing in data centers in Taiwan.