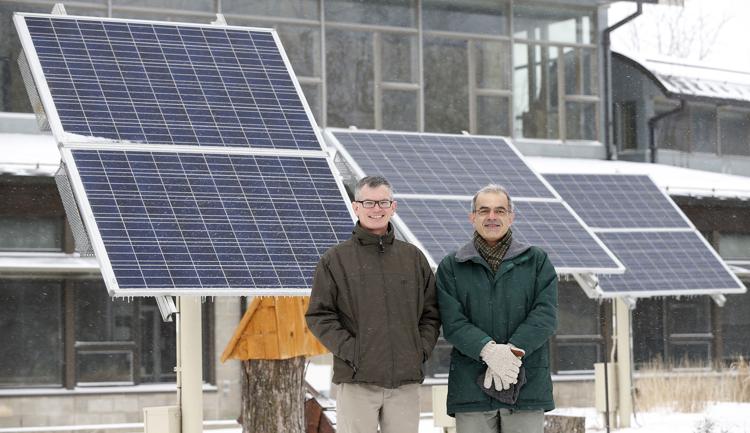 In a push for more clean energy in Black Hawk County, experts from University of Northern Iowa are offering a smooth transition from using coal-fired power to naturally renewable solar energy.
"We feel like this is a huge opportunity for a large number of people," said Eric Giddens, energy program manager of UNI's Center for Energy & Environmental Education. "Over the life of a solar system, (customers) will spend less on their utility bills, and upfront costs of installing the system will be more than paid back over the life of the system."
The "Go Solar" group-buy program gives businesses, farms and residents in Black Hawk County the opportunity to take advantage of reduced energy costs and join the increasing number of Iowans who are going solar and reducing greenhouse gas emissions.
As of October 2018, Iowa had more small-scale solar installations than most Midwest states, according to the Iowa Environmental Council.
The "Go Solar" program will begin with a series of educational seminars from February through March about the benefits of solar energy. Those interested will get a free energy analysis from Eagle Point Solar, an installation business in Dubuque that has partnered with UNI for the program.
"We saw it as a great proposal and a really great opportunity for residents and business owners in Black Hawk County to take advantage of that offer," Giddens said.
Eagle Point Solar is a member of the Cedar Valley Alliance & Chamber.
"The Alliance & Chamber is committed to helping our Cedar Valley businesses grow and thrive. We're glad to partner in this effort to provide educational seminars that will promote cost savings and sustainable benefits to improve their bottom line," said Cary Darrah, CEO of the Cedar Valley Alliance & Chamber.
The more people who sign up, the larger the discount for the group.
"A countywide solar group-buy program just makes financial and environmental sense. The more people who purchase solar, the more we all can reduce the cost through a volume-purchasing program," said Kamyar Enshayan, UNI-CEEE director.
Officials with Eagle Point will answer questions about cost-saving and sustainable benefits of solar technology.
It's possible to offset more than 70 percent of the total cost of the systems with state and federal tax incentives that are currently available, Giddens said. "We don't know how long those will be around, but they are here right now."
Total cost of solar energy is on the decline. According to data provided by the Iowa Department of Revenue, average residential solar costs per kilowatt in 2014 were $3,387, falling to $2,719 in 2018.
Iowa ranks 16th among U.S. states in the technical potential for solar energy production, with enough to power half a billion homes annually and meet annual electric needs more than 150 times over, according to the Iowa Environmental Council.
Despite its clean energy leadership, Iowa remains one of the most coal-dependent states in the country, importing all of its coal from outside the state at a cost of $590 million a year, according to the council.
Utility companies across Iowa and in the Cedar Valley have made major contributions to the state's solar grid. Cedar Falls Utilities has built the largest community solar project in Iowa, and Alliant Energy in Dubuque built the largest solar project at a single site in Iowa.
"The time to 'Go Solar' has come, and we're eager to help everyone make the transition," Giddens said.