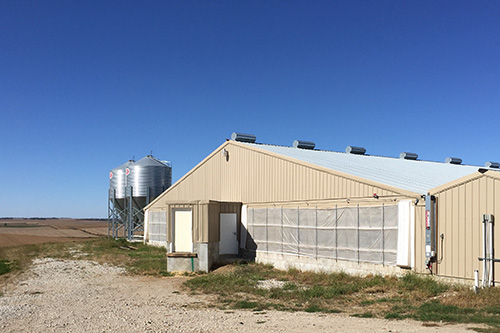 From the outside, many recently-built hog barns closely resemble the structures that our parents or grandparents used for raising pigs. However, inside, a revolution is occurring in the form of web-connectable control systems. Just as you can monitor and manage your grain dryer's settings, you can do the same thing with a hog barn's web-connectable control system.
Multiple vendors offer this technology today. And, while web-connectable controllers do add cost to a new barn, the technology's customizability and added management capabilities make it an attractive option.
Increase Flexibility
The core functionality of web-connectable controllers is similar to existing ventilation controllers. In general, the heating and ventilation system is still primarily driven off of temperature sensors that are located in various positions throughout a barn. However, the connectivity and flexibility for different programing options is quite a change from past control systems. Other benefits of the technology include additional built-in redundancies to help prevent disaster events and the ability to operate multiple barns from a single controller.
An internet connection is not required for the controllers to run the ventilation system. If internet is available, information collected from the controller can be routinely uploaded and accessed via personal computer, smart phone or tablet app. Hog producers can then access the information in real-time to monitor things like which fans are running and how many amps they're drawing.
Manage Barns Remotely
In addition to accessing information, the technology offers the flexibility for producers to make changes to settings remotely, without having to physically visit the barn. The software applications also come with a number of other management tools, such as daily mortality reporting, that help pull together all of the farmer's production data into one spot. In the near future, technology will likely exist that will automatically count the number of pigs entering and leaving a barn, which when combined with a web-connectable control system, offers a unique option for inventory management.
This technology also offers the opportunity for further automation. For example, an animal caretaker will be able to set specific parameters for the barn, and the web-connectable controller technology will make small, on-the-fly adjustments to environmental settings to maximize pig comfort, while simultaneously helping control costs. Even changes in conditions outside the barn, like temperature and wind speed and direction, can be programmed into the controller so that environmental settings are adjusted accordingly inside the barn.
Plug in Additional Data
Finally, this technology is built to continually evolve with the option of plugging in additional data feeds. Today, sensors exist that can monitor a number of different parameters, including air quality, pig behavior, cough severity, water usage, feed levels and energy usage. The key is figuring out which of these sensors will last in a pig barn and produce reliable information. Of even more importance is figuring out which set of parameters are most relevant and can be used to influence better production decisions.
There is no doubt that the industry must continually evolve and adopt emerging technologies. These technologies will allow producers to better prioritize their time and stay more informed on what is going on in the barn. Questions like, "Did the water medication I ran in the morning have any impact?" don't have to wait until your next visit to the barn for an answer.