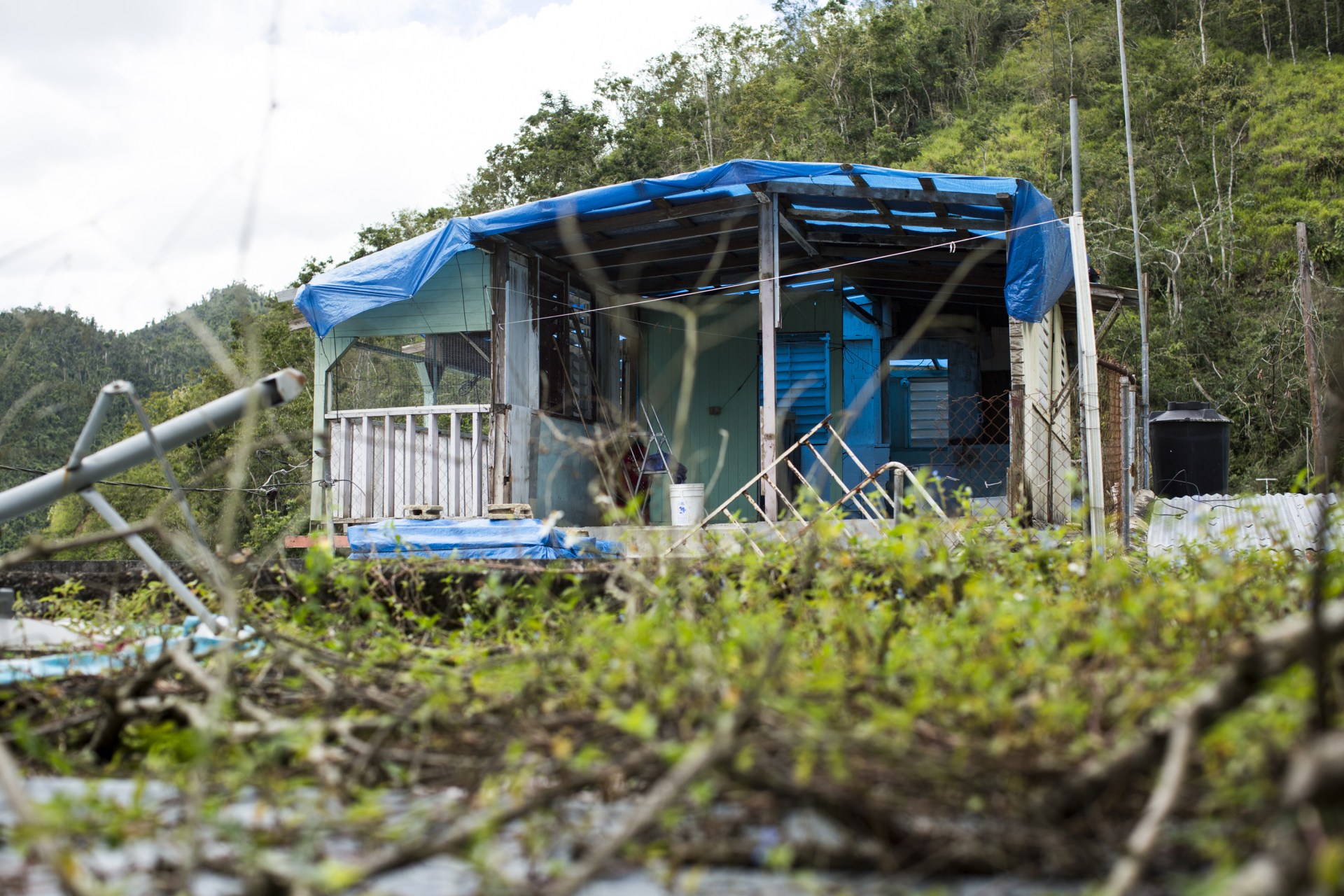 A year and a half after Hurricane Maria, Puerto Rico is increasingly looking towards more resilient energy sources as the island works for long-term recovery.
According to a draft version of the 2019 integrated resource plan (IRP) from the publicly-owned Puerto Rico Electric Power Authority (PREPA), renewable energy is increasingly appealing for the island. The IRP, shared with ThinkProgress, lays out a proposal for Puerto Rico's electrical grid over the next two decades, as the island continues its post-Maria recovery. In 2017, the hurricane destroyed the grid and much of the island was plunged into darkness, sparking the longest blackout in U.S. history.
Under the draft, PREPA calls for a "reliable and resilient" grid that accounts for "financial viability" — the utility remains massively in debt. It also focuses on a "model of sustainability" as the island seeks alternatives to fossil fuels. The draft notably assumes PREPA will be eventually privatized.
"The IRP's implementation will transition the Puerto Rico electric system from one centered on fossil fuels to one in which the renewable resources play a central, if not, the predominant role," the draft reads. PREPA plans to submit the final IRP to regulators by February 12.
During Maria, PREPA relied on bunker oil and coal-fueled power stations, which are associated with serious pollution and high costs. The new plan, however, focuses on solar power and includes a target of 2220 megawatts (MW) of solar energy and 1080 MW of energy storage.
If achieved, this would total more solar battery storage than the rest of the United States combined. According to the Sierra Club, which cites data from Bloomberg New Energy Finance, the U.S. grid currently accounts for only 1031 MW of storage.
Environmental and climate advocates say that shift is critical for an island deeply vulnerable to hurricanes and climate impacts.
"During Hurricane Maria hundreds of people died simply because they couldn't keep their insulin refrigerated, or their oxygen machines running," Adriana Gonzales, environmental justice organizer for Sierra Club de Puerto Rico, said in a statement. "We need the solar and storage in this plan so we can protect health and safety through the next hurricane with distributed, reliable energy infrastructure."
But that doesn't mean fossil fuels are going away any time soon. Per the draft's advice, PREPA would phase out coal and bunker oil. There are, however, three new liquified natural gas (LNG) import terminals included in the plan, an indicator that Puerto Rico isn't ready to completely shift gears.
The IRP is meant to help PREPA find the cheapest way to utilize current resources while also planning for the long-term. Because of the challenges Maria posed for the island's grid, the IRP emphasizes the creation of microgrids to help support remote parts of Puerto Rico. Microgrids are distinct energy systems that can connect to a larger grid but are also capable of functioning autonomously if need be.
The slow progression towards renewables even while fossil fuels remain is a familiar one for the island. Puerto Rican activists have worked for years to move away from coal and gas and towards alternatives like solar and wind.
Casa Pueblo, an organization in the mountainous municipality of Adjuntas, has spent several decades pushing for solar power across the island. When Maria arrived, the small environmental watchdog and nonprofit became a beacon for Puerto Ricans desperate for functioning power. Kept afloat by solar power, Casa Pueblo played a critical role in recovery efforts, helping residents to perform vital functions like keeping their oxygen machines running.
Arturo Massol-Deyá, the assistant executive director of Casa Pueblo, told ThinkProgress last year that running completely on renewables is still a work in progress for the island, albeit a critical goal.
"We have to say no to the mining, we have to stop the fossil fuels, dependency, we need to move forward in a different direction," he said. "But you have to say, you have to show, your own version of what you want in your terms that works for your reality."
The planned construction of LNG terminals is being met with resistance on the island, along with the proposed privatization of PREPA, long a source of controversy. Residents worry they will have far less say in PREPA's regulation if it is no longer public.
But for Puerto Ricans eager for climate action, the IRP nonetheless offers a vision for the island's future, opening it up as a potential model for other parts of the United States looking to shift to renewables.
"Perhaps we are more motivated to act because we have already experienced the violent, destructive impacts of runaway climate change," said Gonzales. "I hope that Puerto Rico's example will help other states find a pathway toward sustainability and resilience in the face of climate change and a demand for cleaner and lower-cost energy options."