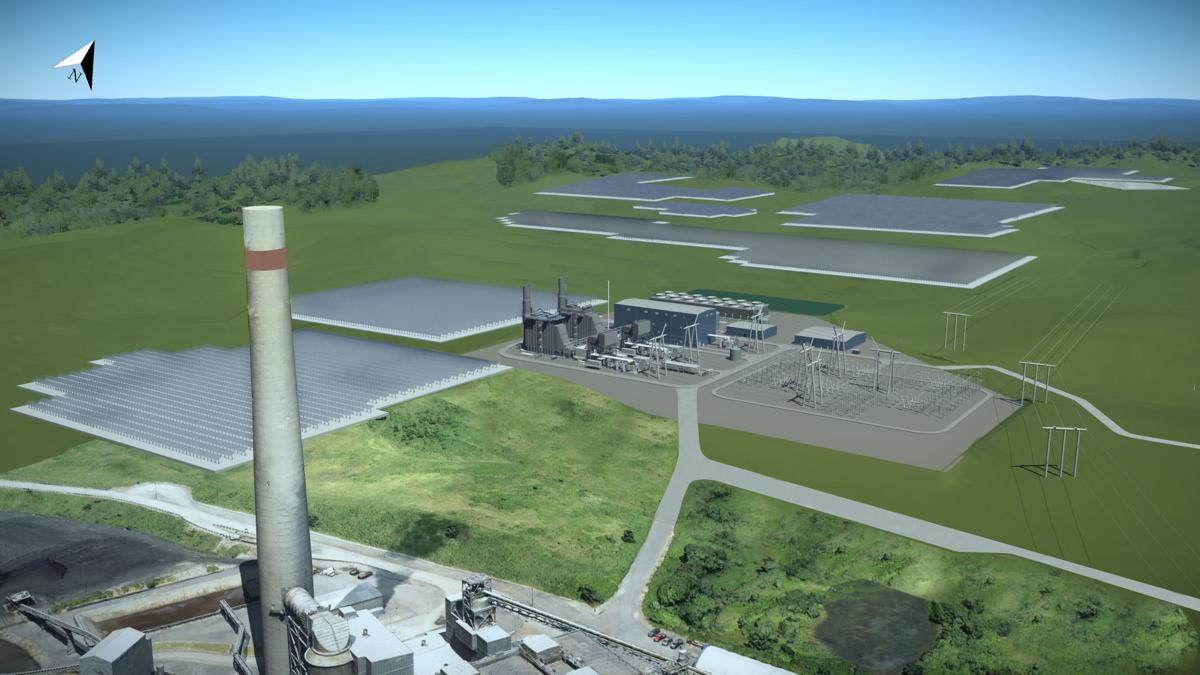 To take advantage of abundant natural gas and to diversify its power sources, one of the world's most sophisticated coal power plants will be adding natural gas and solar energy production capabilities.
Longview Power, located just outside Morgantown, is one of the newest and most advanced coal-fired power plants, having come online in late 2011, whereas most of the nation's coal plants are 40 years older or more.
Now Longview Power aims to launch its Clean Energy Center.
"What's transpired is that we have been able to make this plant not only a cutting-edge market leader for coal in terms of its efficiency and cleanliness — its emissions are lower than anything we've ever seen or know about — but at the same time it's become highly profitable," explained Longview CEO Jeff Keffer.
"Even though you hear about so much gas coming into the market, this plant is the lowest-cost fossil fuel plant in PJM," Keffer said.
"As a result of that and changing where our fuel comes from, we're now highly profitable and ready to take the next steps which involve building out additional facilities using other fuels," he said.
Stephen Nelson, Longview's chief operating officer, explained that the plant is also one of the most efficient. For instance, the plant has a heat rating of 8,750 British thermal units per kilowatt hour (Btu/kWh).
"A really good coal-fired power plant runs in the 9,000-9,100 range, that's a good, competitive number, so for this plant to come in at 8,750 is incredible," Nelson said. "The reason for that is the new modern design and the high-quality coal. The way we go forward here is to renew that same design ethic and where we place the unit, being on top of good quality fuel."
He explained that the new gas plant is designed to be just as advanced and efficient as their coal unit. When completed, they will essentially act as two separate plants providing power.
Nelson said the new solar plant will also follow the same highly efficient design principals with the most modern technology.
"We don't really see ourselves as a coal-fired generator," he said. "We see ourselves as power generation professionals and have a forward-thinking business plan."
The 1,200-megawatt natural gas power generation facility will cover about 25 acres when constructed while the $70 million, 50 megawatt solar energy complex will cover 60 acres of land surrounding the plant.
The Longview Power Clean Energy Center is expected to generate about 6,000 jobs between construction and full-time operation.
To bring the gas in, Longview plans to construct a 6.2-mile long, 20-inch diameter pipeline to connect the facility to the Trans Canada's Columbia 1804 interstate transmission line. Keffer said the company has taken care to minimize the impact to forests and land owners with the designs, which are nearing completion. Rights of way have already been purchased and negotiations with a gas transmission supplier are underway.
Keffer explained that much of the land where the solar panels are set to go will actually be located across the state line in Pennsylvania. This, he said, was due to the fact that West Virginia doesn't allow for renewable energy tax credits but Pennsylvania does.
Due to time it takes to get the permitting application underway with the Federal Energy Regulatory Commission (FERC) and construction, these new facilities aren't scheduled to launch until 2022. However, Keffer said Longview's profitability and presence of infrastructure also make the project promising since it's easier to attract investment capital.
Keffer said pursuing an "all-of-the-above" approach to power generation offers quite a few perks. During the plant's semi annual shutdowns, the power flow won't be interrupted because it can switch over to natural gas. Burning less coal also means fewer expenses.
However, Keffer said consumers should be wary of relying solely on natural gas since it's also used for heating, commercial operations and in manufacturing, not just generating electricity. This means that the price of natural gas can still be volatile and having multiple sources of power is better for consumers.
He emphasized the importance of this project given West Virginia's current lack of natural gas plants compared to Ohio and Pennsylvania and the fact that the state is blessed with abundant resources that can be used close to home.
"Why put all the gas into pipelines to send somewhere else to be used?" he asked.